Save Now on PODS Moving and Storage Container
Use this code to save 5% off your PODS unit reservation.
PODS portable storage units offer many benefits over traditional self storage units. And with this new promo code from PODS, these moving and storage containers are even more attractive.
Since the PODS unit is delivered to you, all you have to do is load it on your schedule. Then when it's full, schedule to have it picked up and stored at a central PODS storage facility. When you're ready to move into your new home call to have your storage pod redelivered. Then you can take your time unpacking. Instead of essentially having to pack and unpack twice with a conventional storage unit, you only do so once using a pods portable storage unit. You can also pack and unpack at your convenience, instead of in one hectic session with traditional storage.
This pods coupon code will save you 5% off your first month's storage charge or long distance moves with PODS.
Moving
Pack at your own pace
Ground-level loading
No renting or driving a truck
Storage
Secure, clean Storage Centers
Lock it, and you keep the only key
Pack once—no repacking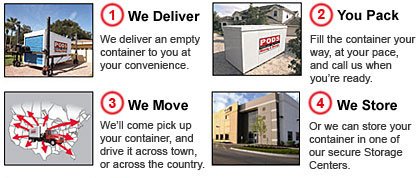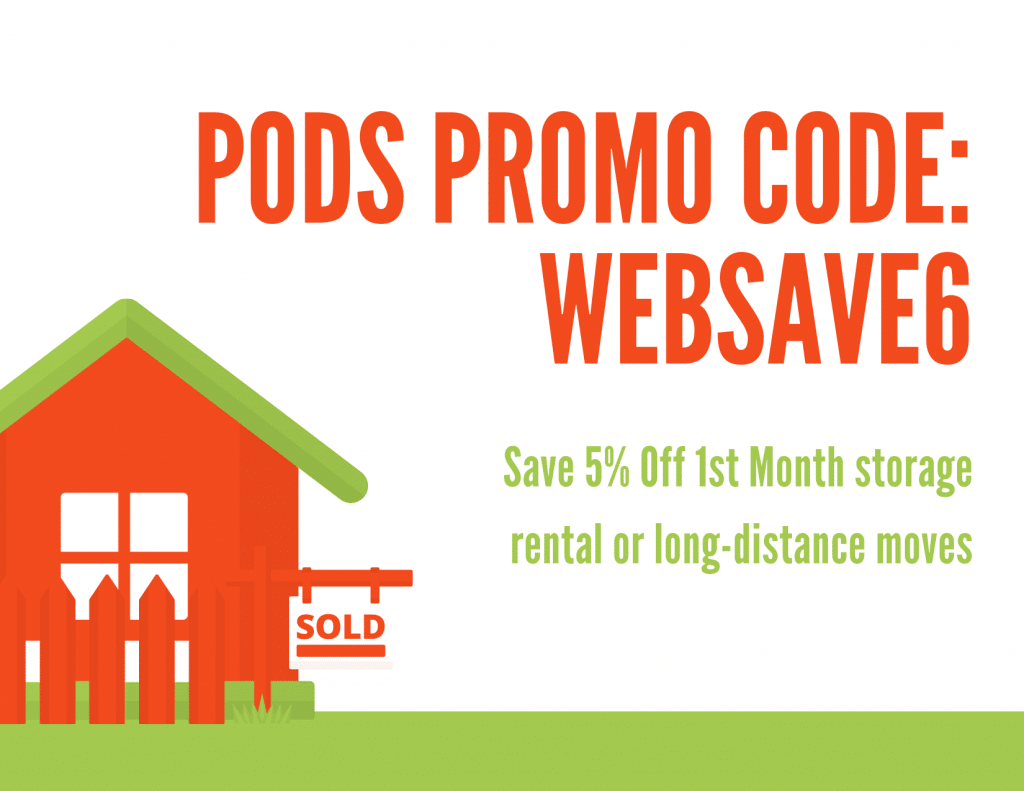 Visit http://www.pods.com/easystoragesearch
OR call 866-767-PODS and mention 2019 PODS PROMO CODE WEBSAVE6 to get 5% OFF 1st Month storage rental or 5% Off long-distance moves.
Did our PODS coupon code work for you?
Please share the results of using our promo code in order to help others.
4.9 out of 5 stars (based on 9 reviews)
Why the Pods Promo Codes on Coupon Sites Don't Work
If you search on Google for a promo code to use when reserving a storage container from pods.com, you'll notice many brand name coupon sites at the top of the search results:
retailmenot.com
groupon.com
offers.com
coupons.com
etc.
And you'll notice something else about the coupons posted on these sites – they don't work. I know because I recently tried all of them on pods.com. So why do these sites get listed so highly on google if they don't provide valuable information? After all, Google is supposed to be in the user satisfaction business. Their search results are supposed to provide users with the information they are looking for.
Well in the case of discount and coupon codes listed online, Google has no idea if they work or not. They do not test each one on the website intended for their use to see if they actually work the way I did. So google must rely on other data when ranking these sites. This other data includes the overall size and quality of websites as well as the number of links pointing to them. And that's why the same coupon sites appear at the top of the google results pages over and over.
This is certainly frustrating for sites that do provide a promo code that actually works. In our case, we provide a PODS promo code that saves you 5% off your first month's storage charge or long distance moves.
If you use this coupon code please tell your friends and family. Help us spread the word about a coupon that really saves people money when they move!
Reduce your expense with a Coupon Code
Here's a recent Pods quote to store a container at your house for 3 months:
16′ Container – $179.99/mo without promo code – $171/mo with discount code
12′ Container – $149.99/mo without promo code – $142.50 with promotional code
Take a look at the quote for yourself to see how much Pods charges to deliver and pickup a storage container.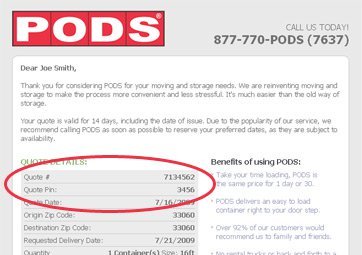 Special PODS Promotions
When you move or store your belongings, it can be very expensive. That's why it's important to do everything you can to save money – every little bit helps! If you've decided to use a PODS storage container, use the PODS promotion code listed above to save 5% off of your rental fee.
How do you get a PODS promo code?
If you are in the process of reserving a PODS moving container, you may have noticed a space on the quote form to enter a promo code. Simply enter the code WEBSAVE6 and you'll get 5% off your monthly storage or long distance moves.
Why Use PODS Storage Units?
It seems as though in everyone's life there usually comes a time or two when they are simply overrun with stuff and if this is the case with you then you may want to consider PODS storage units. PODS storage units are a great alternative to traditional storage units as they represent a more convenient way to store your items.
With a traditional storage unit you have to go through the task of first finding a storage unit facility that is within driving distance of your home and that also has units which meet your needs. Then you have to either rent a moving truck or borrow a truck from a friend and run your things back and forth from your home to your storage unit. Don't forget that in order to do this you will likely have to con some of your closest friends into giving up their weekends with pizza and drinks. When it is all said and done, your weekend is gone but the task is usually complete.
PODS makes it easier. With PODS storage units there is no need to locate a facility as the people at PODS bring the actual storage unit to you and drop it off in your driveway. You can then take as much time as you want to fill the storage unit from one day to one month to whatever. There is no rush with the PODS promo code as you simply pay while you have the storage unit.
This allows you to fill the storage unit at your convenience without having to bother any of your friends and without having to give up any of your weekend. Once your storage unit is full and you are ready for it to be out of your driveway then one phone call is all it takes and the PODS people will come back and pick up your now full storage unit.
Then it is off to one of the many PODS centrally located warehouses were your things will be kept in a climate controlled environment until such time that you need access to them. PODS doesn't require a contract which means you can safely and easily store your things for a month, a year, or even longer depending on your needs.

When you do want your things back again, you make one more phone call. Then your things come back to you so that you can unload them and then send the storage unit back full or empty, which will all depend on what is going on with you at that point in your life.
Be sure to use the moving and storage promo code provided by PODS to save 5% off your rental cost. PODS has a toll free number and their staff is both courteous and knowledgeable in all aspects of self storage. Any member of their customer service department should be able to answer any question or concerns you may have and can even help you to determine what size storage unit you will need.
Storing your excess stuff can be a chore, but it doesn't have to be. The promo code for PODS storage units offer flexibility and allow you to do things on your time. If you are tired of playing by the traditional storage unit rules, then maybe it is time for you to take a look at PODS.
What Is PODS?
PODS (Portable On Demand Storage) is a well-known moving and storage company that was founded in 1998 by Peter Warhurst. The company is based in Clearwater, Florida, but as of 2010 it has been franchised in 48 states, as well as Canada, Australia, and the United Kingdom.
How PODS Works
The PODS operating procedure is quite simple. A secure, steel-framed level storage container is delivered to your home, where you can store your items inside the container at your convenience before securing it with a padlock. Once that is done, PODS will remove the container from the property and deliver it to a PODS Storage Center or another location of your choosing.
PODS Storage Containers
Every PODS container is constructed with steel panels and a polyethylene core. The top is comprised of a polymer material, and the entryway is a steel roll-up door. The overall design is extremely durable, and they are available in three sizes:
8'x7'x7′ (7-foot container)
8'x8'x12′ (12-foot container)
8'x8'x16′ (16-foot container)
How Much Do Portable Storage Containers Cost?
PODS will charge you a monthly fee for storing their container on your property, and the price varies according to location, length of storage, and availability. Rates for a 12-foot container normally start at $110 per month while the 16-foot container starts at $120 per month.
4 PODS Promo Codes: Military, AARP, and More
WEBSAVE6
R101
RMNQ3SAVE
SIDC
Why Use PODS?
When weighing the options between using PODS or another storage option, consider the following:
PODS has 19 years of service and millions of satisfied customers.
PODS can help you move your items across town or across the country. No task is too big or too small, and you don't have to stress over renting a truck or paying outrageous gas prices. Let PODS do the driving for you.
The PODS website allows you to keep tabs on your account. Log on anytime, day or night, and remain up-to-date with your account details, including the estimated time of arrival of your storage container, tracking information, and invoice billing.
Safety – Since you alone oversee the packing and storing of items in your container, you don't have to worry over movers handling, and potentially harming, your valuables. Plus, you're the only one who holds the key to your padlock.
Dependability – Each container is constructed from high-grade materials to ensure the safety of your most treasured keepsakes, and the PODS Storage Centers guard your valuables from harsh weather, vandalism, and theft. Also, regular pest control treatments protect against insects and rodents.
Flexibility – When a PODS storage container is delivered to your home, you can pack and store your items at your own pace, instead of rushing and risking late fees if you opt to rent a truck.
Trustworthy – No matter the situation, PODS is there for your short-term and long-term storage needs, whether it's for a lengthy construction project on your home or following an emergency, like the aftermath of a weather disaster.
To find out more information about rates in your area, you can request a free quote by logging on to http://www.pods.com/easystoragesearch
Many sites claim to have a pods promo code for moving or storage. But, as you've probably already realized, they really don't. These websites say things like "Great bargains at pods.com, come check it out! We help you find amazing deals so you can shop without a worry." and then have a giant button for you to click – but no promo code. Or (this is my favorite) "Pods Coupon Codes, Promos & Sales Enjoy incredible discounts from pods.com on all your favorite items. Instant savings when you purchase today." Again, there's a giant button for you to click – but no actual pods promo code.

Here at EasyStorageSearch, we won't mislead you like this. We do have a coupon for Pods storage units that really works.
What to look for when choosing a storage container unit for your next move:
Long gone are the days when moving required you to sit for days or weeks with moving boxes stored in various nooks and crannies of your home while you waited for a moving truck to arrive and pick up your belongings. Now, you can order a storage container unit, more commonly known as a PODS unit, weeks in advance of your actual move and take your time moving your belongings out of your old home and into your new one!
What is a moving pod?
A PODS is a "portable on demand storage" unit that allows you to pack and unpack your belongings at your own rate. Although the term PODS is branded by a specific company, many storage container units are referred to as PODS. Many pods companies offer various sizes and a variety of moving options when you rent from them, but knowing what to look for in a PODS rental is important in making your decision.
What should you look for when picking a moving pod?
Availability in your area:
One consideration that should be made when you are looking into renting a storage container is whether or not the company is available in your area. Many companies are available near big cities and in most states; however, if you live in a rural area, you may have to research availability. However, many companies are willing to travel outside of their "local" areas for an additional fee.
Moving needs:
Are you moving across town or across the country? Are you staying within the United States, or are you moving abroad? Another thing to contemplate is whether you are moving or just storing your belongings for a certain period of time. How much of your belongings are you planning to store? Are you able to pack your storage container on your own, or do you need a company to pack it for you? These are just some of the considerations that you need to make when picking a moving container company.
Storage Availability:
Does the company you are renting from offer short- or long-term storage options? Are there additional fees associated with the container storage? If you are just storing your belongings, this is an important consideration. In addition, if you have several pods worth of belongings, will the company hold your additional units until you are ready to move?
Container sizes:
Most companies offer a variety of storage unit sizes to choose from, but the typical storage sizes seem to range from 6-foot to 16-foot boxes. Some companies offer much larger boxes, though, such as U-Haul's U-Boxes, which measure 96" x 60" x 90".
Security:
What kind of security is offered when your belongings are being stored in your company of choice's storage containers? Do they offer insurance? Are they licensed and bonded? These are questions that you need to ask when renting pods.
Price:
When you are looking at rentals, take care to see if there are any additional costs involved in storing or moving your container. Are there any companies that will refund money if you overestimate the number of or size of the storage or moving PODs you originally get an estimate for? See above for the latest pods promo code to lower your rental cost by 5% on long distance or local moves.
PODS: 5% Discount for Moving and Storage
Since PODS was created in 1998, they have offered moving and storage discounts to members of the military, veterans, AARP members, and others. With the PODS discount from EasyStorageSearch in place, WEBSAVE6, you will receive 5% off all moving services.
What companies are leaders in the moving PODS industry?
Now that you know what questions to ask and considerations to make, what are some reputable companies from which you can look into renting?
PODS:
The PODS company has been in business for over 20 years and have moved people locally and across country. They offer full service or do-it-yourself storage and moving.
Pros –
PODS offers three storage container sizes: 7', 12', and 16'. You can also mix-and-match which sizes you need for a custom move.
There is no time-limit on how long you can keep your storage container. This allows you to take your time loading and unloading your belongings.
They can help you find movers or you can move your things into your container yourself.
The boxes are made of steel and are weather resistant.
PODS are delivered to you and can be kept at your residence, stored at a PODS facility, or moved locally or across country.
Offers a military discount and special programs for families.
Cons –
The storage containers are only kept secured with a lock and key, if kept at your residence.
Limited service area.
Website is difficult to navigate, especially when trying to reschedule or cancel a PODS rental.
ABF U-Pack:
ABF is a moving freight company that pairs with U-Pack to move their storage units from place to place around the country.
Pros –
Delivers to all 50 states, Canada, and Puerto Rico.
You are not required to pay for units you do not use.
You can make reservations online without a deposit.
Cons –
Only 250 service centers.
You must provide your own lock for each moving container.
The company is only available for long distance moves.
Smartbox:
This company prides itself on providing several moving and storage solutions at affordable prices.
Pros –
Great customer service and upfront information about your moving and storage needs.
Smartbox can deliver up to 8 containers at a time.
Price includes your fuel and door-to-door delivery service.
30-day storage is also included in the price.
Cons –
Wooden shipping containers covered with waterproof canvas.
Limited service area.
Only one size storage container box (8').
1-800-Pack-Rat:
This company not only provides quality service for national moves, but also delivers your storage units locally.
Pros –
Local moving and long distance moving available.
Steel, weatherproof storage containers.
Delivers to United States and Canada locations.
Provides moving protection up to $10,000.
Cons –
Limited availability.
Not able to secure PODs on website.
While there are several other pods companies on the market, the above are just a few to get you started! Obviously, it is important to do your own research and see what works best for you and your moving needs, but with the ease and customer service available with moving PODs, they seem to be the most convenient way of moving!
Originally published in March 2011, this page has been updated to provide more PODS moving and storage tips as well as an updated promo code.