Moving can be stressful, but there are ways to mitigate the negatives and make it an easier, more enjoyable experience. This includes moving containers and storage companies, which may not be as pricey as you think. Options vary greatly and moving containers are available in numerous different sizes to fit your needs. Before choosing a moving container company, it is critical to assess how much stuff you have and how much flexibility you need in terms of time. Below are some of the most commonly asked questions about moving container and storage companies.
Are moving containers expensive?
The price of moving containers and storage will differ based on your specific needs. This includes how many containers you need and how far you are moving. Depending on what company you use, a small single portable moving container plus a month of storage will cost about $250, but this can vary greatly and be between $150 and $400. Of course, if you need more than one container, your final price might come out to around $1,000.
Local moves are, for obvious reasons, typically cheaper than medium and long-distance moves. Medium distance moves usually average out at a couple thousand dollars, but this can vary drastically depending on the company, the number of belongings you have, and what deals the company is offering at the time. Long distance moves can be tricky and require more communication with the company you choose, but interstate moving normally starts around $1,000 and can get up to above $8,000 if you have a lot of belongings and need multiple containers.
What sizes of moving containers would I have to get?
This is a great question, and just like with the topic of price, this can vary greatly depending on how many belongings you have. The table below will give you an estimate of what sizes you may need. Note that some companies may have more sizes than others, but ultimately the following measures will be a good benchmark. Of course, the company you choose to go with will be able to help you decide which size(s) to get. You can also use a storage space calculator to help you decide.
| | |
| --- | --- |
| Number of Belongings | Size Needed |
| Just a few things | 7-foot container |
| Studio Bedroom (around 500 square feet) | 7-foot container |
| 1 or 2 Bedroom (around between 800 and 1400 square feet) | 12-foot container |
| 3 Bedroom (around 1800 square feet) | 16-foot container |
| 4 Bedroom (around 2500 square feet) | 16-foot container plus 12-foot container |
| 5 Bedrooms (over 3200 square feet) | Two 16-foot containers |
What is the Advantage of Moving Containers versus Movers?
Moving companies put you on a tight schedule and normally do not offer any sort of storage. Depending on how far you're moving, you also may be without your belongings for a longer time with no access to them. Moving container companies usually offer storage, which is probably the biggest advantage over choosing professional movers. You can access your belongings in storage at any time and short-term storage will typically save you money.
Are Moving Containers Secure and are they Weatherproof?
The answer to this would be: most of the time. Of course, moving containers can be locked so that nobody can steal anything. Some containers come with locks included, whereas others do not and you will have to provide your own. Moving containers are manufactured to be weatherproof, but as with any other item, they can get damaged over time and may lose some of their sturdiness. It's always best to inspect the moving containers to find any flaws before using it, especially if you are moving in bad weather.
What if I need help moving? Do moving containers come with labor?
Some moving container companies offer professional movers, too, should you not want to pack and unpack your belongings yourself. This is a nice touch and makes moving a bit less stressful for you and your family. Depending on what moving container company you choose, you may or may not be offered labor as an extra add-on. Prices for this normally range between $100 and $300 an hour. There are many different services that only offer moving labor services, so you may be able to find a better deal on one of those.
Can I store a moving container long-term or is there a limit?
As mentioned, this is one of the best parts of using a moving container. Most services will let you "rent" the storage month-to-month, like you would with a typical storage unit. Most of the time, customers keep the moving containers at their own homes, but some companies also offer to keep it at a company's nearest location (normally at an extra fee). Many companies are flexible with the timeline so you can have enough time to get your logistics figured out.
Note that most companies treat freight trailers a bit differently and have different rules on storage times and whether or not customers can keep them at their own homes.
What are some of the Best Options for a Moving Container?
Below are four of the top options for you to consider if you are looking for a moving container company. Although there are many options out there, these are four of the most popular companies you can choose from that might be sufficient for your needs. It is highly recommended that movers get several different quotes, as each company will vary their prices based on how much stuff you have and what your specific needs are.
Perhaps the most popular moving container company is PODS. Headquartered in Clearwater, Florida, PODS was originally founded in 1998 and has expanded to Australia, Canada, and the UK. The founder, looking to expand his storage business, created the containers in addition to a unique hydraulic lift machine (AKA Podzilla) to make transport easier. Since then, PODS has become one of the top names in the business.
In general, the way it works is this: PODS delivers your container and you load it. Then, you can either keep it at your home or ask the company to pick it up and store it at one of its locations. When you're ready to make the move, the company will drive it to your destination for you – whether it's down the street or across the country.
PODS come in 7-foot, 12 foot, and 16-foot containers that are all weatherproof and made out of steel. PODS is a great service to use if you need storage, as you are able to store your stuff as long as you like (in most cases).
Most moving options don't allow a lot of time and you are charged by the hour or day; however, PODS are great options to avoid this and reduce your stress. PODS also allows cancellations as long as they are done the day before scheduled. This is useful for people who have last minute moving snags or setbacks.
Local moves can cost between $200 and $800 depending on how many belongings you have. Moving less than 250 miles away will cost between $450 and $2,100. Anything farther than that usually starts around $2,000 and can be as high as $8,000. Pricing is normally accurate and does not include hidden fees like you may find with other companies.
Storage fees are normally between $110 and $160 depending on the size and whether you store the container(s) at your own home or at a PODS facility.
While these prices may seem steep, they are normally cheaper and less time-restrictive than a full service professional moving company. And you can always save a bit by using a PODS coupon.
The flexibility and number of options for PODS are excellent, but the pros do lead to the need to book out far in advance. PODS are in high demand since the company is one of the best in the industry, so weekend deliveries are sometimes booked a year out in advance and weekday deliveries may need to be scheduled 6 months in advance. This limits many people who are given short notice about their move (e.g. for their jobs) so last-minute movers may not be able to find an available PODS container.
Pros of PODS: 30 days of storage is included, friendly customer service, unload/load whenever, decent insurance options, nationwide services, online quotes and booking for shorter moves, storage options, long distance options, tracking abilities, and military discounts.
Cons of PODS: Expensive due to its popularity and reputation in the industry, scheduling normally needs to be done far in advance, no ability to book long distance moves online, small nuances when it comes to limitations on size and distance.
PODS Customer Reviews
We surveyed dozens of different websites to collect and summarize what actual customers had to say about PODS moving containers. The following review is fairly typical…
Agree with folks in this comment section that PODS has absolutely the worst customer service possible and refuse to do anything to help you if they screw up. My husband has worked in customer service and was appalled that they even called their representatives "customer service specialists." The review above says PODS is a "full-service convenience meets DIY affordability—all on your timetable." Definitely didn't receive our delivery on our timetable, and given how rough they were with the container when they delivered it to us, I'm shocked that only one thing was was broken (we had it packed by professional movers who were also friends, so we were lucky). Do yourself a favor and keep the stress down during your move and DO NOT USE PODS!

from move.org
…but keep in mind that any industry leading company as large as PODS is bound to get lots of bad reviews. After all, most people only leave a review if they're upset. The question to ask yourself is "what percentage of customers were dissatisfied with their PODS container experience?" 1%? 5%? 10%? There's really no way to know. They have a A+ rating with the BBB.They also have a 4.2/5.0 rating with TrustPilot. So I'm inclined to believe that most people are quite satisfied with using PODS to move and store their belongings.
U-Pack has been around since 1997 and is yet another one of the biggest names in the moving container industry. Owned by shipping giant ABF, U-Pack has deemed itself "the long-distance moving service that makes staying on budget easy" and it operates in the U.S., Canada, and Puerto Rico. U-Pack has a "only pay for what you use" policy and offers various container sizes.
Unlike PODS and other companies, U-Pack only offers two different sizes – relocube or moving trailer. Normally, relocubes are good for people who have 2 bedrooms or less and moving trailers are better for people with 3 bedrooms or more. As always, this will vary based on movers' needs and how much stuff they have to move.
U-Pack's website is excellent compared to many of its competitors as it offers much more accurate, transparent quotes. You can choose your container (relocube or trailer) and then select other options if you want (e.g. helpers for loading and unloading) for transparent prices listed right next to the options. Prices include taxes, fuel, and ramp costs.
Moves between 100 and 250 miles normally cost between $1,000 and $2,000, whereas cross country moves can range from $1,500 to $7,000. Therefore, it's a really good deal for people moving between 100 and 250 miles away but can get pricey for farther moves. Also, U-Pack offers fast delivery and you only pay for the packing space that you use (by linear foot).
The big downside to U-Pack is that the company only offers service to people moving 100 miles or more. If you're moving locally, you'll have to find a different service. U-Pack does not offer on-site storage and you are only given 3 days to load and unload your container. This does not end up being an issue to many people who are moving quickly or have had everything planned in advance and do not need to store anything.
Pros of U-Pack: Credible due to it being part of ABF, only pay for what you use, nationwide availability (even in rural areas), competitive pricing for some moves, monthly storage option, tracking, no deposit, fast delivery
Cons of U-Pack: No short distance moves, less sizing options, parking and packing can be difficult, 3-day packing/unpacking limit, no on-site storage, expensive for really far moves
UPack Customer Reviews
We collected and summarized Upack customer reviews from many different websites. This one from move.org is fairly typical…
Loved working with this company. We had paid a moving company to pack up our items and move across the states. When they failed to show up after two days I contacted Upack. They where amazing to work with out of Utah. The manager got me a trailer in just a few hours dropped off at my door. They were a great price over what I was paying the other company though I had to load our own truck but their prices to move our stuff in a semi truck trailer was so amazing in price and they even stored our trailer in a lot for over a week while we closed on our home. Would recommend them highly and do to many of my friends. Thanks Utah Store for your help.

from move.org
…but of course UPack has their share of bad reviews as well. Again, people generally only leave a review if they're really upset. Their BBB rating is also an A+, but they do have a worst TrustPilot score than PODS.
3. 1-800-Pack-Rat

If you're on a tight budget, which many movers are, 1-800-Pack-Rat might be a great option for your move. Offering comparable services to PODS, 1-800-Pack-Rat has been around for about 15 years now. The process is quite similar to PODS, as the company will deliver a pod, you pack it, and then the company will store and/or deliver it. Just like with PODS, you pack it and they drive it.
A 1-800-Pack-Rat reservation comes with 30 days of free storage either at your home or at a local facility, which is useful if you need extra time for your move. Sizes available are 8 feet, 12 feet, and 16 feet. Therefore, regardless if you are moving a studio bedroom size home or a 3+ bedroom home, you will be able to find the size you need.
A local move can cost between $150 and $800, a move between 50 and 250 miles can cost between $450 and $3,500, and a move cross country can start around $1,200 and top out at about $7,000. Again, this depends on how many belongings you have. However, 1-800-Pack-Rat claims that it will match whatever offer you have gotten from PODS, making it one of PODS's fiercest competitors. In fact, 1-800-Pack-Rat's website even has a special page titled "Compare us to PODS."
Note that long distance moves can add up, as the service charges fuel surcharges that can really add up. 1-800-Pack-Rat's website may also mislead some customers a bit, as it has been reported that it recommends its large 16-foot container when it might not be necessary. The company does offer frequent discounts including free storage for an extra month and reduced travel charges, so it is important to ask what deal is currently being offered when you call for a quote.
Pros: normally offers discounts, includes 30 days of storage, multiple size options, clean facilities, price for some moves, insurance options,
Cons: No prorated monthly fees, fuel surcharges, some moves are very expensive, customers have to call for long distance quotes, not as widely available as other services
1-800-Pack-Rat Customer Reviews
We also gathered 1800Packrat reviews from numerous other websites and tried to summarize them as best as possible. As with the other companies, most reviews posted online are negative like this one…
Hands down the worst experience ever. The "short" version, they never showed up and despite several verbal verification that they would…they didn't. We had to find a last minute replacement costing over $1000 more. The customer service was horrible. I only went with them because a family member gave them rave reviews…I'm thinking they must have been the 1% for this company. I will never deal with this company again.

from consumeraffairs.com
Their BBB rating was good (A-) and their TrustPilot score was as well (4.0/5.0). So what does this all mean? It means you're probably fine hiring any of these companies to move your belongings long distance or across town…but companies, just like people, make mistakes. So there's certainly no guarantees. And keep in mind that every moving company you might hire has bad reviews (and good) posted as well.
4. Zippy Shell
Another moving container company worth getting a quote from is Zippy Shell. Zippy Shell offers local and long-distance moves and includes 30 days of storage if customers need it. Although it has a three-day pack/unpack limit, it can save you money and make your move easier if you are moving to or from a huge city.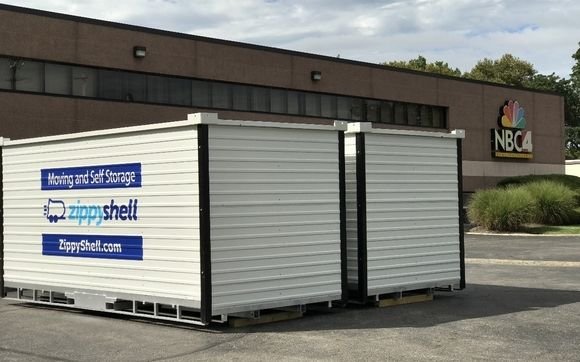 Perhaps the most attractive factor regarding Zippy Shell is that the containers are street legal. This is a huge plus if you are moving to and/or from a huge city like New York City or Boston where other types of containers are not allowed on the streets. Zippy Shell containers have a license plate and wheels so they will be allowed on streets even in the strictest metro areas.
Zippy Shell offers 10 foot and 15-foot containers that are made of sturdy metal and can both be stored if needed. Many users have been skeptical about the pricing plan, which includes a 50% total charge two days before delivery and the remaining 50% later, but ultimately people seem to get past this and rate it a good experience.
Various insurance plans are offered, but you generally will get $50,000 coverage. Note that none of the insurance choices include water damage, shifting damage, or damage that happens during loading/unloading – therefore, it is important to keep this in mind if you are moving to or from somewhere that gets a lot of rain or snow.
One container for a local move can cost between $200 and $800, mid-size moves can cost between $500 and $3200, and longer moves can range from $2000 to $7000. If you need help moving, Zippy Shell will coordinate labor assistance with a third-party company in your area. Many customers are displeased with the high cancellation and modification/rescheduling fees, so make sure you have your dates set when you book.
Zippy Shell only operates in 28 states but oftentimes partners with 1-800-Pack-Rat to accommodate people moving to and from out-of-service states. The website is not very transparent about availability in specific areas, so you will want to call and ask about your specific situation.
Pros: containers are street legal in most areas, insurance options, labor help available, sturdy containers, quick delivery
Cons: poorly laid out website, small containers, 3-day pack/unpack limit, strict cancellation/modification policies, not nationwide