Most of us will have needed a storage unit at some point in our lives for various reasons, which may include moving or home renovations, keeping vehicles/watercraft safe, housing business inventory and equipment, or just leaving more space for other things in our houses. Regardless what your need is, you may be overwhelmed at the number of available storage unit companies out there. During your research into available companies, you might find that there is a myriad of different storage units to rent online, and they all vary in price, size, location, and climate-control options. If you're starting your search for the best places to rent a storage unit online, the following three sites are great places to begin.
Public Storage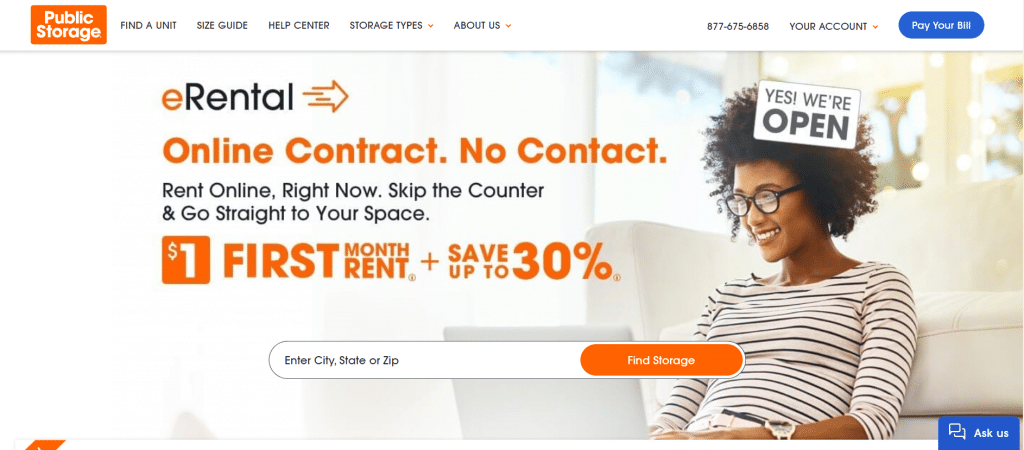 Headquartered in Glendale, California, Public Storage has approximately 2,400 facilities around the United States, so you can likely find one by you. While the hours of some locations vary, most facilities are open from 6:00 A.M. to 9:00 P.M., giving you a lot of time to visit your unit throughout the day. The climate-controlled units protect your belongings from heat or cold damage and other destructive conditions, and the facilities are all well-lit and protected by electronic gates to promote your safety.
Public Storage offers plenty of size options, ranging from a 5'x5' ("closet") unit to a 50-foot storage unit that holds oversized vehicles such as trailers and some commercial vans and trucks. The company website and its customer service representatives can help you determine what size you need depending on what belongings you plan on storing there. Public Storage has been in business since 1972 and has definitely become one of the most respected and knowledgeable storage companies.
Renting a unit with Public Storage online is easy, as you enter your information, choose which unit you want, and then pick a move-in date. On your move-in date, you'll meet with the property manager who will show you your unit and even let you pick another one if you are not happy with your selected size or location. Since your belongings are important to you and many of them might be extremely valuable, Public Storage wants to ensure you are happy with your storage choice.
Public Storage is normally running a "new customer" deal, which may include a discounted monthly price and/or your first month for $1. Monthly prices will range between $25 for the smallest units and $500 for the largest ones. Of course, as with most businesses, units in certain locales such as big cities will probably cost more than somewhere more rural. There are no reservation charges when you sign up and you can cancel your reservation at any time. Their website has a user-friendly facility finder that easily lets you locate facilities and compare prices.
SpareFoot
Another one of the best places to rent a storage unit online is SpareFoot. Based in Austin, Texas, SpareFoot self-identifies as the "largest marketplace for storage, making it simpler to move and store your stuff." The website is very useful for storage beginners, as it compares a slew of storage options nationwide and helps you choose the best one for you, whether it's a small self-storage task or storage of a very large item.
The idea for SpareFoot was born in 2008 when a University of California student was planning to study abroad in Singapore but had no place to store his stuff while he was there and was unsatisfied with the offerings at that time. Since its foundation, SpareFoot has partnered with more than 10,000 storage facilities and is able to scour available units and help users find the best option for them. These include Public Storage, CubeSmart Storage, Life Storage, and countless small, local storage facilities.
Since SpareFoot connects users with all types of storage units, facilities, and options, it can also connect users with portable storage (e.g., shipping containers and storage cubes like PODS). This is extremely useful because it eliminates the need to transport your stuff to and from a facility; instead, the company you choose will do it for you after you load your stuff in it and it will also bring it back to you when you need it. SpareFoot also takes things a step farther and helps customers find local and long-distance moving trucks as well as moving supplies, if needed.
Extra Space Storage

Oftentimes awarded the title of the safest storage unit option, Extra Space Storage also might be the right storage unit option for you. With almost 2,000 facilities, 1.3 million units, and 135 million square feet of storage space scattered throughout 42 states of the domestic United States plus Hawaii and Washington, D.C., you may be able to find a location close to you. Founded in 1977, Extra Space Storage is currently the second largest self-storage operator in the country.
Self-storage unit sizes range from 5'x5' (a closet) to 10'x30', which is "the size of a 1 ½ car garage" so you can fit both a vehicle and other items. You can also find special vehicle storage at Extra Space Storage, which includes enclosed, drive-up storage; outdoor covered parking; outdoor uncovered parking; and RV parking. Chances are, Extra Space Storage has whatever size you need for your vehicle. Of course, enclosed and covered parking will likely cost more but provide more protection for your vehicle(s).
Extra Space Storage takes an extra step that many other companies don't by providing routine pest and rodent control treatments to keep unwanted critters out of units. Individual units within Extra Space Storage facilities are also protected by alarm systems to deter thieves from getting into them. Facilities are also monitored by cameras and can only be accessed by an electronic gate. Depending on which options you choose, self storage prices normally vary between $25 to $500 per month. As an added bonus, Extra Space Storage offers zero-deductible self-storage insurance.
Conclusion – Renting Storage Space Online is Easy
Finding a storage unit to rent online is not as difficult as you might think. Even though there are countless options in most areas, you can undoubtedly find one that suits your needs and your budget.
This eliminates some of the stress of your situation and knowing your belongings are secure can make your life easier. The companies outlined above are three of the best places to rent a unit, so be sure to check out their offerings during your storage unit search.