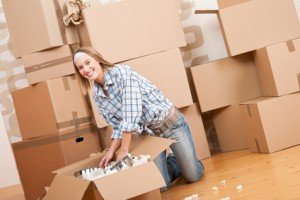 Moving can be stressful. From packing boxes to renting moving trucks, you might feel like your to-do list is a mile long. Here are six useful tips that you can use to take the annoyance out of moving day.
1. Make a list
Before you become overwhelmed by your moving duties, make a list of everything that needs to be done before you leave. Take a moment to do this a few weeks before your moving day. As the weeks pass by, you'll remember more tasks that you would have otherwise missed if you made a list just a few days before you moved out.
2. Start packing early
When you pack early, you have enough time to get more boxes, packing tape and moving supplies if you need them. If you pack only a day or two before you start your move, you'll be rushing until the last minute! Make it easy on yourself and start packing before you think you should.
3. Toss out what you don't need
As you're packing, think about what objects you're placing in your moving boxes. Do you want to take all of your belongings to your new home? Are there a few items you could throw out or donate? Don't be afraid to toss out what you don't want to keep.
4. Change over to your new address
No one wants to deal with the little logistical moving details. The sooner you change over your mail, newspaper and magazine subscriptions, the easier it will be to settle down comfortably in your new place.
5. Plan for a comfortable day
During your move, it's good to be comfortable. To keep your day stress-free as possible, wear breathable clothes that are easy to wear and comfortable shoes that don't hurt your feet. Keep some snacks around and have a few bottles of water on hand.
6. Keep essentials nearby
When all of your belongings are in boxes and moving vans, it's good to know where your essentials are located. Make a place on a table or counter for keys, wallets and phones. Write down your landlord's contact information just in case you need him or her during the day.
Whether you're moving hours away or down the street, you can also make your move smoother by hiring BC Alberta Movers to help you have an even more hassle-free day while you're moving.