Posts Tagged moving company
Investing in a moving company is a fantastic way to take a lot of the physical and mental pressure off of a move. The one problem with hiring movers that sometimes a move just doesn't go all that well. Whether it is due to the  moving company or the actual movers themselves depends on the situation, but either way sometimes things go awry.
If you aren't really experienced with movers, chances are you may not even know what a good experience with a moving company should be like though! The following are some sure signs that you picked out an awesome moving company, so that you can appreciate the value of the experience you do or do not have when using a moving company.
1. The Interview Process is Painless
When shopping around for moving companies, you may find that it is more difficult to get information out of some companies than others. A sign of a good moving company is that they are completely up front about most information in the first place, and that the customer service is willing to answer any questions that you may have. If you can't even get past this part of the process
2. Everything is Well-Planned
When it comes time for moving day there should be an inventory and a removal plan involved. The company should not only assist you in this process, but they also should be willing to give you constructive feedback. Basically they'll want to work with you to make sure everything goes as smoothly and efficiently as possible. If they don't do this it is a sign they may charge you for extra time, or that the movers just don't really care about their job at all.
3.  They Listen During The Move
Just because you've hired people to move your stuff, doesn't mean that you are aren't ultimately the one in charge. Movers should not only be willing to listen to your input during a move, but they should be checking in with you consistently to  make sure everything is progressing to your liking.
4. Are Open Up Fees and Charges
If something is going to cost you extra, a good moving company and their movers will let you know about it before it becomes a problem. There are some additional charges that can't be foreseen, but for the  most part movers can tell when something is going to cost you a little extra. There is nothing worse than finding out after the fact that you owe the moving company a lot more than you had budgeted for!
5. Polite
Not at any level should a member of a moving company should treat or speak to you in a way that seems impolite. There is the off chance if you yell at them they may react, but other than that, there really is no excuse for mover to act in such a way. If they do, be sure to report their behavior to the manager of the moving company.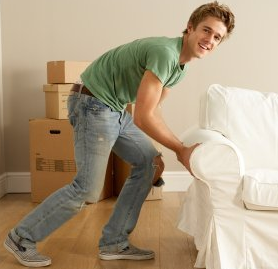 If you and your family are moving to a new home, planning is key. After you find your dream home and you have scheduled a move date, it is time to plan for moving day. Make sure that you get every member of the family involved to take away some of stress. While it might be tempting to cut costs, here are 5 things you should never skimp on when you are planning for your big move.
5 Steps to Making Your Move Run as Smoothly As it Possibly Can 
1. Hire a Certified Mover
It might be tempting to ask friends to help, but hiring movers in Atlanta will save you money and time. Not only will you reduce the amount of time it takes to clear your old home, you can also reduce the number of trips you need to take. Be sure to hire a certified company that assures quality so that you have peace of mind in knowing that the company has a good reputation in the industry.
2. Do Not Overlook the Importance of an Accurate Estimate
Some moving companies will quote you for their services over the phone. There is no way a company can truly tell you how much it will cost to move your belongings over the phone. Reliable companies will offer in-home estimates before the day of your move so that you can properly budget the cost of hiring professionals on moving day.
3. Moving Day Planning
Do not wait until the day of your move to call a friend to babysit your pet or your infant. You should think about moving day and the issues that might arise. If you are moving during a rainy season, invest in floor runners to spare the carpet. If you are moving in the heat, buy some fans and keep the house as cool as possible. You should also clear out your refrigerator and freezer and dispose of items that will go bad before moving day.
4. Keep Your Belongs in One Piece
You should use only the best packing materials for your fragile items. If you do not have the right packing materials, clearing out your bookcases, cabinets, and closets can be a chore. Ask your mover for boxes, tape, wrapping materials, and other packing materials or for recommendations.
5. A Sharpie is Essential
When the boxes are taped, you have no way of knowing what is in them. Make your job easier and invest in a sharpie so that you can label each box. The movers will know where to put the boxes and you will know which ones need to be unpacked first.
Time is money, and when you are moving you want to save in both categories. Avoid some of the most common problems people have on moving day and keep these tips in mind.
Author Bio
This article was written by Mike, and encourages those looking for Atlanta moving companies to seek out reputable professionals to help with upcoming moves.
Moving a home or office requires a lot of planning and the most integral role throughout the process is that of the moving company. Getting a good bargain on the moving company can make your whole move easier without burning a hole in your pocket. You can talk to your friends and relatives who might have hired a moving company to find a reliable one, or read the following for some useful advice on how to find a good moving company.
The cost of a moving company can be calculated and estimated on a number of factors which includes the size of the vehicle and the distance it will cover. Nationwide companies may charge a little more than your local moving company, which might have lower rates and suit you better. All you need to do is to keep the factors of reliability and safety of your goods in mind. Whether you are planning to do a local move, interstate or even international move – the moving companies' reputation, reliability, prompt delivery and safety of goods is what's important.  To find a good moving company you may refer to local directories and even browse online sites that detail moving companies. With a variety of services offered by moving companies, you can get a full service moving company, a pack-only moving company, a drive-only moving company, or even a trailer rental for you to pack and drive your own belongings.  A lot will depend on whether you are doing the whole move yourself or require the help of moving professionals.  The costs of moving trucks and professionals come at different rates depending on what you require.
There is different pricing for each moving company depending upon the nature of goods being moved, the distance covered by the truck and the size of the haul.  So it's best to do a bit of research first, get quotes from different companies on the cost and insurance, and then decide which company is the best for your move.
Tip:      Once you have the above information, do some searching with the moving companies' name online and see if you can find any customer service reviews.  Knowing your goods are being safely handled or that the moving truck will be reliable is extremely important during a move.  Remember the cheapest moving company may not always be more economical over the longer term if your goods are damaged or lost.  Lastly, make sure you have reliable cell phone numbers of key people in the moving company should anything go wrong on the moving day.
Comparing the price quotes will give you a good idea on the actual cost, but make sure the prices quoted include insurance of your goods.  Insurance is necessary in the event of accidents and loss of goods.  If the moving company does not offer insurance, be sure to obtain your own insurance though another company.
The cost of a moving company depends upon whether it is making a one way trip or round trip, and whether you are booking it for a weekend or a weekday.  Weekdays are comparatively cheaper as compared to weekends and similarly summers are more expensive than winters.  You may also be required to make a deposit at the time of obtaining a moving company, depending on the moving company terms and conditions.
To make your move easy, remember to:
* Keep the Bill of lading that is given to you by the moving company as it is a legally binding note of contract between you and them.
* Read the quote which is on your contract as well as the agreed upon rates. Also be sure to read the moving company's liability of your goods, delivery date and insurance claim clauses.
* If you are packing your goods, pack them properly to eliminate damage and breakages. With better moving boxes and wooden crates easily available, it is best to pack delicate glassware and other items in Styrofoam.
Finding a good moving company gives you peace of mind and allows for an easier relocation whether it is an office or home furniture and household items.
Find moving companies near you.