When it comes to moving, opting for a PODS moving container is by far one of the easiest ways to get your belongings from point A to point B. As easy as using a moving container is, finding out how much they cost and be a bit of a challenge. This is because many different factors go into determining your final cost of using a PODS moving container. Here is a cost breakdown that can help you understand what you are looking to pay when choosing PODS for your move.
About this calculator: This calculator is intended to provide a ballpark estimate of the cost to rent a PODS container to move. Your exact PODS moving price will vary depending on pickup and drop off location, time of year, and how many containers (and what size of containers) you use. The rough cost estimate provided includes 1-month storage, mileage, and fuel, but does not include moving labor or packing materials.
What Determines the Cost of Your PODS?
Unfortunately, there is no flat rate for a moving container. Instead, the following factors go into determining the cost of your PODS container:
Container Size. PODS offers three sizes of containers — large, medium, and small — with each accommodating different size rooms. Prices and exact sizes vary depending on which size you choose.
Number of Containers. Depending on the size of your job, you may need more than one container. PODS charges for each container individually, so the more containers you need, the higher the cost.
Distance. PODS are available for local, cross country, and international moves. However, your final cost will vary depending on mileage and distance between Point A and Point B.
Storage. If you're still looking for a new home or there is a time difference between your move-out and move-in time, you can opt to store your PODS container. If you choose to do this, you'll have additional storage costs tacked onto your overall costs.
Season. Whenever possible, save money by moving in the off-season. Peak moving season (aka spring/summer) means there's higher demand, increasing the overall costs and affecting PODS availability.
Add-Ons. PODS requires insurance on all containers at $10 per container per month. However, you can also opt to purchase insurance for your contents as well. The cost of this insurance will vary depending on the value of the contents, which you can set. Typically add-on insurance can range from $34.95-$469.95 per month. Other add-ons like padlocks can also increase your final bill.
How Much Does a PODS Cost?
Renting a portable moving container from PODS generally costs much less than hiring a full-service moving company. In fact, it's usually about one third of the cost. PODS also provides a secure way to store your stuff temporarily. But determining how much a PODS costs can be complicated. Plus, prices vary depending on location and demand. However, you can expect to pay between $200-$900 for a local move and $400-$7,700 for a long-distance move. Here's a general range of prices you can expect to pay depending on your move's mileage and container size:
| | | | |
| --- | --- | --- | --- |
| | Large Container | Medium Container | Small Container |
| Local Move | $400-900 | $300-$700 | $200-$500 |
| <250 Miles | $900-$2,300 | $700-$2,000 | $400-$800 |
| Cross Country | $5,500-$7,700 | $3,000-$5,000 | $2,000-$4,000 |
Breaking Down a Local Move (for Denver CO in June)
When you request a quote from PODS, you will receive a quote breakdown. To give you an idea of what is included in the cost of a PODS container, here is a breakdown for a local move from one zip code to another in Denver, Colorado– one of the hottest real estate markets in 2021.
| | | | |
| --- | --- | --- | --- |
| | Large 16' Container | Medium 12' Container | Small 8' Container |
| Container Delivery Fee | $79.00 | $79.00 | $79.00 |
| Recurring Monthly Rental Fee | $229.00/ month | $219.00/ month | $189.00/ month |
| Moving to a new Location Fee | $79.00 | $79.00 | $79.00 |
| Final Pickup Fee | $88.00 | $88.00 | $88.00 |
| Insurance Fee (container + contents valued at $25,000) | $79.95/ month | $79.95/ month | $79.95/ month |
| Approximate Total Fee (for one Month) | $554.95 + taxes | $544.94 + taxes | $514.95 + taxes |
As you can see, regardless of the container size you need for your move, the container delivery fee, the fee for moving the container to a new location, and the final pick-up fee all remain the same. Note that PODS requires insurance on their container, which costs $10 per month per container. You also have the option to insure the contents of your container through PODS. The cost of this insurance will depend on the value of the contents and will be the same regardless of container size. You may also opt to cover the contents of the container with your homeowners' insurance as long as it will cover it.
Other Costs to Consider
The cost of your moving container is not the only thing to consider when figuring out how much your move will set you back. Here are some other costs to keep in mind when figuring out moving expenses.
Deposits and Upfront Payments
While some moving container companies require a deposit to book, PODS containers do not require a deposit. You can book without making a payment right away since your initial costs are not due until a few days before your container is delivered. This is helpful because it means you can reserve your containers early and pay closer to your moving date.
Insurance
PODS requires you to have insurance on the contents of your container. You have the option to have this coverage through your homeowners' insurance, or you can purchase loss and damage protection from PODS directly. There is a monthly fee for this coverage based on the value of the contents of your container. If you decide to use your homeowners' insurance, you will still need to pay $10 per month per container to protect the container. While there are many areas to skimp on when moving, protecting your belongings with insurance should not be one of them.
Late Fees
Renting a PODS moving container is done on a monthly basis with flexible plans. If you need your PODS container for longer, you'll simply be billed for another month. This means no late fees. However, if you only need it a few days longer, you'll still be billed for a whole month, so plan accordingly.
Ways to Save on Moving Expenses
When the cost of your move is a bit higher than you're expecting, it's helpful to look for ways to save on moving expenses. While it's impractical to leave everything behind and start fresh, here are some practical things you can do to save money when moving.
Move During the Off-Season
You can usually secure a better rate if you opt to move when demand is low. This means choosing to move during the fall or winter. Moving during either of these seasons won't be fun, but the cost savings can be worth it. If you need to move in the spring or the summer, try to get a delivery, pick-up, and drop-off date in the mid-week since weekends tend to be the busiest.
Skip the Add-Ons
Deciding to purchase new moving boxes, hiring professional help, and other add-ons advertised can quickly inflate your moving bill. The best way to keep your moving costs low is to skip the add-ons and do the work yourself using what you already have or what you can get for free (think free boxes from the grocery store, friends, family, etc.).
Look for Discounts
Don't be afraid to ask for a discount when getting a quote for your PODS container. PODS offers discounts for active, retired, and veteran military members and often runs other promotions. You are welcome to use the PODS promo code WEBSAVE6 – which will save you 5% off local moves or storage – when you reserve your unit. Even if you can't secure a discount, the worst that will happen is you'll be told 'no.' But, you may be able to negotiate a longer rental. Just be sure to always read the fine print of your quote/contract to determine what is discounted and when full rates will take effect.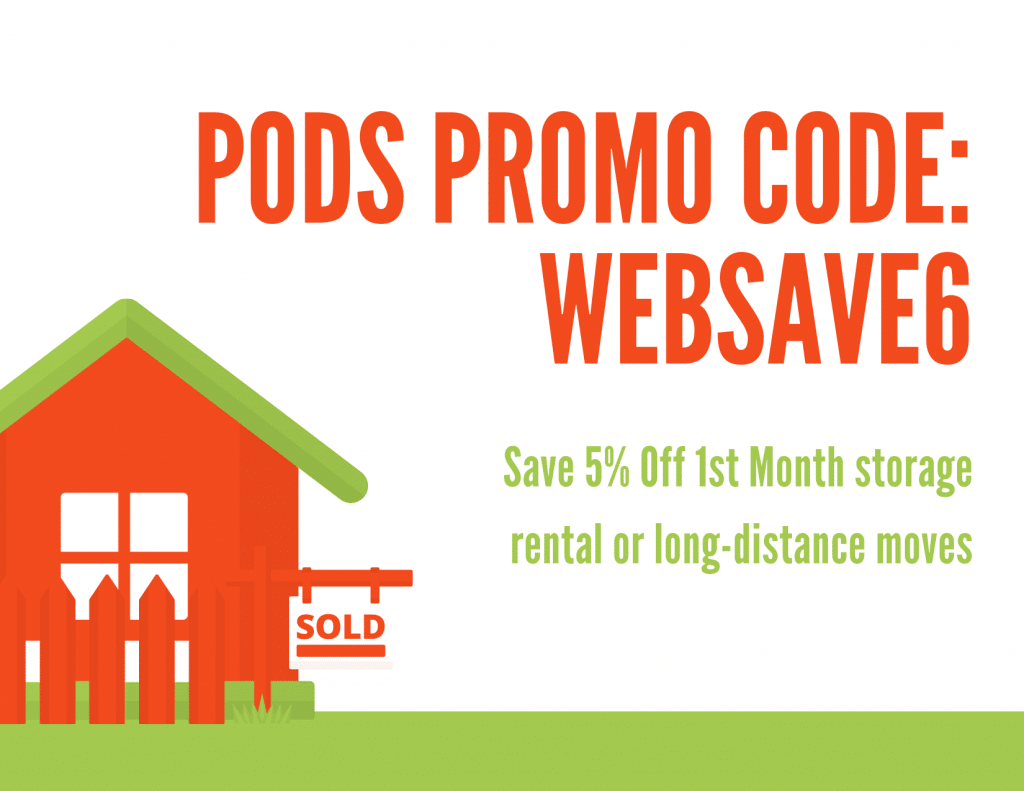 Keep, Toss, or Donate
Moving too much stuff will be costly. Save on your moving costs by taking the time to get rid of the things you don't need or no longer use. Since you have to pack everything up anyways, it's the perfect time to decide what you want to keep, what you want to get rid of, and what you can donate to others.
Hire Packing Pros
One of the benefits of PODS is that you get to pack your own belongings. However, you may want to consider hiring professional packers. While this would require upfront costs, in the long run, it could save you money since the professionals will be able to optimize your space. This could ultimately mean you'll need a smaller container or fewer containers. It could also save your belongings from getting damaged during the move.
Stagger Your PODS Containers
Sometimes it can be difficult to figure out exactly what size or how many containers you'll need for your move. One way to save costs is to stagger your PODS containers. This means you can fill one and then simply order the size you need for whatever belongings don't fit in the first one.
Confirm Final Prices
Many times we get a quote and assume that's what we'll pay, but that's not always the case. There may be undisclosed fees, additional taxes, and other required add-ons not included in the quote. Always be sure to confirm with customer service whether the provided quote is the final price. If it is not, determine what other fees and expenses are required before you book your container.
Get a Quote
Every move is unique. The actual price of getting a PODS container for your move depends on several different factors. When deciding whether PODS is the right option for you, your best bet is to contact PODS customer service to get a quote that factors in the specifics of your move. You can start the process online or call customer service directly at (855) 706-4758. Either way, this will give you the most accurate cost of using a PODS moving container for your move.