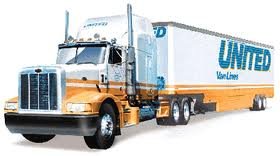 United Van Lines are currently the largest moving company in the United States. They are a full-service company and were originally formed in 1928. The current headquarters are located in St Louis, Missouri. United Van Lines have more than 400 agents constantly working all across America. They aim to serve every small town in the nation which is a difficult and worthy task. As they are said to be one of the best moving companies in the nation, United Van Lines claim to work extra hard to ensure that this position remains intact.
Website
Besides full service moving, United Van Lines have a host of storage facilities across the United State where your goods can be held if need be. They also offer the standard Corporate Relocation and International Moving services. United Mayflower Container Services is a part of the company and they offer you portable storage containers that should be large enough to hold the contents of an average 1,500 square meter home. United say they will deliver the storage container wherever you want, whenever you need it.
The company's full service mantra includes several packages offering different services ranging from $195 to $1,395. For example, the top priced package includes additional valuation protection worth $30,000 which should give customers piece of mind. It also includes a move-in and move-out cleaning service. All packages include date change, claim assist, valuation protection from $5,000-$30,000 and 'Straight Talk Gold Standard Protection'. You can choose between the mandatory 60 cents per pound of goods protection or a Full Replacement Value protection deal. To get a free estimate, all you need to do is fill in a relatively straightforward application form and United Van Lines will give quickly give a quotation.
Services
Although they are America's largest and best known moving company, United Van Lines certainly receive mixed reviews from their customers. Customers are given a lengthy set of documentation to sign which can be difficult to comprehend. A number of customers have complained that their items were moved haphazardly with items carelessly packaged and broken. Of special importance is the fact that some customers were required to provide receipts for items that cost more than $100.
On the flipside, there are thousands of customers who are absolutely delighted with their United Van Lines experience and fully understand why this organization is viewed as the number one moving company in the United States. The agents who provide the estimates are honest, professional and willing to negotiate. Indeed, you could lower your quote by up to 10% if your play your cards right. It seems as if United Van Lines has one of the highest success rates in the industry when it comes to transporting all your goods completely intact with nothing missing. The majority of those who did lose items found that the claims process was quite simple, a pleasant surprise to most.
Overall, while United Van Lines have their critics, it seems to be a classic case of not being able to please everyone all the time. For the most part, they appear to give excellent service and have been recommended by a large percentage of their former clients. For now at least, United Van Lines looks set to continue their domination of the moving industry.
Read more reviews of moving companies.