| Moving Company | Cost | Year Established | Review |
| --- | --- | --- | --- |
| | $8940 | 1948 | There are more than 500 agents of the company operating nationwide. Atlas review |
| | $8830 | 1928 | Allied Van Lines merged with the North American Van Lines company in 1999. Allied review |
| | $7350 | 1891 | Over the years, Bekins has been involved with many firsts and important milestones within the moving industry. Bekins review. Optional Services: Partial Packing $1400, Full Packing $2300 |
| | $9500 | 1985 | Two Men and a Truck has expanded into a company with more than 300 locations around the world in the last 30 years. Two Men and a Truck review |
| | $8200 | 1928 | Largest moving company in the US. United review |
The above moving rates are rough estimates to move a 3000 square foot (4 bedroom) house from Chicago to Denver. Your quote will obviously vary based on size of home, locations of origination and destination, time of year, and other factors. Of course you'll pay more if you choose to have your items packed by the moving company as well. The company will charge extra to send over a packing crew and you'll be charged for each moving box they use.
With Bekins the following services are included in your estimate:
Loading all items onto truck
Transporting items to the destination
Unloading all items into new residence
With Two Men and a Truck all moves include their premium service:
Pad and wrap everything
You'll have the same driver the entire time
Guaranteed delivery date and time (most companies can't guarantee an exact delivery time – they give a week long delivery window)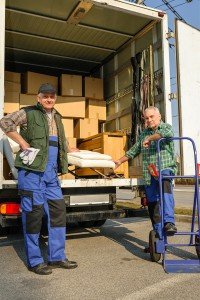 The vast majority of Americans move at least once or twice with some individuals packing up and moving more than a dozen times during the course of their life! Each time you need to move, a world of hassle awaits you. Aside from having to deal with utility companies and the bank with regards to changing your address, you also have to find a reputable moving company or else you'll be forced to move all the goods yourself.
This is simply not feasible in most cases so the next step is to read moving company reviews online which can help you make your mind up. Shopping around will certainly save you hundreds of dollars but there are many other things to take from a moving company review, especially when it's written from the consumer's point of view.
Need For Speed
No one expects their goods to be transported from New Jersey to Washington state in a couple of days. We understand that moving companies take detours and often change trucks en route as a means of being more economical. What is not acceptable however is a furniture moving company that moves as fast as a glacier. In moving company reviews, pay special attention to the speed at which the movers loaded up the truck as well as the length of time the journey took.
Safe Transportation
One of the main reasons (aside from lack of space) why moving companies are used is because they are supposed to be professional organizations that have the ability to move all your possessions across the country without incident. Avoid companies that have a history of breaking items or losing possessions. Occasionally, accidents happen but breakages often occur because of careless packing by the movers. We'll let you draw your own conclusions in relation to missing items.
Handling Of Disputes
Even the very best moving companies will make mistakes sometimes. Items will be labeled incorrectly and misplaced or else a fragile item will break. Customers accept this so long as the company takes responsibility. Too often, a moving company will shirk this responsibility and take as long as possible to cover the cost of the broken/missing item. It's also important that you pay for full contents insurance. This way, if all your items were broken in an accident, you would have the right to full compensation. Don't settle for the derisory 60 cent per pound weight insurance that is mandatory. This means that you would receive a paltry $42 for a broken washing machine that weighed 70 pounds and could be worth $500+.
When looking at moving company reviews, pay attention to the level of customer service provided. Few things irritate a customer more than the knowledge that their grievances are not being listened to. Top moving companies have excellent customer service that has the ability to quickly handle complaints to the satisfaction of clients.
Unless you have experience with a particular moving company, customer reviews are a great way to discover if a certain company is the right choice. We also recommend that you contact the Better Business Bureau and find out more about moving companies that interest you.
Choosing a Reputable Moving Company
In 2009, the Better Business Bureau received nearly 9,000 complaints against moving companies. Some of the complaints are just a part of the business, such as an object being broken during the move, and these issues are usually resolved very quickly. However, there are also a number of scams related to moving companies that people need to be aware of. One of the most common scams is when a moving company will essentially hold all of your belongings hostage until you pay thousands of dollars to have them release it. Some people wonder how scams like this exist, but keep in mind that anyone with a truck and a website can appear like a legitimate company. Here are some tips that were released by the BBB to help people avoid moving company scams.
1. Use the BBB
This may sound like a little bit of self promotion on the part of the BBB, but they do raise a valid point. They are the agency that people will complain to when an issue is not resolved. So taking their advice probably isn't the worst idea. Additionally, it was estimated that in 2009, more than 1 million people relied on the BBB to find moving companies that they could trust. You can either stick to companies that have been accredited by the BBB or simply the ones that have a good rating. Additionally, moving companies that cross state lines must have a license from the Federal Motor Carrier Safety Administration (AMSA). The AMSA has 7 criteria that a company must meet in order to get a license and one of them is having a satisfactory rating with the BBB.
2. Get In-Home Estimate
Very few moving companies will be able to give you an honest estimate without actually seeing your home. However, there are some exceptions For example, if they regularly move people to or from the apartment complex you live in, they probably have a pretty good idea of how much stuff your apartment can hold and how long it takes to move you. Additionally, you may not want to always choose the lowest estimate. Many companies will give low estimates in order to retain you as a customer and then tell you that their estimate was too low and that you will have to pay several hundred dollars more than planned. The best idea is to first get an estimate over the phone or online and then also get one done in person a day or two before your move. Additionally, some companies pay their movers a flat rate based upon how many customers they serve, so that have an added incentive to meet the time-line that they gave you because if they get done with you early, they can squeeze in an extra customer, which makes them more money.
3. Know Your Rights
By knowing your rights, you will be able to handle any situation that arises This is especially helpful when it comes to moving companies that are trying to scam you out of extra money. By knowing your rights, you will know which agency to contact based upon your situation. It might be the BBB or local law enforcement. If the moving companies do not live up to their end of the bargain, there is a resource or agency that exists to help you, but it is up to you to find out what it is.