Junk removal pricing is a bit of an inexact science. The price will be based on a number of factors including cost of gas, distance to your home, and primarily the volume of junk you have. In order to use this cost estimation tool, do your best to estimate the volume of junk you have (in cubic feet).
At some point in our lives, we may come across a time where we need to get rid of some junk. Whether it's furniture, appliances, materials we've accumulated from home projects, or just general stuff that has built up, there are generally two options for us. First, we can pay for a professional service to haul it away, which is normally a one-time thing and is priced by load of junk. This is not too difficult, as the professionals with the junk removal service will load and haul our junk for us. Use the calculator on this page to estimate the cost to hire a junk removal service near you. Get a ballpark quote to remove a sofa, couch, or anything else from your home.
Second, we can rent a dumpster and fill it up with our stuff. This is normally priced by week, but we may be able to find a service that charges by the day. The downside to renting a dumpster is that we have to fill it ourselves and this may be difficult if we have a lot of items, especially heavy ones.
As you might expect, the prices for these range vastly depending on many circumstances. Let's look at an overview of junk removal, take a glance at some cost estimates for junk removal services, and analyze what factors your personal prices may depend on.
Averages – Cost to Remove a Couch Near Me
Before getting into specifics, it's important to know averages so you know what to expect. Depending on the factors outlined below, the price range for a full-service junk removal can range between approximately $100 and $800 per load of junk. Nationally, the average is around $250 per load.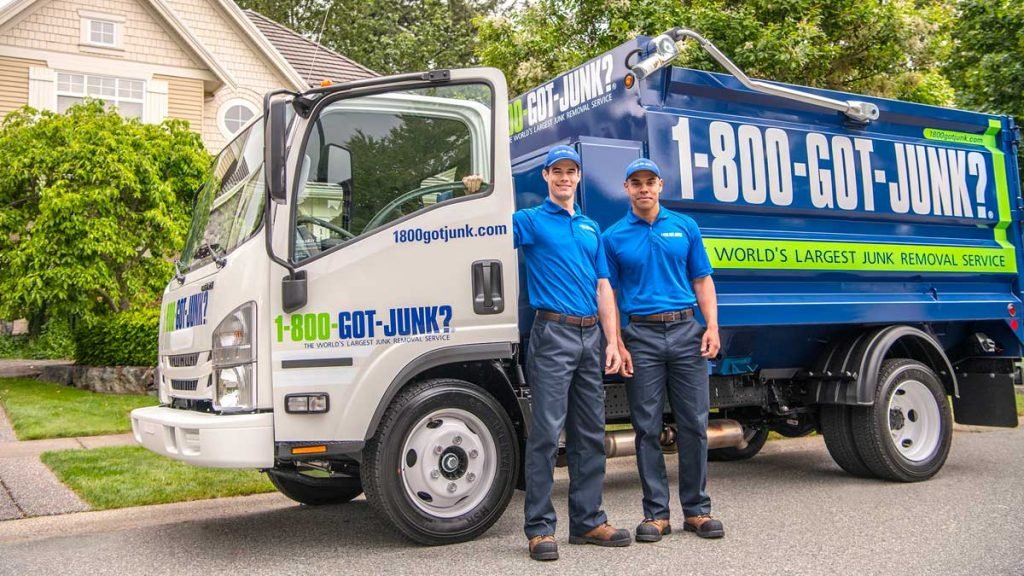 If you would rather rent a dumpster, the range is approximately $300 and $525 per week, with a national average of $402 per week.
Depending on your needs, your time, and your ability (or inability) to haul junk yourself, you'll need to decide which option would be better for you.
Assessment
Perhaps one of the more difficult aspects of junk removal services is that many of them cannot give you an online or over-the-phone estimate. Similar to some house cleaning services, junk removal services oftentimes like to evaluate the junk you need hauled away before giving a set price. This is not usually a problem if you have plenty of time to spare and can afford to shop around for a service, but for people in a hurry, this usually is a hindrance.
How Junk Removal is Priced
Another thing that varies is the pricing structure of specific junk removal services. Most companies will determine price based on how many cubic yards your junk takes up. Many of them have a minimum charge for a certain size, whereas others have no minimum charge but may charge an increased fee per cubic foot.
Factors that Influence Junk Removal Prices
Location: Just like with many other products and services, junk removal service pricing varies in different areas. Some companies charge much more in more populated cities than those in remote, rural areas (i.e., supply and demand). However, if your junk is in a really rural area, there may not be any junk removal services locally and professionals would have to make a long drive to get to it. This can drastically end up raising the price of the service.
Demand: As mentioned, classic supply and demand applies to junk removal services. If demand is high, and availability of junk removal services is low, consumers are more likely to pay more. Your price will likely be higher if you are in an area where demand is high.
Cost for the Company: Not only does the price of junk removal service apply to the job that is actually done, it is important to remember that the company must also pay its employees plus utilities, equipment, and other basic needs to get the job done. Newer equipment and more employees normally mean the company has higher costs and may charge a higher amount.
Gas Prices: As mentioned, your location matters. Gas prices are a huge factor for junk removal services, especially those that use very large trucks with diesel gas. If gas prices have spiked recently, junk removal services may raise their prices to compensate for the increase. Lower gas prices may mean a decrease in the fee.
Local Fees for Disposal: It's great getting rid of your bulk junk, but where does it go? Normally a landfill! Junk removal prices may also depend on local disposal fees depending on where you are. Most areas have what is called a tipping fee that is governed by the county or the waste authority for the local area. Most tipping fees are based on weight per ton and they are used to fund maintenance and operations of the landfill. Prices vary greatly, with the average in the South-Central region of the United States around $40 per ton, the average in the Midwest region around $50 per ton, and the average in the Pacific region around $72 per ton. While most people don't have junk weighing a ton, in general, the higher the tipping fee is, the more you will probably have to pay.
Items to be Hauled Away: Some junk removal services charge a special fee for certain things such as appliances, construction materials, furniture, mattresses, and hot tubs. Having major appliances such as refrigerators hauled away can range from around $50 to $150. Hazardous materials like latex paint and fluorescent bulbs normally cost a bit extra, too.
Time: Like they say, time is money. Time is quite a valuable resource for everyone, including junk removal services. Depending on the service you choose, there may also be an hourly component built into the fee. As you would expect, junk removal that takes longer and is more difficult might cost more.
Getting Rid of Junk is More Affordable Than You May Think
Unfortunately, it is impossible to give a specific range of how much you would need to pay for junk removal services. Depending on your area and the items you need removed, the price you will pay can vary greatly. Before choosing a junk removal service, it is recommended you do research and compare different companies and get several quotes to decide which one is best for you, your budget, and your needs. Also, if you donate functional items to charities and other organizations, it may take some time and effort on your part but can cut down your costs.
Junk Removal Services – the New Way to De-Clutter
It seems that no matter how much you may clean your home, there is always a bunch of clutter that makes its way into your home and now, thankfully, there is a new way to de-clutter; junk removal services. Junk removal companies are great because, unlike you, they are not attached to anything that may be cluttering up your home. While you may not be either, a junk removal service won't think twice before it rids your home of something.
Knowing that, you should first try to determine what is and isn't junk, at least in your eyes, before you call a junk company. Once you do have what you would classify as junk separated however you like, call up a service to get started.
Many junk services will come out and look at what you have for removal and then let you know how much it will cost you to use their service so that you can de-clutter. These estimates are usually given out for free and while not set in stone, they are usually very close to the final price and at least leave you with some sort of price indication.
Once you agree upon a price of your liking, you can then let them go straight to work. They will quickly and effectively load all of your junk into their junk collecting trucks and before you know it, the job is done and they are moving on down the road. They then take your junk and dispose of it for you, leaving you with the most un-cluttered home that you have likely ever had.
When you allow a junk removal service to de-clutter your house for you, you are certainly going about it the easy way. No back breaking work, no sweating, no banging your knees or shins, nothing. All you do is sit back and relax and watch as your home gains some much needed space.
You can even use junk removal companies to help you de-clutter your yard. So many times, people will start to 'collect' many eye sores in the front yard, the back yard, or both. If this describes your yard and it is simply getting to be too much for you to handle, then one call to a junk removal service is all it takes.
The best part about using a service for inside or outside junk removal is that you know they will properly dispose of any hazardous materials that need special care when being thrown out. For example, old paint, old lawnmowers with gas and oil still in them, old car batteries and the like. All of these things require special handling and can't simply be thrown out.
If your life, or more importantly your home, is being overrun with clutter then don't take it anymore. Call a junk removal service to haul away your couch and get them out to assess the situation. Once your house is de-cluttered and you can actually see the floor again, you will likely wonder how you ever got along without seeking the help of a junk removal service.
Are you looking for a professional junk removal service to help clean out household junk? Junk removal services will haul away your unwanted furniture, appliances, and household junk. Clean out your house and garage the easy way by calling a junk removal service.