Archive for category Storage Shed
Do you need extra storage space? Putting a storage shed in your yard will help you to increase your storage space. Lifetime Sheds is a great option for you to look at. Rather than spending money on renting storage space from a storage company, many over-crowded families now invest in a Lifetime Shed. Whether you need additional storage space to store your tools, or to store outdoor lawn equipment, a Lifetime Shed is the answer you may be looking for.
Lifetime Sheds are constructed using polyethylene plastic for the walls, the roof, and the floor as well as the doors. The sheds are reinforced with steel in the doors, roof and the walls to give it additional stability.  By combining the use of steel and polyethylene, Lifetime Sheds has outstanding durability and will hold up well in high winds and bad weather. The outside frame is UV ray protected that will help prevent cracking and damage from the powerful rays of the sun. The materials are powder-coated which helps prevent cracking, rusting and discoloration. Lifetime Sheds are strong and durable and maintenance will be very minimal. Your Lifetime Shed will last for many years to come.
The exterior finishes of the Lifetime Sheds are attractive wood-grain textured panels. No painting is ever required and the simple maintenance consists of hosing it down from time to time. The sheds include a shatter-proof, high impact plastic window to allow natural light in. There are screened vents to provide proper ventilation.
One of the unique features that Lifetime Sheds has is interchangeable panels for the side walls. If you don't find the size shed you are looking for, you can purchase extension kits to customize the shed by adding additional panels to make it larger. These extension kits are sold separately. One thing you do have to check in to is that when you add extension to the sheds that make it longer then recommended your warranty will be altered. The company recommends and guarantees only particular sizes for the sheds. So if adding extensions is necessary, be sure to read the company guidelines on extension kits so you know what your warranty will cover.
Lifetime Sheds offer a variety of accessories to customize your shed. Battery-powered lighting can be added to your kit, as well as steel-reinforced shelves. When ordering your Lifetime Shed, you can add the accessories you need.
There are so many sizes and prices for Lifetime Sheds. And with the option to purchase extension kits, the choices are great. Some of the Lifetime Sheds available are as follows. You can get a Lifetime Shed sized 7' X 4.5' for around $829.00. This shed is great for storing small tools and automotive supplies. It is also perfect for storing pool supplies and pool toys. It is great to store inside a carport or patio. It comes with double wide doors which allow for easy access. The larger Lifetime 8' X 10' storage shed runs around $1,100. This shed comes equipped with shelving units and peg strips to help you organize your tools and things. It is a great size for the backyard. The Lifetime 15-Foot Wide Shed runs for $1,799 and has double doors in the center of the shed. It is 15' X 8' and features 2 windows with shutters. It comes with several shelving units and peg strips. If you don't need it for storage, this Lifetime Shed will make a great play house or fort for children, or a great workshop for dad. Lifetime Sheds also has a variety of Garage Sheds. There is an 11' X 21' garage shed that has plenty of room to turn into a workshop, or to store your recreational vehicles or riding mowers. The carriage-style doors allow you to open up the entire front so that you can move your large items inside. This one will run you around $4,000.
Once you have ordered your Lifetime Shed from their website, your new Lifetime Shed is shipped directly to you. Assembly is required. There are step-by-step illustrated directions, and all of the hardware needed to assemble the shed is included. It is recommended that you have someone there to assist you in assembly. It is definitely a two man job to assemble one of these sheds.
If a new backyard storage shed is in your future and you are looking for a great styled and durability, then Lifetime Sheds is certainly something to look at. The ability to customize your shed to fit your needs is a great feature.
If you are like the many millions of Americans who have more stuff than you do storage space, then Arrow Sheds may be the answer you have been looking for. Backyard storage is the perfect way to add additional square footage to your storage space. It is a very affordable method of increasing your space. Whatever you have to store; bicycles, children's toys, pool supplies or lawn and gardening tools, you will find the extra space from an Arrow Shed quite beneficial. Some families are even building backyard sheds for playhouses for their children or the infamous "man cave". Whatever the purpose Arrow Sheds will provide you with the right size and style shed to fit all of your storage needs.
Arrow Sheds are an affordable option for your backyard storage unit. Looking at the other options available for storage, like public storage units or Pods, Arrow Sheds costs less in the long run. And your stuff is stored on your property so you simply just walk to the back yard to get the things you need. With storage facilities, you have the added inconvenience of having to drive to them in order to get the stuff you need.
Arrow Shed construction is very durable. Arrow Sheds are made of galvanized steel, so they are one of the most durable sheds on the market. Galvanized steel won't rust so you can expect a long life from your Arrow Shed. Galvanized steel will hold up better in bad weather, and the necessity for continued maintenance on it will be limited.
You are given several choices for the sheds finished exterior. You can choose from baked enamel, electro-galvanized steel, pinewood or vinyl. You may want to choose the finish that best matches your homes outside décor.  In addition to selecting the exterior wall finishing, you can also pick the roof style. Choices are sloped, gabled or gambrel. The ability to customize your Arrow Shed will help it blend in with the existing structures on your property.
There are many sizes and prices to choose from. The Arrow YS47 is a 4' X 7' compact storage space that runs for around $378. This model is designed like a lean-to, and helps save space in your backyard because it can lean right up next to a wall or fence. A great shed that is perfect for storing lawn equipment is the Arrow Utility Building. This 8' X 3' storage shed has 4 shelves and a tool hanger rack that will help you keep your gardening tools organized. The Arrow Woodlake model is a 10' X 8' storage shed that runs around $398. This model offers 413 cubic feet of storage space. There are double doors on the front that allow you to store large yard equipment.  One of the larger models is The Sheridan which is a 10' X 14' shed that has double doors to allow easy access, and plenty of room to store large items.
The Arrow Sheds can be purchased online at their website or at participating retailers. Some of the retailers who carry Arrow Sheds are Lowe's, Sam's Club, The Home Depot and Shed Nation. Pricing varies depending on where you purchase your Arrow Shed from. You can even check on Amazon and eBay to locate the best price.
Assembly is required, but is very easy. Arrow Sheds are pre-fabricated steel pieces that are put together with a screwdriver and some pliers. There are easy to follow directions, as well as customer support available to you by phone. You can also visit their website if you run into any problems assembling the shed. The website has a great video to demonstrate how to properly assemble your new shed.
Depending on your city's code and ordinances, you may need to get a permit to put a shed on your property. So, to be on the safe side, check with them first. Most times it depends on the size of the shed you want to install. Arrow Sheds have either a 12 year or a 15 year warranty.
If more storage space is what you need, or if you are looking for a shed to turn into a playhouse or workshop, Arrow Sheds will have the perfect sized and styled shed to fit all of your outside storage needs. Customize your Arrow Shed to match the existing structures on your property. Don't let another year go by without finding a solution to your storage shortage, check out the Arrow Sheds.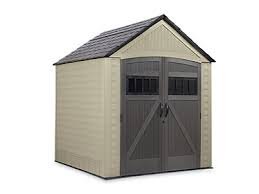 Running out of storage space? Rubbermaid Sheds are a great answer to your storage problems. Adding a storage shed to your property will not only solve your storage needs, but will also add value to your property. Rubbermaid is certainly a well know brand when it comes to storage. Nearly every household in America owns at least one Rubbermaid storage container. They are a trusted name and offer quality storage products. So why not take a look at Rubbermaid for your storage shed needs?
Rubbermaid sheds are made of thick, heavy-duty plastic called polymer resin. The sheds are pre-fabricated and available in many different sizes. Because they are manufactured with polymer resin, there in no maintenance or painting required. There is no need to worry about rotting, rust or weather damage. They are waterproof and will hold up in bad weather. They resist denting as well.
Unfortunately, there are not any customizing options with Rubbermaid Sheds so matching your home's exterior isn't possible, unless your home looks like a Rubbermaid Shed. You can add shelving packages to your Rubbermaid shed. But as far as color or style choice, there isn't any.
There are two different types of Rubbermaid Sheds to choose from. There are Vertical sheds or horizontal sheds. Rubbermaid Sheds come in many sizes.
There is an extra small Vertical Storage Shed which has 17 cubic feet of storage capacity. It is 2'2"w X 1'7"d X 5'7"h that run around $250.00. This shed would be a great choice to store painting supplies or cleaning supplies.
The Rubbermaid Big Max Jr. Shed has 147 cubic feet of storage capacity. It costs around $499.00 and 82.8in w X 39.6"d X 91.2"h.  It includes lockable doors and wide double door entry. The doors are steel reinforced to give them added security. The Big Max Jr. is perfect for storing all of your lawn and gardening equipment. You can easily organize your trimmers and mower. Add shelving to hold your gardening pots, gloves and spades.
The Big Max is 325 cubic feet or storage. It is 6'9"q X 6'9"d X 7'7.5"h. The Big Max includes 2 skylights, lockable steel reinforced doors and 2 front windows. The Big Max would be a great place to park your riding lawnmower. Hang your rakes, shovels and blower to keep your floor space clutter free. Add your children's bicycles to free up some space in your garage.
The Big Max Ultra offers 467 cubic feet of storage space. There are 2 windows and 2 skylights to allow plenty of natural light in. This shed is unique because it is equipped with double doors on the front as well as the back. There is plenty of storage space to keep your outdoor equipment organized. Dimensions are 6'9"w X 10'2"d X 7'6"h. The Big Max Ultra is only available through The Home Depot.
The Roughneck Large Storage Shed is a great shed to use for storing bicycles, skateboards and other outdoor games and equipment. It has 159 cubic feet of storage capacity and is extra deep. The dimensions are 55"w X 76"d x 77"h.
The horizontal storage sheds are a great alternative to the standard sheds if space is limited. There are several horizontal storage shed options with Rubbermaid Sheds. There is an 18 cubic foot horizontal storage unit that costs around $200. These sheds work great on patio's, porches and decks and can be great storage space for pool supplies or pool toys.
The pre-fabricated shed needs to be assembled. Assembly is quick and easy. The roof and walls simply snap together and then are secured by screws.
Rubbermaid Sheds can be purchased at many of the local retail stores, like Wal-mart, Target and Home Depot. Locating a good price on the sheds is quite possible. They are already reasonably priced, but you may be able to find them on sale. You have to check their website because not all Rubbermaid Sheds are available on the website.
Rubbermaid Sheds are certainly an option for your storage needs they are reasonably priced and are very, very durable. They do, however, lack in style and the ability to customize them to match the structures currently on your property. If you need the extra storage space that a backyard shed can bring and aren't too worried about the appearance, the Rubbermaid Sheds are a great buy. Visit their website, or check your local hardware and home improvement stores to locate the Rubbermaid Shed that is perfect for you.
Tuff Shed is one of the largest builders of storage sheds and garages in the United States. They were founded in 1981. They currently have 47 factories that manufacture both residential and commercial sheds, garages and specialty and custom buildings. Tuff Sheds are available online or through dealers throughout the United States. The sheds are shipped directly to you. Pricing and features vary because you completely customize your shed.
There are several models to choose from. Once your model is decided on, you can pick the size, paint color, roof shingles and add any customizing desired. The website allows you to Build-A-Quote. Each model is available in several different sizes so you can pick the size you need. There are many paint colors to choose from, so matching your home's paint color should be easy. You are also given several different colors of roof shingles as well.
The Garden Ranch model is available from 6' X 6' up to 10' X 12'. The Garden Ranch has a 4' X 6' door giving you plenty of room to fit your lawn and garden tools in. The Garden Ranch comes with a 5 year warranty. The pricing for this model begins at $919 and goes up to around $2500. The base price is based on unpainted structures.
The base price for The Premier Ranch model starts at around $1,200 for the 6' X 6' model. The Premier Ranch standard sizes range from 6' X 6' to 12' X 32'. This model allows you to place the 4' X 6' door on any one of the four walls. This is a great feature to have. The 12' X 32' size runs up to about $6,400. This model comes with a 7 year warranty.
If you are looking for the "big daddy" of storage sheds, then check out the Premier Barn Garage. This one is available in four sizes that range from 20' X 20' up to 24' X 30'. Pricing runs from $12,000 to $20,000. Perfect for those looking to store additional vehicles. There is a 7 year warranty on the Premier Barn Garage.
Tuff Shed also has a Loafing Shed, which is usually used by horse owners to shelter their animals on one side and their tractors on the other. One half of the shed is enclosed, while the other side is opened on the one side and has no floor installed. There is a 7 year warranty on Loafing Sheds. These sheds are custom designed, so you need to contact the company for a price quote.
In addition to sheds, Tuff Shed also makes children's playhouses that start at $749. This 4' X 8' playhouse can be customized to fit your needs. There is only a 1 year warranty on the Backyard Playhouse.
Tuff Sheds also has great structures that can be turned into a cabin. Yes, that's right, this shed is the Premier Pro Weekender Barn, and looks just like a cabin. With some interior finishing, this shed will make a great vacation cabin. The shed includes a steel service door, two windows and a front porch. The Weekender Barn sizing starts at 10' X 12' and goes up to 12' X 24'. Pricing starts at around $4,700 up to $8,400. It comes with a 10 year warranty.
Check with your town's ordinances to see if you are going to need a permit before building your shed. Depending on the size of the shed you go with, you may also want to add the structure to your home owner's policy.
Whether you are looking for a children's playhouse, or enough storage space to store an extra car, Tuff Shed has something to fill your needs. Keep your outside equipment neatly organized and stored out of the weather. Create a workshop or a "man cave", or simply stash away unused items. Backyard sheds are a great asset to any property. Finally, your stuff will be stored and organized. Visit the Tuff Sheds website and begin building your quote today. They are certainly one of the top shed manufacturers around today.