Archive for category Portable Storage Container
Many businesses face the problem of limited space. Growing over the years often requires making room for new employees, new equipment or new products. Changing locations is not always a viable option. The reality is that some businesses have extra space that is just not being utilized correctly. Four ideas will help businesses to make more space without having to change locations.
4. Vertical Storage
One way to make more space is to take advantage of vertical storage options. Vertical storage normally consists of shelves that go up the walls of a room and occupy space above employees that is normally unused. It can run all the way to the ceiling depending on building codes. This allows a much larger area for the storage of equipment or files. The main drawback is that access the highest levels usually requires a ladder or set of mobile steps. This makes vertical storage difficult to use when storing items that must be handled every day.
3. Deep Racking Systems
Warehouse racking systems are freestanding units designed to conserve space in tight areas. Pushback and gravity flow racking systems use angled adjustable shelves to store any size items from file boxes to consumer products. The angled shelves maximize the amount of space available. They also automatically refill a location once an item is taken off the rack. These can help businesses that need to store many different types of items in a limited space.
2. Modular or Mobile Furniture
Another idea to create more space is to use modular or mobile furniture. Modular furniture is made from different components that can be attached and detached as needed. This allows workstations to occupy the smallest space possible while still accommodating the needs of employees. Mobile furniture creates space because it can be kept in storage or an out-of-the-way area while it is not in use. Rolling carts, desks and workstations will make extra space because they do not need to occupy a dedicated area all day long. Modular and mobile furniture have the added advantage of allowing a business to rearrange the layout of an entire area with very little effort.
1. Raised Flooring
One of the best ways to make more space is to install raised flooring. Raised flooring creates a mezzanine or elevated level above the existing space. Raised flooring solutions can double the amount of floor space available with minimal disruption. It also has several benefits such as better access control and the ability to hold heavy equipment. Raised flooring allows a business to expand without changing locations.
While small business confidence in the U.S. may have soared during July, the nation's economic growth remains hampered by a paucity of available credit. Although this may be understandable given the irresponsible lending that preceded the Great Recession, it is important that independent ventures are able to expand in the years to come.
Even without a surfeit of credit, however, businesses must learn to succeed by maximizing their existing resources. This is particularly important for retail business owners, for example, who can significantly boost their levels of profitability by mastering the difficult art of stock management.
Learning the Art of Stock Management: How to Maximize Profit Margins
With this in mind, what should retailers bear in mind when they are looking to manage their stock levels effectively? Consider the following: –
Remember that Profit is Impacted by Unsold Stock: When independent retailers calculate their profit, it is all too easy for them to become confused by turnover and sales volumes. While your firm may have sold an estimated $10,000 worth of items during a single financial quarter, however, this will be offset considerably by any unsold stock that you continue to hold in storage. Firms that hold more in stock value than they generate in monthly sales may be considered to be loss making, as any items that remain unsold represent invested capital. With this in mind, it is wise to measure your profits in line with any existing stock holding.
Identify Popular Lines and Products: While minimizing your stock holding will help to save money and maximize profitability, you must ensure that you have a clear understanding of your most popular lines and products. This way, you will be able to invest in a larger volume of these goods, safe in the knowledge that they will sell quickly and generate a viable return. Efficient stock management relies on your ability to minimize unnecessary investment and identify the most popular retail items, which represents a delicate and difficult to achieve balance. You must also be wary of seasonal products, as these have a limited shelf life and must be sold within a tight time frame.
In vest in Self Storage Options: As a small or independent retailer, you may only have a single store front or outlet. This means that your stock holding may be relatively small in the first instance, and this in turn allows you to consider more flexible and cost-effective storage solutions. Self storage units are particularly useful, as they are cheap to rent and provide you with a set amount of space that helps you to regulate your stock management. If you have more than one outlet then you may also consider mobile storage solutions, as this enables you to create a fluid stock holding that can serve several independent outlets.
Author Bio: This article was contributed by Lauren on behalf of Completely Retail. To access a viable location for your burgeoning retail business, consider visiting the website today.
Small business confidence rose in the U.S. during July, as consumers also continued to borrow heavily and invest with renewed optimism. So although economists have been keen to stress that the current economic recovery remains far from secure, it appears as though there is genuine reason for hope and expectation.
As a result of this, small and independent business owners may be keen to scale their venture upwards after a sustained period of consolidation. This can prove to be a challenging process, however, especially when you consider the logistical demands of relocating to a larger and more suitable office space.
Relocating your Office Space: 3 Tips for Success
With this in mind, what practical steps can you take to effectively relocate your office without compromising on the productivity of your business or staff? Consider the following: –
Select your New Location Based on Numerous Factors
When it comes to selecting a new office space, it is important to remain focused on numerous different factors. While the size of your new office must be able to accommodate your short and long term plans, for example, this means little if it is poorly located or inaccessible to clients and staff. Bear in mind that your employees will need to commute comfortably if they are to remain motivated in the workplace, and this must be a key motivation when appraising properties. Above all else, keep your budget in mind at all times and aim to spend comfortably within your financial means.
Employ a Reputable Moving Service and Utilize Adequate Storage Solutions
The logistics and cost implications of relocation can be prohibitive, especially when you consider the amount of equipment held within a typical office. In order to negate these challenges successfully, you will first need to partner with a reputable moving firm that has considerable experience of commercial relocation. In addition to this, it is important that you seek out affordable and flexible storage solutions during the process of moving, as this will enable you to keep certain items of equipment safe until they are shipped to their new location. While these services all come at a cost, you can save significant sums of money by shopping around and comparing the market.
Agree a Lease That Suits your Plans
While some office spaces come with 99 year lease plans, others can be secured on a shorter term basis. The lease that you agree must be compatible with your long term business plan, however, which will dictate any future growth and determine the course of your venture over time. Just as there is little point in agreeing a long term lease if you have plans to expand your business further in a few years time, you do not want to sign a short term contract if there is a need to consolidate for the foreseeable future. By maintaining an overview of your long term commercial goals, it is possible to secure a new office space that represents genuine value for your investment and supports all future goals.
About the Author: This post was contributed by Laura on behalf of Skyline Offices Limited. To peruse a full range of Skyline Serviced Offices London, consider visiting the firm's website today.
ABF U-Pack is one of the best known low-cost moving companies in the United States. The company itself claims that over three-quarters of its customers choose U-Pack because of their low prices. In 2011, less than 1% of U-Pack's customers made claims relating to goods damaged in the moving process, a record that matches up to virtually every other company. U-Pack claim to take less than 5 days on average when it comes to moving goods cross-country. Another reason why customers choose this company is because they use separate trailers for each customer rather than placing the goods of several homes in one truck. One of U-Pack's innovations is their ReloCube, a special container designed to make moving convenient and affordable.
About The ReloCube
You are allowed to choose as many ReloCube containers as you need BUT you only pay for the number you actually use. The container is delivered to your home and you complete the process of loading your possessions into the ReloCube. The container is 84 inches wide, 100 inches high and 75 inches deep and is estimated to have the capacity to fit one average sized room's furnishings or a maximum of 2,500 pounds. The floor and frame of the container is aluminum with fiberglass/aluminum walls. There are slotted vertical aluminum wall studs with welded roof seams that are waterproof. There are two doors on the front which have steel latches and are secured with two padlocks.
Features
The ReloCube has a list of impressive features:
Weatherproof: The container is extremely well-built and its sturdy construction ensures that inclement weather can't damage your goods.
Convenience: Despite the vast amount of goods that can be stored in a ReloCube, it is small enough to park in your driveway.
Easy Loading: There are no stairs or awkward steps. The container is flat on the ground so loading and unloading is easy.
Top Notch Security: The doors are rock solid and have steel latches. You can use your own padlocks to prevent intruders from stealing your goods.
Low Cost: U-Pack compare extremely favorably to rival moving companies. We asked for quotes from other well-known companies and found that they charged more than double U-Pack's ReloCube price in some cases.
Delivery
U-Pack has a trio of delivery methods when it comes to bringing the ReloCube to your door. The flatbed trailer is the most commonly used piece of equipment. It is brought to your home with a forklift used to complete the job. The Drop-Deck trailer is used for small orders of up to 3 ReloCubes. The Liftgate van is used for larger jobs and can only be used on flat and level surfaces.
Verdict
The ReloCube is a real life-saver for families looking for a quick and affordable method of moving goods from one home to the next. It is fast, reliable and offers tremendous value for money. The containers are clean, durable and safe. Thousands of customers use ReloCubes each week and few ever show signs of dissatisfaction, quite a feat in the moving industry. The ReloCube comes highly recommended.
Save $50 off long distance moves with our Upack promo code.
Go Minis is a storage company based in the United States that states it is an affordable alternative to PODS. They offer three different sized containers to their customers and deliver containers straight to the doors of their clients. Customers have as much time as they need to fill the container and after calling Go Minis, a driver will arrive and haul the container away where it will be placed in secure storage. The company has perfected the easy transportation of their units which are 12 feet, 16 feet and 20 feet long. Go Minis invites their customers to view the process themselves from the comfort of their driveway.
Residential Moves
Each Go Minis container is created using a patented design which ensures that loading and deloading in your driveway is a quick and seamless process. The entire move is handled professionally with the unit delivered to your door soon after you contact the company. The driver will have a contract for you to sign and once this has been completed, the unit is left behind and you have whatever amount of time you specify to load the container as Go Minis do not impose a time limit.
Unlike portable storage where the goods are removed from your site, it is possible to keep the unit on your property for the duration of your contract if local government regulations allow it. Otherwise, you can ask the company to pick up the full container and place it in a secure location. The company even provides certain supplies and equipment to help you move including boxes, packing tape and bubble wrap to protect fragile items.
Business Moves
The Go Minis service is extremely convenient for businesses of all sizes that are looking to move or store valuable documents or equipment. There is no easier way to move furniture than to place it in a Go Minis container and keep it secure. A Go Minis container is also perfect for keeping records safe as the company will transport them to their central storage area which has excellent security. You can even take advantage of cheap bulk sales of inventory and keep it stored in the containers.
Containers
All Go Minis containers are 8 feet high and 8 feet wide with the aforementioned trio of lengths also available. The bottom of each container is 8 inches above ground level but is easily accessible via a well designed step. The translucent roof ensures that plenty of light gets in if required. The roll up door is strong and secure but also easy to operate and lock. The floor of each container has been pressure treated and has a sealed surface to ensure that moisture does not affect your goods.
Overall
The containers are fantastic and the company knows how to transport them easily. Yet state of the art equipment would be nothing without excellent service and Go Minis certainly provides this. Customers have been extremely impressed by the efficiency of the company and the conduct of its employees. If your home is overly cluttered or else you have important items that need to be kept safe, Go Minis is one of the first companies you should look for. Unfortunately, they don't perform interstate moves but hopefully this will change in future.
Be sure to use a Go Mini's promo code to save 5% off monthly storage costs.
Door to Door Storage is a company that was founded in Washington State in 1996 by Tim Riley. Riley previously worked for Shurgard Storage Centers but elected to branch out on his own with his first business. He came up with the 'You pack it up. We pick it up' tag line that is now synonymous with the company. Door to Door grew quickly and within seven years it had reached the top 500 list of fastest growing companies in America. The company operates by giving customers a storage unit which they load. The company then arrives at a designated time and brings the goods to their storage facilities. A container is designed to fit the goods of one room in the home. The company also allows customers between 1-7 days to pack their possessions.
Pros
A number of storage companies hit the news for the wrong reasons as consumers complain bitterly about rude drivers and incompetent service which involves the losing or breaking of possessions. Dozens of customer reviews suggest that Door to Door is not one of these poorly operated companies. Everything about this company screams out professionalism from their customer service to their drivers.
One of the most notable things about Door to Door is their customer service. A number of moving companies seem to think that it is somehow unnecessary and this absolutely infuriates customers. It makes it appear as if they don't really care about their customers and from previous moving company reviews, one wonders if it isn't the case. Thankfully, Door to Door know exactly how to treat a customer. When you ring one of their offices, you receive a prompt answer from a human being within a short space of time. The phone staff are courteous, polite, helpful and efficient. They are great at altering moving dates to suit your schedule which is greatly appreciated.
In terms of price, Door to Door are considerably cheaper than the likes of UBox and PODS. The average cost of shipping all the possessions in a home across the United States is $1,500. Clearly, this charge will be much lower if your journey is shorter. Expect to pay between $60-70 a month per storage container if you elect to keep your possessions in one of their secure units. The drivers are generally punctual and a high percentage of customers said that their possessions made the trip without incident.
Cons
Door to Door is not perfect of course and there are a few minor issues. For example, consumers report that the company's crates can get damp so you are advised to store clothes and linens in a secure plastic bag to protect them. Also, you need a permit to allow the Door to Door truck to park outside the house. The company helps you get these permits but the additional cost is a real pain.
Verdict
Overall, Door to Door is definitely one of the better storage/moving companies. They genuinely value customers and make a real effort to make the moving experience as painless as possible. It would be fantastic if they would clean the containers a bit better but this is only a minor issue in the grand scheme of things.
Read more moving container reviews.
SmartBox is considered to be one of the fastest growing portable storage unit services in the country.  They offer both storage and moving services, much like other portable storage unit services.  They have added a number of additional services, such as their long distance program to help with long distance moving.  With so many options available, it can be difficult to see what makes each option unique, let alone which one is better.  Here is a quick SmartBox review to help you decide whether or not they offer the best solution for your specific situation.
Overview of SmartBox
SmartBox began in 2002 with the goal of providing portable storage and moving services which are better and more reliable than anyone else.  The first stores were opened in Virginia and now serves more than 65+ markets across the country, including franchises.  Unlike a majority of the options on the market, they provide a single storage unit size (8 feet X 7 feet X 5 feet) that will hold about 1.5 rooms on average.  The prices vary greatly based upon the number of boxes you need, how long you will need them, and how far they will need to be transported.
Benefits of SmartBox
1.    Budget Friendly
One of the biggest benefits of SmartBox is that it is budget friendly.  One of the most unique features is that you get to choose a number of different features that can save you money.  For example, if you are going to use a SmartBox for storage then instead of having it dropped off at your home, you can use the Dock in Storage feature, which allows you to transport everything to their facility and fill the rental unit without having to pay any delivery fees.  Plus, you can still get the SmartBox delivered to your residence whenever you need it, which means you still get all of the benefits of portability without the higher price-tag.
Another way that SmartBox is budget friendly is because their boxes are a little smaller than other options, which means that they are less expensive.  This particularly useful for people who don't have a lot of rooms that need to be placed into storage.
2.    Free Extras
One of the most unique benefits of using SmartBox is that they offer "the envelope" to make sure that you get everything taken care of.  It is actually filled with helpful tools and information to simplify the entire process.  It includes packing tips, important phone numbers, and an inventory list to make sure that everything is taken care of and you don't forget anything.
Potential Drawbacks of SmartBox
The biggest drawback to SmartBox is the size of the portable storage units.  While their smaller size does mean a lower cost, this can also be a problem if you are moving your entire home.  While the total cost may still be less expensive, the additional fees (such as the delivery fee) can make up the difference.
SmartBox Review
Overall, SmartBox seems to offer an excellent value for a variety of circumstances.  The two biggest benefits are the budget-friendly approach and numerous extras that they include.  At the same time, the smaller boxes can be a problem depending on how much you have to move.  There is a good chance that SmartBox will be towards the top of your list, however it all comes down to your circumstances.
Read more moving container reviews.
UBox is one of the newer faces on the portable storage unit and moving scene, but is under the wing of well known truck rental agency, U-Haul.  This has made it easy for UBox is easily be integrated within the existing infrastructure of the company.  There are a number of differences between UBox and other U-Haul services to keep in mind.  To give you a better idea about what they have to offer, here is a quick UBox review.
UBox Overview
Much like other portable storage units, you can use UBox for both storage and moving.  There is only one size of unit, which is 5 feet by 8 feet by 7 feet.  This will normally be enough room for an average room and a half.  To keep everything dry, the floor rests 6 inches above the ground.  Every unit is made out of pressure treated plywood.  The reason for this is that the plywood can breath, minimizing the risk of mold and mildew which can be a problem with steel storage units that have become popular.
Benefits of UBox
1.    Multiple Usage Options
One of the biggest benefits of UBox is that you can either use truck deliveries to have everything brought to you or you can go to them.  This is particularly useful if you are trying to save money because you can avoid truck delivery fees by going to the facility directly.  The same is true if you are moving because aside from shipping fees, you can avoid all of the other truck charges.
2.    Damage Insurance
Another benefit of using UBox is that they offer comparatively inexpensive damage insurance.  The coverage ranges from $1000 to $20,000 at a cost of $12 a month to $40 per month.  This will often be much less expensive than purchasing it separately.
Potential Drawbacks of UBox
One of the biggest potential drawbacks is shipping expenses, which are only assessed when you need your UBox to get shipped from one facility to another.  For example, if you are moving your entire home, which will likely require between 3 and 5 UBox units, from the Pacific Northwest to the Midwest, the shipping fees will likely be around $4,000.  This is much less than it could cost to rent a moving truck from U-Haul.  At the same time, this cost is comparable, if not less expensive, than shipping portable storage units through other companies because U-Haul already has huge network of facilities and complimentary infrastructure.
UBox Review
Overall, UBox seems to offer a number of unique benefits over some of the competition.  At the same time, there are some potential drawbacks as well.  Some of the biggest benefits stem from leveraging U-Hauls existing infrastructure such as providing inexpensive insurance and a variety of different usage options.  One of the biggest issues to consider is what type of unit you need to have.  UBox is made from plywood in order to lessen the risk of mold and mildew, however some people still prefer steel.  Size can also be an issue if you need to move and store a lot of items because there is only one size of box and it may not be large enough.  At the same time, the smaller width, makes them a great resource for people living on narrowing streets where larger portable storage units may not fit.
Read more portable storage reviews.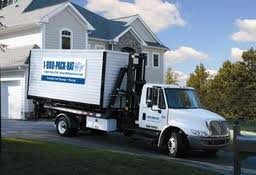 1-800-PackRat has started to gain more popularity over the past few years both for its storage options as well as its moving services.  Just like every other storage and moving company, there are a few characteristics that make it appealing, however there are some potential drawbacks as well.  To give you a better idea about what it is all about, here is a quick 1-800-PackRat review.
1-800-PackRat Overview
1-800-PackRat has been around since 2003 and really started to expand in 2005 from its original three locations in North Carolina.  Today there are location across the United States, however if you live in the western part of the country, you may have to search a little harder for a nearby location.  They offer two basic services which is storage and moving.  In the overall concept, they offer very similar services as PODS, in fact they provide side-by-side comparisons between the two.  This means whether you are storing items or moving, they will drop the storage unit at your residence and then pick it up and deliver it to your new location for you.
1-800-PackRat Storage
When it comes to storage, there are two basic "Pack-Rat" sizes – 12ft and 16ft.  The 12 foot container can normally hold a couple of rooms whereas the bigger container can hold up to four rooms.  One of the unique aspects of the 1800PackRat storage units is that they are made entirely of steel, which no other competitor offers.  They currently have two different plans to choose from.  The first is the basic plan in which you are not responsible for any damage to the container, however it does not protect your belongings.  The Silver plan not only protects the storage container, but also your belongings, up to $75,000.  Their storage facilities are climate controlled warehouses that have 24/7 video surveillance.  If you need to access your container, you need to give them a 48 hour notice so that they can move it to a private staging area for you.  They can also deliver it to your residence.
1-800-PackRat Moving
Moving with 1-800-PackRat is fairly straightforward.  They will deliver the unit to your residence so that you can fill it at your leisure  The all-steel unit has a built in lock and is completely weather-proof.  You can either load it yourself or take advantage of their loading and unloading services.  Once you are ready to move, they will either deliver it to your new residence for you or take it to temporary storage which is at their warehouse.  This is great if you are moving but need a few days between when you finish packing and want the unit delivered.
As you can see, 1-800-PackRat offers an easy and convenient solution for both storage as well as full moves.  They utilize the same concept as PODS, however their side-by-side comparisons highlights some important differences, such as the all-steel containers, content protection plan, and 24 hour guaranteed delivery.  During this 1-800-PackRat review, there is little question as to why they could expand so much since 2005.  They provide a much needed service in a very effective manner.
Save 5% now off monthly storage fees by using a Pack Rat Promo Code.
Read more portable storage reviews.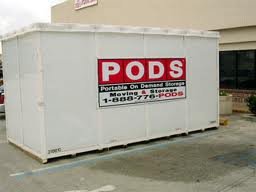 PODS is one of the most well known portable storage unit services around.  PODS stands for portable on-demand storage and is one of the original portable storage unit companies.  While they are still considered to be a leader in their industry, there are also some potential drawbacks to consider.  Everyone has their own unique needs, so it is impossible for one option to the best fit for everyone.  Here is a quick PODS review to help you decide whether or not they are right for you.
PODS Overview
PODS storage containers allow you to replace the need for both storage companies as well as moving companies.  You can either use a PODS container for long term storage, which is anything stored longer than one month, or use one instead of renting a moving truck.  You are not responsible for any of the transportation as they will pick up and drop off everything for you.  There are several sizes of PODS containers available and they range from holding 1-2 rooms to 3-4 rooms-worth of stuff.  They are rented out on a monthly basis, which means that if you are moving, you don't have to rush.  PODS will also take care of the pickup and delivery of the storage container as well.
Benefits of Using PODS
1.    Convenient
One of the biggest reasons that people use PODS is that it offers a much easier and more convenient solution than either stand alone storage units or moving services.  Not only do you get the storage container dropped off in front of your residence, but they also transport it and remove it for you.  If you use them to move, you can stretch the process out over a month rather than a day or two.  One of the most stressful parts of moving is trying to complete everything before you have to return the rental truck by giving you a large window to complete everything.
2.    Less Responsibility
If there is one thing that most people hate about moving, it is the stress involved.  It seems like a lot needs to be done in such a short amount of time.  Along with loading and unloading your rental truck, you also have to pick it up, drop it off, and keep it clean.  Plus, if you are not comfortable with driving a large truck, then it can be the most stressful part of it all.
Potential Drawbacks of Using PODS
In general, there are two potential drawbacks to using PODS containers for moving, storage, or both.  The first is that the storage containers can get bent or broken, which can damage your property.  This is because they are not made out of steel like some of the other companies in the industry.  While this isn't inherently a problem, it is something to consider.  The other potential drawback is that you may get charged additional fees.  Keep in mind while that all of their fees are clearly stated, a lot of people simply overlook them and are then surprised by them later.
PODS Review
Overall, PODS seems to be well regarded within the industry and is definitely one of the most widely used container companies.  They offer a convenient solution that eliminates a lot of the common stressors of moving.  At the same time, it is one of the more expensive options on the market.  It can be a great solution as long as it can meet your needs.
Tip: Be sure to use a PODS promotional code to save 5% off the cost of a Pods storage unit. Reserve your unit at PODS.com.

Read more portable storage reviews.