Archive for category Moving Truck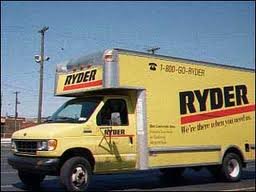 Ryder truck rental has been in the business of renting people trucks of virtually every size since 1933. No matter what you might need a truck for, chances are, Ryder will have you covered.
They not only rent trucks that are suitable for people who are executing a local move, but they even rent trucks that can be used to haul large commercial loads. Here are the different size trucks, tractors, and trailers that Ryder truck rental offers:
•    Metro Van
•    City Van
•    Refrigerated City van
•    Straight Truck
•    Refrigerated Straight Truck
•    Single Axle Tractor
•    Tandem Axel Tractor
•    Tandem Axel Tractor with a Sleeper
•    Dry Trailer
•    Flatbed Trailer
•    Refrigerated Trailer
So, no matter what kind of truck rental you are after, Ryder likely has the solution.
Ryder now has over 500 locations throughout North America that you can choose from when it comes time for you to rent a truck and finding their closest location to you couldn't be easier. All you have to do in order to find the closest Ryder truck rental location is go to their website and conduct a search using your zip code. Then you will be presented with all of the locations that are in close proximity to you. All this leaves you to do is choose the one that is most convenient for you.
When you are renting a truck with Ryder, you can also do so online. You simply start with whether the rental will be for business or personal use and then follow the steps as they come up. Before you know it, your truck rental is reserved and you are all set for whatever it is you need the truck for.
Every rental that Ryder makes also comes with their personal guarantee. Either the truck you rent is reliable and clean and your check in and checkout times are 20 minutes or less, or your next comparable rental is free. So, either their service is great or you end up with a freebie.
Because Ryder truck rental always has a fully stocked fleet of late model trucks that means that you can also get a great deal one of their many vehicles that they take out of service. This means you can buy a truck of any size to suit any need you have and best of all,  you will get that truck at a deep discount.
Additionally, you can rest easy knowing that the used truck you are buying is coming from a company that takes maintenance seriously. Just to be sure you feel comfortable with the purchase, they also give you a 30 day limited warranty on the powertrain.
No matter what you need a truck for, Ryder truck rental can help. Whether you are moving in town, across the country, or even if you just need an extra truck or two for your business for a few days, there is almost always a solution for you at Ryder truck rental.
Read more moving truck rental reviews.
When you are getting ready for a big move and you are going at it yourself, then a smart first step for you to take will be to secure a moving truck from a company such as Budget. Budget is one of the top names in the moving industry and when it comes to moving trucks, they offer a wide selection.
In order to find the Budget moving truck that will suit your needs, you can utilize Budget's website and search through the various sizes that are offered. While the available sizes will vary according to the specific Budget moving truck company that is nearest you, the typical sizes that they offer include:
•    Cargo Van:  Suitable for moving one to two rooms.
•    Ten Foot Moving Van: Suitable for moving one to two rooms.
•    16 Foot Moving Van: Suitable for moving three to four rooms.
•    24 Foot Moving Van: Suitable for moving five to eight rooms.
All of the Budget moving trucks are suitable for local moves as well as 'one way' moves, which is where you rent from one Budget rental place and return it to another, except for the cargo van. Budget only rents out the cargo van for those who are doing a local move.
For each Budget moving truck, you are charged a flat fee, which will vary on whether your move is local or one way, and a mileage fee as well. Again, these fees can vary according to the specific location that you use, but for the most part they are standard. You can also get discounts and other incentives when you use the Budget website to book your Budget moving truck reservation.
There are two things in particular that you will want to be sure and pay attention to before you return your Budget moving truck. The first is to make sure that you are bringing it back in with the same amount of gasoline that it left with. While you can return it on a lower amount, Budget will then charge you far more than the regular amount of gasoline in order to get the gas level back to where it was.
The second thing to pay attention to is how clean the back of the truck is. If Budget considers it 'dirty' then your credit card that you use to secure the Budget moving truck may get hit with a 'cleaning fee.' So, you should be sure that you thoroughly sweep out the back of the Budget moving truck you rent and ensure it is debris free.
If at any time you run into any question that you need answered, you can always call Budget on their toll free number. There they have a dedicated staff just waiting to answer any inquiry that you may have.
Moving your things can be a stressful event, but securing a moving truck doesn't have to be. Working with a moving truck company, such as Budget moving truck, can help you ensure an easier move with a company that you know and trust.
Tip: Use a Budget truck promo code to save 10% off Budget truck rentals.
Read more moving truck rental reviews.
In the world of moving and self storage, there is one name that is almost synonymous with both; U-Haul. U-Haul is so well known when it comes to moving and storage that many people will refer to a moving truck as a 'U-Haul.'
U-Haul offers a way for those who need to move to be able to do so on their own. As the name implies, it is 'you' who will 'haul' all of your stuff using their moving vehicle. You can choose from a number of different moving trucks that they allow you to rent and each truck will have a daily fee, plus a mileage fee that you must pay in order to use them. You can choose trucks such as:
•    Pick-Ups: For Small moving jobs.
•    Cargo Vans: For small moving jobs.
•    10 Foot Box Truck: For moving a studio apartment.
•    14 Foot Box Truck: For moving apartments up to two bedrooms.
•    17 Foot Box Truck: For moving houses up to two bedrooms.
•    20 Foot Box Truck: For moving houses up to three bedrooms.
•    24 Foot Box Truck: For moving houses up to three or four bedrooms.
•    26 Foot Box Truck: For moving houses with four or more bedrooms.
To find the perfect truck for you, you can search U-Haul's website, or you can call them toll free and ask a service rep to help you figure our which moving truck will meet your needs.
Additionally, UHaul now has the most coverage as far as self storage facilities go, in the entire United States. Most storage units provided by UHaul allow you access to your things on a 24/7 basis so no matter when you need to get to your stuff, you can do so with great ease. They even offer affordable insurance to you so your stuff is always protected no matter what.
UHaul also has portable storage units which they call U-Box. All you have to do with a U-Box portable storage unit is decide on the size you want, have it delivered to your home, fill it up at your leisure, and then have UHaul come get it when it is full. It is then taken to one of their climate controlled storage unit facilities and can even be redelivered to you when you are ready for your stuff.
UHaul not only makes it easy for you to take advantage of their moving and storage tools, but they will actually give you special discounts when you use both of the services together. For example, UHaul will give you one free month of storage if you rent one-way equipment from them. That means even more bang for your buck.
Moving and storing can be quite stressful, but thanks to companies like U-Haul, you can eliminate a lot of your stress and get the move or storing done a little smoother. If you need to move your stuff, store your stuff, or both, you may want to look into UHaul as they will likely have a solution that you will be able to use.
Read more moving truck rental reviews.