Archive for category Moving Company
The company Two Men and a Truck started out as two guys in high school with a truck, providing moving services as a summer job. Over the past 30 years that outfit has expanded into a company with more than 300 locations around the world. But the premise of the business remains the same – they pride themselves on personal service to help you move – including secure, on-site storage options if you need to rent temporary storage space. They offer transportation solutions for both residential and business relocations, too. Two Men and a Truck can handle large moves as well as those that are very small, and can be hired for a long-distance or cross-country move or just to move across town or to another neighborhood.
Legal and Professional Credentials
Anyone planning to hire a moving company should be aware that moving companies may be regulated by state authorities in the USA. Meanwhile, any mover transporting cargo across state lines must comply with federal regulations enforced by the Federal Motor Carrier Safety Administration (FMCSA).
All consumers should first consult the FMCSA website for tips about planning a move and hiring a moving company. The FMCSA has free consumer information that can help anyone who intends to hire a mover.
Two Men and a Truck is a legitimate, licensed, insured, and bonded moving company. But you can, and should, verify the licensing status of your particular Two Men and a Truck movers – or any other mover you hire – by using the search engine on the FMCSA website.
Consistency from Point of Origin to Final Destination
One of the most unique features of this company is that the movers who pick up your items stay with your belongings throughout the entire process, all the way to your new home. That applies whether you're moving across the state, out-of-state, or cross-country.
Most moving companies don't do that. Instead the movers who pack up your belongings will take the load a certain distance, but if it is a long-distance move they will eventually transfer the cargo to another truck and another set of movers.
A cross-country move, for example, could involve as many as half a dozen different trucks and teams of movers. Having the same team stay with your move from start to finish is a valuable benefit, because you always know who is directly responsible for handling your belongings.
Packing Supplies and Boxing Calculator
Two Men and a Truck will also sell you packing supplies, including everything from boxes and tape to bubble wrap and packing paper. If you want them to delivery your empty moving boxes or supplies to you, they will do that free of charge for orders of $50 or more. Also, if you do not use any of the boxes you buy, Two Men and a Truck will exchange them for a full refund.
If you visit the Two Men and a Truck website you can use their handy box calculator to estimate how many boxes you'll need for your move. That is helpful for planning how to pack, as well as for figuring out how much the move will cost – since transportation companies charge by the volume of cargo. While on the site, you may want to take advantage of their other resources such as a packing and moving checklist and a blog about moving.
Other Helpful Info
The company's tagline is "Movers Who Care" and their brand's motto is "Treat everyone the way you would want your Grandma to be treated." Bear in mind, however, that Two Men and a Truck has grown into an international franchise organization. That means adherence to certain common core brand policies and standards – but with some leeway for individual franchise owners regarding how they choose to run their particular local franchise. For that reason is it prudent to evaluate your particular Two Men and Truck business based on localized feedback. Two Men and a Truck does market the fact that is has a 96% referral rate from satisfied customers, though, and that level of customer loyalty speaks well for any company.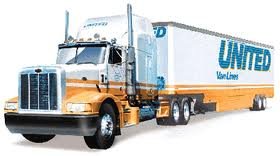 United Van Lines are currently the largest moving company in the United States. They are a full-service company and were originally formed in 1928. The current headquarters are located in St Louis, Missouri. United Van Lines have more than 400 agents constantly working all across America. They aim to serve every small town in the nation which is a difficult and worthy task. As they are said to be one of the best moving companies in the nation, United Van Lines claim to work extra hard to ensure that this position remains intact.
Website
Besides full service moving, United Van Lines have a host of storage facilities across the United State where your goods can be held if need be. They also offer the standard Corporate Relocation and International Moving services. United Mayflower Container Services is a part of the company and they offer you portable storage containers that should be large enough to hold the contents of an average 1,500 square meter home. United say they will deliver the storage container wherever you want, whenever you need it.
The company's full service mantra includes several packages offering different services ranging from $195 to $1,395. For example, the top priced package includes additional valuation protection worth $30,000 which should give customers piece of mind. It also includes a move-in and move-out cleaning service. All packages include date change, claim assist, valuation protection from $5,000-$30,000 and 'Straight Talk Gold Standard Protection'. You can choose between the mandatory 60 cents per pound of goods protection or a Full Replacement Value protection deal. To get a free estimate, all you need to do is fill in a relatively straightforward application form and United Van Lines will give quickly give a quotation.
Services
Although they are America's largest and best known moving company, United Van Lines certainly receive mixed reviews from their customers. Customers are given a lengthy set of documentation to sign which can be difficult to comprehend. A number of customers have complained that their items were moved haphazardly with items carelessly packaged and broken. Of special importance is the fact that some customers were required to provide receipts for items that cost more than $100.
On the flipside, there are thousands of customers who are absolutely delighted with their United Van Lines experience and fully understand why this organization is viewed as the number one moving company in the United States. The agents who provide the estimates are honest, professional and willing to negotiate. Indeed, you could lower your quote by up to 10% if your play your cards right. It seems as if United Van Lines has one of the highest success rates in the industry when it comes to transporting all your goods completely intact with nothing missing. The majority of those who did lose items found that the claims process was quite simple, a pleasant surprise to most.
Overall, while United Van Lines have their critics, it seems to be a classic case of not being able to please everyone all the time. For the most part, they appear to give excellent service and have been recommended by a large percentage of their former clients. For now at least, United Van Lines looks set to continue their domination of the moving industry.
Read more reviews of moving companies.
Allied Van Lines is one of America's oldest moving companies and was originally founded in 1928 as a cooperative-non profit company which was formed in the East coast. Allied merged with the North American Van Lines company in 1999, a shrewd move as this was their main rival up until that point. Three years later, Allied was renamed SIRVA Inc. and they now have their headquarters in Illinois. Like many other moving companies, Allied also offers a variety of other services including international moving and corporate relocation.
Website
The website tries to be colorful and vibrant like its competitors and everything is laid out neatly. They offer free quotes which includes orders to Canada and overseas. All you need to do is enter the origin and final destination ZIP codes, your name, address, phone and email to get your free instant quote. Interestingly, Allied also specializes in real estate. If you're looking to move home, not only will Allied transport your goods, they will also get one of their real estate experts to assist you with selling or buying a home as well as advice on gaining financing for a house. There is also a host of helpful moving information on the site.
When it comes to moving home, Allied promises a range of options including choice of packing and type of moving services. The packaging options include full service, fragile and DIY. Full service involves Allied packing all your materials themselves with the best materials and packing experts in the industry. Items that are valuable or fragile have a special method of packing applied to them. DIY packing sees Allied provide you with boxes and materials and you pack everything to your satisfaction. Allied promises to load each item which will be listed before transporting it safely to the location. Their team also unload your goods for you. Additional services include unpacking your possessions and storing your goods for up to 90 days.
Service
Like an increasingly large number of moving companies, Allied fails to live up to their promises, at least in the eyes of the majority of their customers. Many former customers claim that Allied salespeople try to falsely estimate the weight of the goods as a means of charging extra. The company has also been accused of being a faceless corporation with no charm and salesmen who continually talk about having decades of experience without ever betraying evidence of this fact.
There are also a number of reports about items going missing in transit. This is something that can happen in the moving industry, even the best companies occasionally lose items. However, former customers claim that items go missing too regularly and the company's complaints department does not take customers seriously. Many of the missing items are not located and a long, laborious application form must be filled in. Allied also has avoided a binding Not To Exceed contract for many years to the fury of customers.
It seems clear that although Allied is said to be an industry leader in the moving industry, a lot of work needs to be done in order to get customers back onside.
Read more reviews of moving companies.
Atlas Van Lines is part of the Atlas World Group. Atlas Van Lines is a branch of the entire company that deals with moving home. Atlas' headquarters are found in Indiana and the company enjoys annual revenue of almost $1 billion. Atlas Van Lines claims to be America's second largest interstate motor carrier. There are more than 500 agents of the company operating nationwide with each van easily recognizable with the giant blue 'A' that is found on each one. The company's mission is to provide quality specialized relocation, distribution and transportation services to their client base.
Atlas Website
If the website is anything to go by, Atlas Van Lines are an extremely well organized group. The site is clad in the bright, vibrant blue color which is associated with the company. Atlas offers a wide range of services including general household moving, international moving, self storage government and military moving as well as dabbling in corporate relocation. The site gives tips on avoiding scam companies including a page which tells you how to spot a genuine Atlas company.
The site even gives you information about contacting the Federal Motor Carrier Safety Administration if you have been the victim of fraud. The site also talks about migration patterns, relocation pricing and fuel costs which may affect the cost of your move. Getting a free quote is extremely easy. All you need to do is offer some personal information such as your name, email, address, where you're moving to and the amount of things you are moving. For this, Atlas asks you how many 'rooms' you are moving as a means of making a calculation. This is all well and good, but what is their service like?
The Service
One of the best things about Atlas Van Lines is their price guarantee. When they actually send an agent around to your home, he uses specific Atlas calculations to decide the weight of the goods. For example, a television may be deemed to weigh five pounds with a washing machine marked down as 80 pounds. Customers don't tend to have a problem with this as the process saves a lot of time. The Not To Exceed guarantee means that Atlas can't charge you more than the quote stated by their agent. Essentially, if you're charged $1,000 but it should cost $1,500 because your goods weighed more than Atlas thought, they can't renege on the original agreement.
However, the insurance they offer is confusing and the basic liability insurance of 60 cent per pound weight is woefully insufficient. If you had 1,000 pounds worth of goods, you would receive $600 in compensation! This is not Atlas' fault but their terms and conditions could be more user friendly. Alas, Atlas' moving service is not as fantastic as they would have you believe. Hundreds of customers have been withering in their condemnation of Atlas. The main gripes include the fact that your goods are not treated particularly well, the moving time is up to double what you were originally told and their communication with customers is average at best.
For all the promise showed by Atlas, it's clear that they must do better to appease angry customers and provide a better overall service.
Read more reviews of moving companies.
The Bekins Company was originally formed back in 1891 by a pair of brothers in Iowa. It soon expanded into Illinois and is said to have pioneered containerization in 1920. In fact, Bekins are also believed to have carried out the first transcontinental move in a motor van in the United States in 1928. It became an agent-owned company in 2002 and their headquarters are now found in Illinois. The Bekins Company has also become part of pop culture with appearances in Hollywood movies such as Legally Blonde.
Website
The first thing you see on the company's website is their commitment to trust. Bekins claims to have an A+ rating with the Better Business Bureau (BBB) (more on this later) and offers the usual array of services. They have a special Tradeshow service which is specifically designed for high value products, corporate relocation, international relocation, government and military moves and the standard Full Service residential move.
There are more than 250 Bekins agents located around the world. The company offers a free website estimate but you can also benefit from a free quotation with a Bekins agent coming to your home to check out the goods to be moved. They claim to offer flexible pricing and payment options and a dedicated point of contact which will help you when it comes to planning your packing, loading and delivery dates. This all seems fantastic on paper but when it comes to the crunch, does Bekins Company really deliver?
Services
There seems to be a common theme regarding Bekins and it's only partly positive. According to the majority of customers who have used Bekins, the drivers are exceptionally good. These drivers are hard working, polite and make every effort to ensure that your possessions get from A to B in great shape. This is a major plus point for Bekins Company. Sadly, it also appears to be the only bright spot on the horizon. There are numerous reports of agents who are less than honest and try to charge for extra weight after agreeing a quotation. The discrepancy between the final charge and original quote is said to be as high as $800.
The agents are said to have a tendency to be great until the deal is closed. Then, customers find it almost impossible to reach the agent. Even the movers don't escape criticism as they are branded as 'slow and lazy' by a wide range of angry consumers. It seems strange that they have an A+ rating with the BBB when the BBB themselves state that Bekins Company has the most complaints attributed to any moving company in several states. Even if the BBB allegations are proven to be false, the number of complaints relating to Bekins Company are not.
Sadly, for all their promises, it appears as if Bekins Company is yet another organization that falls well short of the service it should ideally provide. There are a few positive experiences recorded by customers but these are greatly outweighed by the negative comments which are easily found online.
Read more reviews of moving companies.