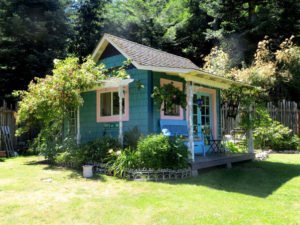 If you're planning to have guests over during the holidays but you don't have enough space in your house to fit them all, think about your garden shed. You can convert it into a beautiful guesthouse in no time if you follow this guide.
Where to start
The first thing you need to do is think about how would you like to design your new guesthouse. Do you want it to only offer as a place to spend the night or do you want it to serve as a 5-star vacation stay? Once you decide where you want to go you can slowly start on your project. If you decide you guesthouse will have plumbing and electricity, you better check with the building department in your city whether you need some building permits.
Electricity
If you've chosen to install electricity, and you most likely have, make sure to install enough electrical outlets. Electricity is a basic need for your guests and they will all want to recharge their phones and laptops. They will also need light during the night. Don't forget to reserve one of those outlets for A/C or a heater during the winter. Also make sure Wi-Fi signal reaches all the way to the guesthouse, because your guests will like to connect to the internet.
Insulation
Adding insulation to your guest house is definitely a smart thing to do in order to improve thermal comfort. In case the shed already has open framing, this will make your insulation installation much easier. Simply put some drywall over the insulation and you have a nice wall that will be able to resist any weather.
Windows
If there's one necessity in your guesthouse, it's windows. If your shed already has windows, that's great, but if that's not the case you'll have to install one or two. To ensure the guesthouse gets enough natural light install two windows one across from the other for extra light and airflow.
Certain climates can be capricious with sudden and often changes in temperature. If you live in one such area, you should think about contacting genuine pros, as these Melbourne's specialists for double glazed windows, to make sure your new guesthouse is properly retrofitted and protected.
Plumbing
If you're planning to install plumbing, make sure to put the pipes up before the insulation. Make sure to carefully plan the arrangement of sinks and toilets according to sleeping space and food storage. When it comes to the toilet you can opt for a port-a-potty kind or a toilet like the one in a motorhome.
Storage and cooking
Your guests will certainly appreciate a little food storage and cooking space. You can easily place a refrigerator in your new guesthouse. They can be useful both to your guests and yourself since you can use it to store some extra food when the guesthouse is empty. You can also add a microwave or a hotplate so your guest can be a little more independent.
Decoration and personalization
The next step is to decorate the guesthouse and make it feel homey. Put in the furniture, some lamps, a nice rug for warmth and some artwork for the atmosphere. Also, a fresh coat of paint will make everything look well put together. Maybe even add a TV for extra comfort, and all the rest is details.
If you've done all this, you can go and boast to your family and friends with your new guesthouse. You can even throw a little guesthouse warming party, invite your guests to stay the night and try it out while you're at it.