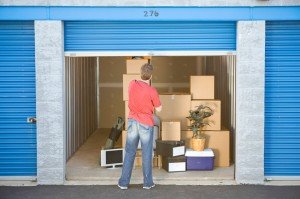 If you don't have any storage space at home and you already feel that your house is too cluttered, there are two solutions – either start getting rid of some of your belongings or think of creative storage ideas. There are many ways to store your possessions easily and still maintain a good-looking and comfortable home. Want to store all those tiny items that keep lying around in your living room? Buy a coffee table that has drawers or a space for a basket – it is the perfect investment for the living room. A medium-sized basket will be enough to store matchboxes, candles, address books, pens and pencils, napkins, sugar and other items that make your living room look extra cluttered.
Do you have too many magazines and too little space? Buy a holder and tuck it between the closet and the walls. Chances are you have more empty areas that you don't even notice than you think. It is time to start using them to your best advantage. One of the methods is to nail some hooks in strategic places and hang umbrellas, coats and even fruit baskets. Using the height of each room is a key way to get more storage out of it. A shelf in the right size and at the right spot might be just what you need. You can add a wall-mounted cupboard or a free-standing book shelf on top of the kitchen cupboard. Use paint to make these halves match. There are many ideas in DIY blogs and magazines that you could copy quite easily.
Not enough space in your wardrobe for all your clothes? You are definitely not the only one with this issue. Go to a furniture store and ask if they have a range of built-in wardrobes. These are perfect for storing shoes as well. You can buy a built-in wardrobe at a sale for a fraction of its typical price.
One of the most creative storage ideas is using fabric storage inside the wardrobe. These can accommodate plenty of shoe pairs, belts, hats and bags. Buy double or triple coat hangers and store them at the back of the wardrobe, stacking the clothing one over the other. Buy a few lidded-plastic boxes on rollers to store tools, collectibles, towels, bedding and out-of-season clothing. How about under the beds? This is a storage area often overlooked, but it's perfectly convenient. Make sure you dust and vacuum there once every few months though.
If you still have plenty of items after utilizing these storage ideas, consider building a garden shed or renting a self-storage unit. It's a god alternative for a temporary storage, until you decide what to do with each item. At least one of these storage solutions will be the answer to your problem.
Read more by visiting http://londonremoval.org/why-you-should-consider-hiring-ec1-removal-services-when-moving-house/