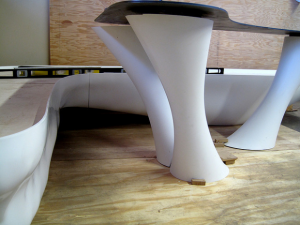 Instead of moving to bigger and bigger spaces to store more and more junk, try to optimize the space you have. Every home, no matter how big or small, has wasted space. Utilizing that space will allow you to enjoy your home more. Here are a few ways to help you optimize your space at home.
Embrace Minimalism
Instead of cluttering up your space with little pieces, invest in a few power-house furnishings. For example, one sectional that seats ten people utilizes space more efficiently than ten individual chairs. The chairs eat up extra space because each one requires empty space surrounding it.
Utilize Wall Space
Freeing up floor space is key to optimizing the space in your home. Your TV, components, and lighting can all be mounted to your walls. You can also install cabinets or floating shelves to incorporate more storage up high. You can even have a tabletop attached to the wall that folds up when you're not using it.
Customize to Maximize
Custom built-ins allow you to use every square inch of your home more efficiently. Consider putting a built-in banquette to maximize the seating space in a small dining area. Having furniture custom-built to fit an oddly-shaped room or nook can be well worth any extra cost. Sometimes, it doesn't cost an extra penny to customize your space. For example, if you are installing shelves in your pantry anyway, take a minute to measure the items going on those shelves. It won't cost a thing, and it will allow you to leave as little empty space between the shelves as possible.
Rent a Storage Unit
If you have precious little living space, don't waste any of it with out-of-season storage. Get Christmas lights, Halloween decorations, and camping gear out of your house and into a storage space. You can keep all your sentimental treasures at places like A-1 Mini Storage without having to trip over them every morning.
Break the Rules
It's your house, so make your space revolve around you. We often put things in our house simply because we think other people expect us to have them. For example, when was the last time you actually ate in your dining room? If you never use it as a dining room, turn it into a game room, home office, or guest bedroom. You don't have to have a dining room simply because the builder included one in the floorplan.
No matter how many square feet you own, you can probably find a way to use them more efficiently. Leading an ordered, clutter-free life requires you to constantly edit yourself. Try to step back from your space and analyze it objectively. Ask if there is anything you need to add or take away to make it work better for you.