If you have ever moved or just needed some storage space for personal items, you probably looked into your storage options and chose the one that you felt was best for your specific needs. However, what many people don't think of is that many businesses also use portable storage containers – a lot. Whether your business is moving, being remodeled, or just needs some extra space, a portable storage container might be right for you. These are typically more convenient than the typical "storage unit" and oftentimes can be more cost-effective.
Clutter can really gather in business offices, especially as time goes on and you accrue more and more files, documents, and supplies. Warehouses that have excess inventory at a given time can benefit from a portable storage container, as it can be set up right outside the warehouse so there is no need to drive to another location to get what you need. Being able to stay on-site yet have all of your supplies can boost your productivity and make things much more convenient for you.
Many business owners worry that their storage containers will get broken into, but most are made of steel and come with industrial grade padlocks that are extremely hard to break. Even containers that are not made of steel are designed to also protect your items from all weather conditions to ensure nothing is damaged. Business owners, of course, also need to take cost into consideration, and this can vary greatly. Some companies offer their portable storage containers for around $100/month, whereas others can get pricier but are worth it to many business owners depending on their specific needs.
So how does all of this work? First, pick the company you want to use. There are many out there and all are priced differently and offer different container sizes and features. Once you choose your container, the company will bring it to you, which is convenient because it eliminates the need for you to pick it up and transport it yourself. Obviously, a portable storage container is sometimes pretty large so moving it would be a hassle. You can pack it, organize it, and unpack it however you want. Once you no longer have the need for the container, the company will come and haul it away for you.
Although it is convenient to have the portable storage container on-site at your business, sometimes that isn't an option and you need to store it somewhere else. Luckily, many companies in the industry also offer off-site storage, so you can keep your container at a secured facility. The company will drop off the container at your location, you fill it, and the company will transport it back to its facility where you can access it, normally 24/7.
Companies know how valuable time is, so they will help you determine what would be the best option for your business's needs. Most offer both short-term (e.g. 1 month) and long term (e.g. years) solutions as well as flexible drop-off and pick-up times. Of course, you should always look up reviews before selecting a company and make sure it is reliable, trustworthy, and on time.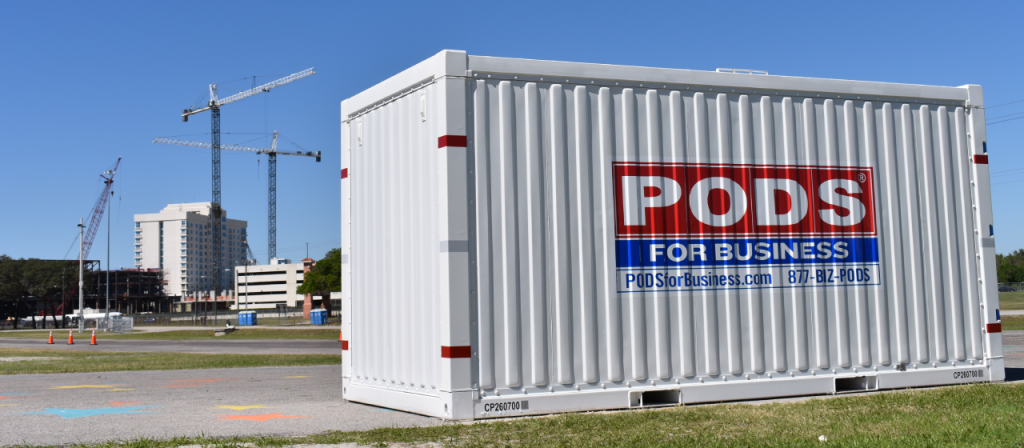 As mentioned, there are plenty of options when it comes to choosing a storage container company. People often immediately think of PODS, which has established itself as a leader in the commercial moving and storage space. PODS has three different storage size options, with 7-foot, 12-foot, and 16-foot containers to choose from. Each container is built with steel-framing and high-security locking features to protect any items inside. But for maximum security and strength, use the 16' PODS All-Steel Commercial Container since it is built with corrugated steel walls, pry-resistant hinges, and triple-locking doors.
If you end up needing to move a container, PODS also has a one-of-a-kind hydraulic level lifting technology called "PODZILLA" that can move a container without tilting or shifting contents inside.
Storage 2U is another option, as it offers convenient storage containers made of metal that are sturdy and are all designed to fit in just one parking space. Storage 2U containers are lower to the ground than some other options, meaning there is no need for a ramp of any sort to get in and out of them. Storage 2U is unique in that it has special "cold" storage containers that can keep things like food, drinks, insulin, and other medications and "biological components" that need to stay cool to prevent spoilage. These also maintain the temperature inside the container even if outside conditions are below freezing.
Portable Storage Box Company is another popular option, as it offers several unique products that are not available through other prominent companies. This company offers not only the typical storage containers but also wood vaults, steel vaults, and mini containers. It also offers same-day delivery in some areas, whereas containers through most other companies have to be reserved in advance. SmartBox is a service that offers an 8'x7'x5' container that may be more cost-effective for businesses that don't need a massive amount of space.
Some companies offer special discounts to customers, which you would want to look into when choosing a company because they could end up saving you a lot of money. For example, PODS and CoolBox Storage offer discounts for military members and other companies may offer discounts for seniors. Your local area may also have smaller companies that offer more products at different costs and discounts, so be sure to do local research instead of just opting for a chain company.
There are some things you probably want to consider when deciding what portable storage container to rent. Market conditions are a huge influence on price, as crowded areas (e.g. downtowns) will likely have more demand for containers. This may change the cost, although some companies offer transparent, flat fees. Consider local and zoning laws in your area if they are strict about things like that, because you could face a hefty fine if your container is too big or "parked" illegally. Also, as with anything you purchase or rent, make sure you read your contract with the company thoroughly, as you may find hidden fees you were unaware of.
Overall, if you need a portable storage container for your business, you should undoubtedly be able to find one that suits your needs.