Sometimes, living in a large, spacious home feels comfortable isn't a viable option. When family members move out, or we start nearing retirement, or simply want less house to care for, we start thinking about moving into a smaller home. Downsizing is often financially smart, especially if you are renting. You can save significantly on an annual basis if you decide to sacrifice some comfort for functionality. However, a lot of people think that downsizing isn't possible due to the number of personal things they have. This is where self-storage can come in. Self-storage can help you downsize your home and make your transition simpler. This article will explore all the benefits self-storage brings to your downsizing efforts.
Making the decision to downsize
When people talk about downsizing, it's usually not in the most favorable context. It is generally considered a "step back". However, this isn't always the case. In fact, this could be a considerable step forward when other factors are also added to the equation. Space isn't the only thing we should focus on when it comes to the choice of our residence. For many, location is the deciding factor. Many people opt for a smaller home closer to their place of employment, family members, or particular amenities they had their eye on. This means that they may sacrifice some living comfort for the benefit of shorter commuting.
Another reason why some choose to downsize is the quality of living space. They choose between a large home with a lackluster interior and a smaller home with a sleek, modern look and new units. In this case, many will opt for the latter. A cleaner, more contemporary-looking home may be more attractive, regardless of the size. These are all cases of when downsizing is actually a logical step forward. Whatever the case, it's inevitable that, with downsizing, you may be looking at issues regarding storage. This is where self-storage comes into play to help you downsize your home.
Preparing for the move
If you firmly stand by your decision, it is time to plan for the task. Moving is no easy feat and requires a lot of careful planning and preparation. The to-do list for a residential move is quite long, and many things need to be done if you want everything to go smoothly. This is why many turn to professional moving services, such as helixmove.com, for their moving needs. There is a number of reasons why hiring professionals is the best choice, and here are some of them:
Professional packing service
Loading and unloading all your personal items and furniture
Vehicles suited and equipped for moving
Storage services
Insurance
Expedience and efficiency
Making the move more economic
Since moving is such a huge endeavor, as we mentioned before, it's a good idea to do as much as possible to lighten the workload. Do as much as you can to make the moving day easier for yourself and your moving partners. This will take away a lot of the stress related to the move.
Decluttering is the most important one. If you've lived in a large house or apartment, you've likely gathered up quite a hoard of clutter. These could be random items you were too sorry to throw away or kept for other, unspecified reasons. This is almost unavoidable if you've spent enough time in one place. However, now that it's time to move to a smaller home, it's essential to sort out the necessary from the rest. Sorting out means having to deal with excess belongings that have accumulated over the years. There are three things you can do with your excess belongings:
Donating
Discarding
Self-storage
Donate or discard?
When it comes to donating, it's probably the best thing to do with unwanted and unnecessary items. Remember that, even though you may not have any use for specific items, some may rejoice to have them. Clothing, footwear, small kitchen appliances, toys, etc., may make a difference to someone in need. Consider only discarding items that are utterly broken or otherwise useless for any purpose. If you've got large items that you wish to discard, you may want to look into junk removal services to make this task easier. Using an online calculator, you can get an estimate of the cost of this service and consider fitting it into your moving budget.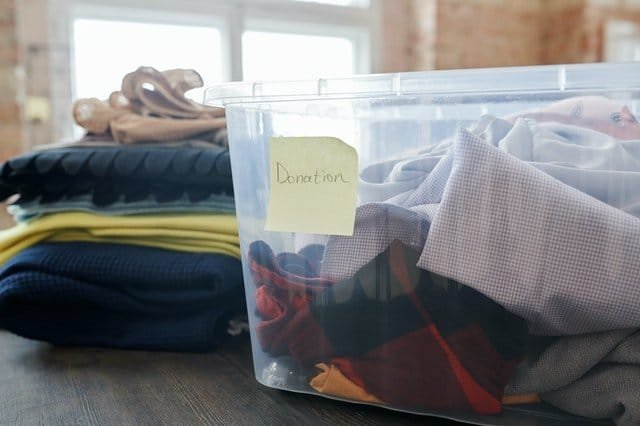 Self-storage
There are many ways self-storage can help you downsize your home. You will likely have items you do not wish to part with but have no room to fit in at the moment. You may also be having work done in spaces around the new home. If this is the case, you will have rooms temporarily inaccessible. Self-storage is a great way to weather these periods, no matter how brief or long they may be. Find a self-storage unit near you and take full advantage of all the benefits this service offers.
Renting a self-storage unit
Self-storage units are more than just storage containers. The storage business has advanced far beyond what it used to be decades ago. Leaving your things within storage units is no longer a gamble with all sorts of dangers and risks. Self-storage lots are highly monitored nowadays, and there are many customizable units to pick from to suit your needs. For example, you may accurately calculate the required storage space before you rent to make the most of your dollar. This way, you will be getting a suitable unit and pay only for the space you're actually going to use.
Renting self-storage units is a straightforward process with no risk involved. After you've got an approximate measurement of the unit's dimensions you require, you should get quotes from several different companies. It is now easy and convenient to get a quote using self-storage cost calculators online. Having an accurate estimate of what your rental will cost allows you to plan out your finances more efficiently.
Deciding to rent some self-storage can help you downsize your home by providing more temporary space. Getting a few extra square feet of space for things you can't fit into your new home can make a big difference. This will buy you time to think of a way to incorporate these pieces into your new interior or find someone who may be willing to take them off your hands.
Conclusion
Opting for self-storage can help you downsize your home and relieve a lot of stress by providing extra room to let your belongings sit until you've found a place and a use for them. That can come in very handy. This will prevent being forced to part with items, possessions, and furniture you may not be willing to let go of just yet. Good luck with the move!