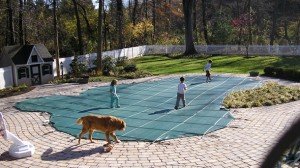 It's important to prepare your pool for the winter months. While the pool stands idle, many things can happen and it must be properly prepared. Before winter sets in, it's important to clear the plumbing, clean the pool and add chemicals to the water to keep it safe. Here are five tools to help you prepare the pool for the winter.
Electronic Water Tester

To check the chemical balance in your pool, pick up an electronic water tester. This tester checks the pH balance, the chlorine level, the alkalinity and calcium hardness. With these things in balance, your pool won't suffer corrosion and other harmful effects over the winter months.
Chemical Kit

Buy a Chemical kit and start with a shock product, a hydrochlorine that's mixed in strong doses to kill the bacteria in the pool. Add a pH balancer next. After that, dump in a strong algaecide to kill algae during the winter months. Chemical kits are available at pool contractors in Fort Worth, and most major cities.
Air Compressor

Turn on the pump and lower the water level until it becomes manageable, just below the skimmer holes. A pool vacuum makes cleaning the bottom of the pool a snap. Pick up an air compressor. It will force water out of the plumbing pipes so you can shut the pool water cycling system off. It's important to get the air out of the pipes because it may freeze in the winter temperatures.
Connect the air compressor to the pool pump at an available valve. For example, disconnect the bleach liquidator and fit a standard air compressor fitting to the pump. You can then force air through the pump into the pipes. That forces the water out. Other methods to clear the pipes include using a shop vacuum to force air through the skimmer pipe.
Expansion Plugs

After the pipes are clear, use expansion plugs to close the openings and stop pool water from re-entering the plumbing. Plugs fit into the skimmer and the return ports.
Pool Cover

After you have cleared the pipes, put plugs in place and added chemicals to the water, cover the pool with a safety cover. A cover keeps undesirable objects out of your pool in the winter, like leaves and debris. Your pool is now prepared for the winter months. Contact a quality pool builder like KlapprodtPools.com about tools to winterize your pool and feel free to ask our pool experts any question you might have.