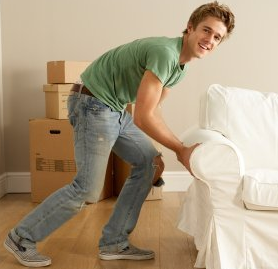 If you and your family are moving to a new home, planning is key. After you find your dream home and you have scheduled a move date, it is time to plan for moving day. Make sure that you get every member of the family involved to take away some of stress. While it might be tempting to cut costs, here are 5 things you should never skimp on when you are planning for your big move.
5 Steps to Making Your Move Run as Smoothly As it Possibly Can 
1. Hire a Certified Mover
It might be tempting to ask friends to help, but hiring movers in Atlanta will save you money and time. Not only will you reduce the amount of time it takes to clear your old home, you can also reduce the number of trips you need to take. Be sure to hire a certified company that assures quality so that you have peace of mind in knowing that the company has a good reputation in the industry.
2. Do Not Overlook the Importance of an Accurate Estimate
Some moving companies will quote you for their services over the phone. There is no way a company can truly tell you how much it will cost to move your belongings over the phone. Reliable companies will offer in-home estimates before the day of your move so that you can properly budget the cost of hiring professionals on moving day.
3. Moving Day Planning
Do not wait until the day of your move to call a friend to babysit your pet or your infant. You should think about moving day and the issues that might arise. If you are moving during a rainy season, invest in floor runners to spare the carpet. If you are moving in the heat, buy some fans and keep the house as cool as possible. You should also clear out your refrigerator and freezer and dispose of items that will go bad before moving day.
4. Keep Your Belongs in One Piece
You should use only the best packing materials for your fragile items. If you do not have the right packing materials, clearing out your bookcases, cabinets, and closets can be a chore. Ask your mover for boxes, tape, wrapping materials, and other packing materials or for recommendations.
5. A Sharpie is Essential
When the boxes are taped, you have no way of knowing what is in them. Make your job easier and invest in a sharpie so that you can label each box. The movers will know where to put the boxes and you will know which ones need to be unpacked first.
Time is money, and when you are moving you want to save in both categories. Avoid some of the most common problems people have on moving day and keep these tips in mind.
Author Bio
This article was written by Mike, and encourages those looking for Atlanta moving companies to seek out reputable professionals to help with upcoming moves.