One of the things that make a home comfortable, inviting and even elegant is how well kept it is. In fact, there appears to be a lot more benefits to having a clean home than these. You can check out some of these other benefits here.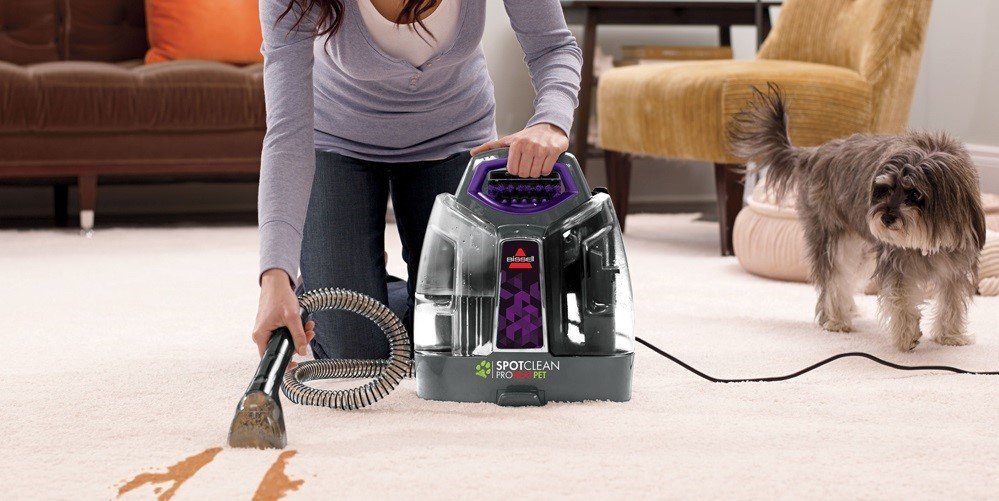 Sadly, with pets and children, keeping the home spotless is not always the easiest of tasks. Imagine having spent time cleaning the whole place and suddenly someone spills something on the carpet, the chair or some hard to reach crevice.
There are just some kinds of cleaning that require precision, portability and the ability to reach areas that are usually not easy to get to. This is one of the reasons why portable carpet cleaners should be an important part of any home's cleaning gadgets collection.
In this article, we shall try to look at factors you should consider when choosing one for yourself to ensure you will be picking one that is right for you. We shall also look at some recommendations that we think you should consider.
Factors to Consider When Making a Choice
Before purchasing a portable carpet cleaner, it is important that you understand exactly what you are looking for so that you can be sure of picking out the one that it right for your needs. Since there are many different types of these products out there, the only way to pick out the right one is to know exactly what you are looking for.
There are a few important questions you need to ask yourself before venturing out on your search. This is what we will be discussing in this section.
What is Your Budget?
While this may not be the most important factor to consider, it is important and can help make your search more directed. Knowing the maximum you are willing to spend on this purchase will ensure you do not waste time looking at every product regardless of its cost. You will simply focus on those that fall within your budget range.
What Would You Want to be Able to Clean with it?
This is probably the most important consideration factor. The beauty of these cleaners is the fact that they are portable and can reach into usually hard to reach areas, allowing for greater precision with your cleaning.
You should therefore consider all the different areas and surfaces in your home that you will likely want to clean with it. It could even include your car, blinds and any other place that requires cleaning. To ensure you can achieve your goal, look for something that is designed to be able to handle the kinds of surfaces and areas you will want to clean.
Would You Require Additional Accessories?
Some models of cleaners come with extra accessories that make it easier to clean some areas, or things like pet stains or other kinds of stains. Some others are designed to accept cleaning solutions which is a feature that can make cleaning some areas a lot easier.
Some of Our Recommendations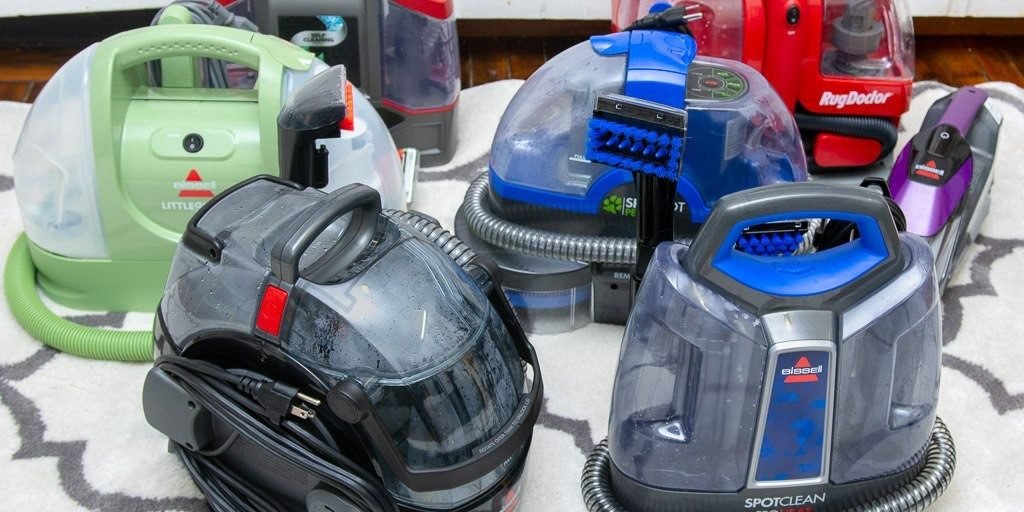 Now that we have looked at a few things you will need to consider before choosing a portable carpet cleaner, we shall now look at a few products that we think offer some good value and may reduce the time you will spend searching for the best portable carpet cleaner for your needs.
Bissel 3624 SpotClean Professional
This is a mid-prized cleaner that weighs about 13.2 pounds. This means that it is easy to move around. It also runs on a 5.7 amps motor which is quite powerful enough to suck those dirt up.
Other important features to note include:
A 96 ounces tank.
Tough stain tool for cleaning out tough stain in addition to the included 8 oz. cleaning fluid.
Six stair cleaning tools.
22 feet power cord.
The above features and those not listed will help make your task more efficient.
Rug Doctor Portable Spot Cleaner
This is the cleaner you should go for if you anticipate that you will be dealing with a lot of tough stains. At 20 pounds, you will find this to be a bit heavier than others. It however also packs more punch than most.
With a motor at the brush head, tough stains come in contact with motorized brush fibers that loosen them up while the powerful suction picks them all up. You can also get rid of odors along with the stains by using a cleaning solution which also makes cleaning easy. All the dirty water is stored in the 64 ounce tank which is very easy to dispose of.
It comes with a 5.5 feet hose which will easily reach a lot of areas where cleaning needs to be done.
Hoover FH11300PC Spotless
This particular machine is advertised as one of the lightest you are likely to find in the market. Its weight makes it perfect for cleaning any part of the house or office. You can easily move it to wherever you need it to work.
This portable carpet cleaner is designed to both scrub and spray, making it very effective at deep cleaning. It is also designed with dual tanks – one for clean water and the other for dirty water.
In the box, you will find different attachments that increase its cleaning efficiency. You will also find a cleaning solution and a pre-treat gel.
Conclusion
If you can take the time to carefully search through the many different products out there, you will be sure to find one that will be just right for your needs.