Books can become damaged or degraded if not treated with the correct care and attention and if you are not storing your book collection in a proper way. It makes sense that someone who enjoys reading would wish to preserve their favorite books, especially if they have a home library's worth of books.
One of the most sentimental things we keep around our houses is books. Consider what they signify: a satisfying story, information, a reflection of our intelligence and attitude. But what if keeping books becomes a concern when they begin to accumulate? Consider whether it is worth paying for storage to preserve your books and declutter your home.
6 Essential Tips for Storing Your Book Collection
Every serious book lover should be knowledgeable about long-term book storage. No more speculating about the best material to wrap your books in or attempting to figure out the best type of storage for your collection.
By keeping your books in the correct storage, you can keep the pages for a very long time. To make sure you can keep enjoying your favorites, consider some practical advice for storing your book collection.
Suitable shelving
Why should we be any less committed to books because they are so committed to us? Get some shelves if you want to keep your books organized. Boxes may appear more cost-effective, but they also increase the risk that the books may sustain damage. Bookshelves are useful for organizing and saving space, but they also combine form and function to give any room dimension and personality.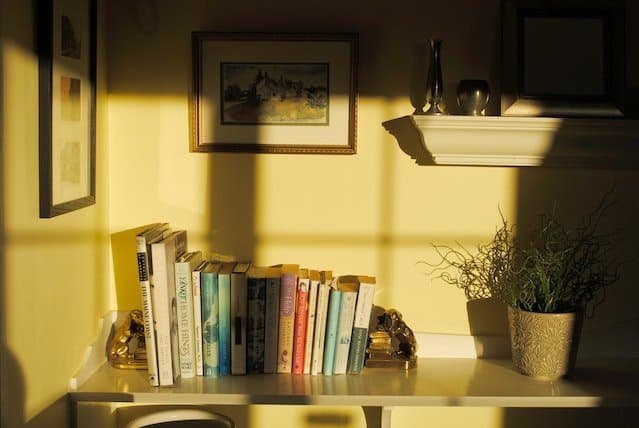 Unfortunately, it won't be to your long-term advantage to install any bookshelf. To ensure that you receive the best protection possible, you must purchase bookshelves made of solid and high-quality materials. Storing your book collection is like storing your documents; they should be stored safely.
Keep book covers on
Some people believe that book covers are just added to books to make them appear more impressive as if a hardcover book required a means for people to assess it by its cover. The truth is that these book jackets have a purpose other than to upset readers.
Long-term or prolonged exposure to the elements and regular use will cause these covers to fade, fold, and tear. Placing plastic sleeves over the covers is a fantastic solution. It's a small price to pay for proper protection from wear and tear, even though some may complain that it makes them appear cheap on the shelves.
Use the right containers
Shelves are not always an option. Even though they are the ideal choice, there are situations when you simply cannot do it. That indicates you'll need to figure out how to store books properly without using the suitable containers.
Even when you need to pack for storage on short notice and do this in a hurry, think about which container would be best for you. Here are some of the most regularly used containers for storing your book collection:
Cardboard—The standard cardboard box can be used for this. Make sure the box you purchase has not previously been used to keep food. Food will leave behind a scent or residue that will draw insects and vermin. Additionally, you should maintain the proper humidity levels in the area. Books on shelves receive more airflow and have a lower risk of developing mold.
Plastic—Boxes made of plasticare more expensive. They come in every size and shape you could ever need, but if you don't take care of them, they can break and make a mess. Once more, be sure the box is free of any food and that the humidity and temperature are appropriate. Plastic can behave as a lens, affecting plastic boxes more adversely than cardboard ones in sunlight. If not handled properly, it could amplify the effects.
Look for dust and pests
It can be tempting to skip ahead and focus all your attention on finding the finest storage option when deciding how to pack books for long-term storage. However, you should first check your library for deadly dust and pests before going to a self-storage facility or finding the best location in your home.
Whether your library is stocked withpriceless tomes or cherished duplicates, it definitely has sentimental significance. Therefore, spend some time cleaning the covers and inside pages of the book with a gentle paintbrush or toothbrush. You should check the pages for bug eggs as you complete this phase.
Be aware of the seasons
The home's attic is rarely appropriate. Attics in many homes lack insulation. The attic can occasionally be unfinished. So, the idea is to keep the seasons in mind and adjust your strategy accordingly.
Because heat rises, the attic may be the warmest room in the house during the summer. Given that it is typically left unheated to conserve power or gas, the attic may end up being the coldest portion of the house during the winter. Don't forget to increase airflow and take steps to reduce the heat during the summer. Consider installing a cooling system in the attic. Because the attic is so exposed to the weather, it isn't always possible to store books there. Experts from armovingco.com suggest that if you don't have an attic, you should consider a storage container.
Correct position
In addition to keeping the prior steps in mind, be mindful of how you position the book in the area. The ideal method to arrange books is upright. This technique may be familiar to you because it is used in libraries. Why not give it a try? Verify that no pages are folded. Every page is crucial to the overall success of the book.
Conclusion
People who love reading will agree that books improve lives. For many people, there is nothing quite like holding a book in your hands, despite the availability of digital copies. It makes little difference whether you keep your collection focused on a single genre or have a broader mix. Storing your book collection with necessary care will extend their lifespan, keep them in good condition, and increase your enjoyment.