Self-storage has been around for quite some time now, and it has been very beneficial for many users who just have too much stuff, need more room for a job or business, or are in a bind and need somewhere to store items for a while. The price of storage units can vary greatly depending on location, amenities, time of the year, size, and discounts offered, so if you are looking for a self-storage unit to rent, it is crucial to do some research before choosing one. Making certain choices could save you tens, hundreds, or thousands of dollars a month, which we all undoubtedly appreciate. Below are five ways to get the cheapest self-storage unit possible.
Select the Best Size
Perhaps a quite obvious but oftentimes ignored tip to getting the cheapest self-storage is to make sure to rent out the best size. Most people are amazed at how much stuff a small unit can hold, so don't make the mistake of automatically choosing a large size. If you make it a point to organize and stack strategically, you may be able to get away with renting a smaller unit. Most storage facilities offer several different unit sizes, so it is always a good idea to take a tour of each to get an in-person view of how big they actually are.
Smaller units will generally be cheaper than larger ones, but bear in mind this can change based on circumstances such as location within a facility and whether or not the facility is climate-controlled. On that note, if you are looking to save some cash, inquire if a storage unit in a less "preferable" area of the facility would be cheaper (i.e., a longer walk, stairs to go up, etc.). Some storage facilities charge more for first-level units, so be sure to get various quotes for different units and locations within the facilities.
Do your research into how much space you may need. Many people can fit their items in a 10×10 or similarly-sized unit, so prepare in advance so you don't end up overpaying for space you do not need. With proper packing, labeling, and organization, you may be able to opt for a size smaller than your initial plans, which can therefore save you money.
Look for New Facilities
Sure, you could rent a storage unit from a well-known nationwide chain at a high price, or you could find a new facility that is looking to start a customer base. Many times, newly established storage facilities offer great deals to customers because they are trying to build business and get their name out to consumers. Consumers rely heavily on customer feedback these days, so newer facilities strive to build a positive reputation and internet presence quickly, which will bring more business. Monthly storage rates may be much lower than other places, so be sure to do your research to see if there may be a new facility in your area.
Look Further Out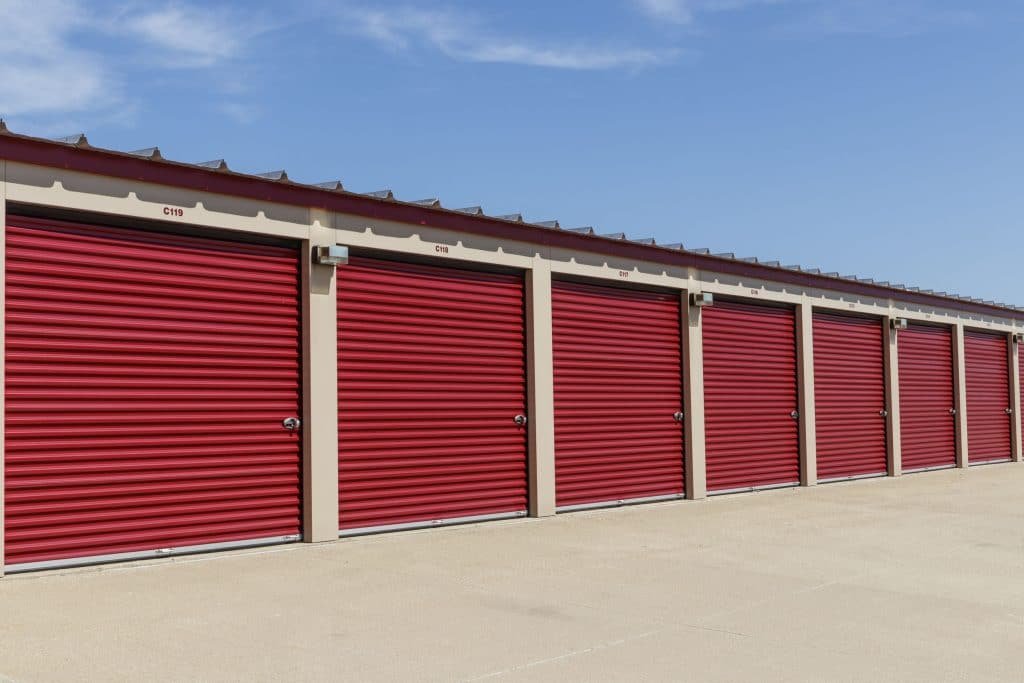 As with most goods and services, those within prime real estate regions are in high demand and therefore will cost you more money. If you're trying to cut down on the monthly price, you might want to look at storage units that are farther away from areas that are heavily trafficked and in demand. This is an especially great tip for people who do not need to visit their storage unit that often and can drive a bit farther to get to it without too much inconvenience. Rates are normally lower for storage units that are farther out from the city, and you may even be able to enjoy some of the "fancier" amenities at a lower cost.
Find Discounts
Are you a student? AARP member? Military member? Senior citizen? Regardless of what your situation is, you may be eligible for discounts through many self-storage companies, so be sure to ask. Various storage facility companies also offer deals for new customers, which may include a free first month or the first month for $1 (Public Storage almost always has a $1 for first month deal). Some facilities also partner with moving companies to offer free pickup and transport of your items to your newly-rented facility, which can save you a lot of stress. Portable storage companies like PODS regularly post promo codes to use.
Storage facilities appreciate customer retention, so you may also be able to find additional discounts if you choose to prepay for a specific number of months (or years). Of course, if you choose this route, make sure you know what the penalties are for breaking your contract (if any).
Rent During "Slow Season"
Just like with many other industries, the storage industry has a "slow season," which occurs throughout the Fall and Winter. Storage units are normally more expensive in the other seasons, especially the summer with college students desperately seeking somewhere to store their stuff for the summer months. The summer is also busy due to families moving in between school years and individuals needing to store items that need to be climate-controlled because they cannot be left in the summer heat. October through March are normally "slower" months, so try opening an account in that time frame and you might lock in lower prices than if you sign up in busier months. Be sure to look for discounts during these months, as storage facilities in need of business may run special seasonal deals.
Bonus Tip – Use SpareFoot.com
SpareFoot is a website that list all the self storage facilities near you. It not only shows the facilities, but the types and sizes of units that are available, and their prices! What's so great about SpareFoot is that you can directly compare the costs of all available storage units in the area you need one. They also posts customer reviews of the facilities, so you can be sure to avoid really bad ones.
Conclusion
Many factors can alter the prices of self-storage units, and it is important to know that before renting one. By paying attention to the market and making critical decisions about timing and unit location, you may be able to get a self-storage unit at a much lower price than you might expect. Look into deals and discounts, as many storage facilities offer them, and also be sure to check out more than just one facility when you are looking for the cheapest self-storage unit possible.