Whether it is locally or far away, moving can mark an exciting new beginning, but it also can come along with a lot of stress, and it might be overwhelming. Many things come to mind when thinking of it, but, done correctly, moving doesn't have to be such a burden. From packing to choosing the right supplies and being financially efficient and effective, moving is an important event in your life. Giving yourself enough time to pack and getting enough supplies can help you pack dexterously and productively. Here you have the most common mistakes to avoid when packing for a move to make you enjoy a stress-free challenge:
1. Not planning ahead of time
Every successful story starts with proper planning ahead of time. Most procrastinate moving plans and packing, adding more stress and making things even more complicated. This is always on the top list of mistakes to avoid when packing for a move. It is essential to be well organized and to write down everything you need to do – transfers, address changes, orders, renting storage units, moving trucks, and even letting people know you need help! This will save you a lot of trouble and stress, and your mind and body will thank you for that. Packing is a dreaded mission; you need to take your time. Avoid last-minute surprises, take your time, and plan to make moving much easier and less frustrating.
2. Wrong packing supplies
Being prepared with all the materials you need – the correct amount of containers and good quality ones- will ensure a smooth and pleasant move! Buying moving supplies in Virginia, like all-size paper boxes, tape, paper, markers, bubble wrap, and protective covers for the furniture is a must. Avoid filling plastic bags when running out of time or believing they can reduce costs because they are cheaper or just because it seems easier. This mistake can damage your stuff because plastic breaks easily, even with light things. Sturdy boxes are the best protection, organization, and security for your belongings. And they are also effortless to pack things in. Who doesn't want to avoid confusion anyways?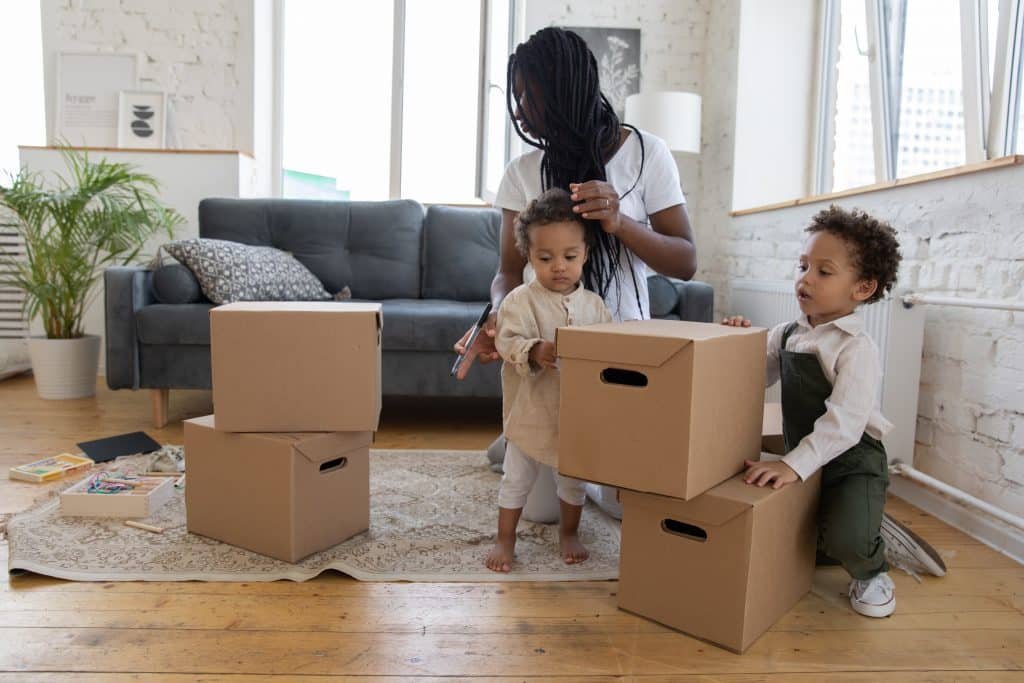 3. Not labeling the boxes
This is an important step that you would not want to skip – you are packing your whole life here! Take your permanent marker and start labeling every box on all sides, if possible, with everything it contains. This is a huge favor you can do yourself when you get to your new place, and you know where to find your belongings when the unpacking time comes. Messy stuff is so frustrating, right?! Also, it is so helpful to mark which boxes have fragile contents, such as glassware or artwork, because all of them go into a moving truck, which is not always the safest way to carry them. Labeling is a marvelous way to make moving so much easier and more smoothly. Not doing so is one of many mistakes to avoid when packing for a move.
4. Arriving without the essentials
How can you best welcome yourself to a new home? Obviously, with a clean space, a well-deserved good night's sleep, and a calming shower. But how to make this small treat possible if you do not know where your essential belongings are? A box of these necessary items could be a lifesaver! Separating all these things that you will certainly need on the first night in your new place is doing yourself a great favor. This box can contain things like towels, toiletries, pajamas, bed linens, some clothes to change, dishes, cutlery, and cleaning products.
5. Not decluttering
Getting rid of stuff you no longer use is a significant gain of energy, supplies, and time. Failing to do so, both packing and unpacking can be more stressful than it already is. Keeping an inventory and sorting out the things you do not need anymore is very useful, even though you already have enough to get done when you are moving. But try not to skip this step.
Using a self-storage unit to declutter your space when you accumulate too many things might be an excellent idea because not getting rid of useless things is one of the big mistakes to avoid when packing for a move. How? Separate items for donations, recycling, selling, gifting, and for trash. Take the time to downsize as much as possible because much of your stuff around the house indeed goes unused.
Packing things you do not need and, even more importantly, unpacking them is a total waste of time and energy. Having less can mean more time, energy, and space.
Moving can be fun when avoiding common mistakes
Being aware that moving can be a real and not easy challenge, it is beneficial to consider the most important things to do before starting off and what mistakes to avoid when packing for a move. Plan, be organized, sort stuff, use good supplies and enough of them, and wrap and secure your belongings. Making lists and inventories can be lifesavers, and do not forget you can always ask for help – friends and even companies that deal with moving. By doing all this, you can enjoy the process and look forward to new beginnings! Happy moving!