If you've finally signed a contract with a storage facility or another storage unit option such as PODS, you'll need a way to secure your stuff within it. The prices of locks vary greatly depending on brand, strength, and type, but you'll want to make sure you are not taking any chances when purchasing one. We'll take a look at the three strongest locks for storage units later, but first it is important to understand some different types of locks.
First, a closed shackle lock is quite protected almost the entire way around, as the piece of shackle that is actually exposed is quite slim and inaccessible. The protection surrounding the shackles is so strong that it cannot be cut through with tools thieves carry such as bolt cutters. Contrary to closed shackle locks, open shackle locks have a lot of metal exposed and semi-enclosed shackle locks have some protection but not as much as closed shackle locks.
Secondly, if you go visit a storage facility, you'll probably see a lot of disc locks. As you're probably imagining, these have a round shape and look like a small disc. These are also hard to cut because of their abnormal shape, meaning they are good for protecting your stuff. While these are quite sturdy and great options, you'll want to make sure the one you are purchasing will fit on your specific storage unit before buying it, as the unique shape does not fit all units.
A cylinder lock is exactly what it sounds like – it is shaped like a cylinder and is opened with a key. These can normally only be installed on storage units with a roll-up door, but they are incredibly sturdy and extremely difficult to break through thanks to their shape. Of course, there are also combination locks like you may have had for your locker in high school as well as electronic locks that can be operated via a smartphone or tablet.
Let's look at the three strongest locks for your storage unit.
ABUS 20/70 Diskus Padlock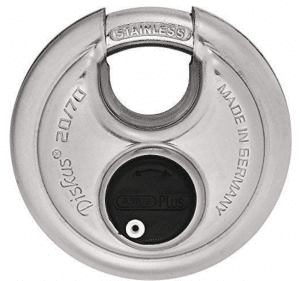 The ABUS 20/70 Diskus Padlock is the best disc lock on the market, as it has proven to deter criminals from breaking into peoples' storage units. Made in Germany, the 2.75"W x 2.75"H disc lock is small enough to the point where it isn't bulky like many other disc locks, but it provides stellar protection just like larger models. It is made of sturdy stainless steel and its seam is masterfully welded to prevent breaking. 
ABUS states that this lock is made with an anti-drill plate to prevent criminals from drilling through it as well as anti-saw protection. Also, the disc cylinder in this lock requires all of the discs in the lock to fit perfectly into place with the relevant key in order for it to unlock. Most traditional disc locks can be "picked" if just one disc in the lock is clicked into place, but this one has protection against that.
The ABUS 20/70 disc lock comes with two keys and key-retaining technology, meaning the lock holds onto the key until it is re-locked and does not fall out. ABUS makes this lock with a cover to protect it from harsh environmental conditions, and users report this lock does well in both the hottest summer conditions and frigid winter conditions. This means you know you'll have year-round protection if this is the lock you choose for your unit. The list price for this lock is around $52.00.
Master Lock 6321 ProSeries Padlock
Master Lock continues to be a household name when it comes to all sorts of security devices, and its 6321 ProSeries Padlock is a great option if you are looking for a closed shackle padlock for your storage unit. ProSeries locks are specifically made for industrial and commercial uses, so you know your personal belongings are safe if you use one.
The iron shroud surrounding most of the lock protects it from being cut with bolt cutters and other tools, and the so-called "dual ball locking mechanism" deters thieves from pulling on it and trying to pry it open. The five-pin cylinder is specially made with spool pins that make it very difficult to pick, and the steel body helps it last through harsh environmental conditions. This lock is sold online for about $33.00.
Stanley Hardware S828-160
Stanley Hardware is a big name in the hardware industry that has been around since the mid-1800s, and one of its most successful product lines has been its locks. The S828-160 can be found for around $40 and is another great option for a closed shackle lock. This lock features ASTM Security Grade 5 and is made of sturdy, thick steel. The body can withstand any weather conditions and the six-pin cylinder is specially made with anti-pick pins that deter criminals. 
The cylinder on the S828-160 is also removable so you can rekey or "key alike" this lock. The keyway is protected from sawing, drilling, and picking. Like the Master Lock device, this Stanley Hardware locking system is made with dual ball-bearing technology that resists attempts to pry the lock open. The polished finish also gives this lock a "tough" look that works to deter thieves from touching it.
Conclusion
Once you find a self storage unit, you'll first need to assess it and see what size of lock would fit your specific unit, as clearance measurements differ and certain locks may not fit your unit. When you're looking for the best lock for your unit, you'll want to remember that you often get what you pay for. In other words, it is not wise to get a very inexpensive lock just to save some money, as more expensive locks may be much more sturdy, protective from crime and theft, and worth the money. While the three locks outlined above are the strongest locks for storage units, you can always find other options at your local hardware store or all across the Internet.