With an efficient service like PODS, you get to pack your own way. As taxing as that can be, your best bet is to find all the energy needed to pack your stuff (and then some) properly. Since PODS drops off your container and doesn't pick it up until you're ready, you can take your time and make a plan to make the most of your container.
Good packing isn't just about saving space though. Since your stuff is being moved from point A to point B, there are plenty of opportunities for boxes and items to shift. The slightest bit of damage can put a strain on your moving cheer and cause losses.
If you're getting ready to move your stuff to a PODS moving container, check out this list of packing hacks to become a moving expert.
Never Pay Full Price for a PODS Unit
Our promo code will save you at least 5% off PODS container rentals. There's no reason not to use it.
Make an Inventory and Label Boxes
No matter how big or small your move is, you want to pull your phone out and take pictures of everything. Or, you could do it the old-fashioned way and inventory everything on paper. This way, you have a record of everything you are moving and the state in which they were before the move. Make sure you label each box and mark it on your inventory list. This is especially important if you use more than one PODS moving container. Note down the serial number of which PODS you place each box in so you can easily find it when you arrive.
Grab Your Valuables
Once you know everything that is moving, you already have an idea of what is precious. There's always a risk when moving, so it's a good idea to keep these valuables and essentials with you rather than inside a PODS container.
Avoid Prohibited Items
Every moving company, including PODS, has a list of prohibited items you can't put in the container. You can find an updated list online, but they often include perishable items, motorized vehicles, toxic substances, gas, mower, etc. Also be sure you know where you can have a PODS unit placed and where you can not.
Make a Plan
When packing a PODS container, the worst thing is to jump in without a plan, only to find out you don't have enough space or need to reorganize. Take a minute before you start loading your container and figure out the best order to pack things away to avoid shifting and ensure you have enough space for everything you want to move.
Keep Things Dry
You don't want to work in the rain for several reasons, but mostly to keep moisture from getting in your container. Packing damp items makes a breeding ground for mold and mildew, which can quickly ruin all your stuff. If it's unavoidable, make sure you use moisture absorbers when packing.
Distribute Weight Evenly
To avoid having a lopsided load, you want to distribute things inside your PODS container so that there is even pressure everywhere. You should place your heavier items on the bottom with lighter items on the top. These will include furniture and appliances. If you don't have enough stuff for even distribution, place your heaviest items in the middle of the container.
Use Pillows and Soft Items to Fill Holes
Ideally, you want to pack your container as snugly as possible so that none of your boxes move during transport. If your boxes shift around, you're likely to find that the things you took time to pack arrive damaged or broken. The best way to avoid this is to fill in any holes with pillows, soft items, or even loosely packed boxes.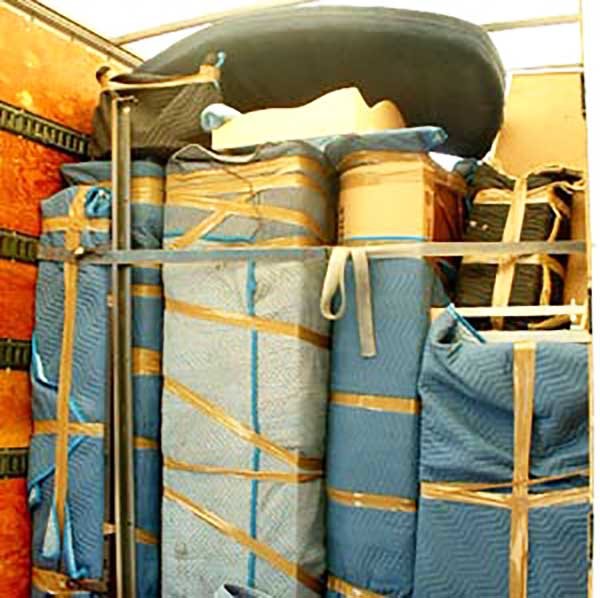 Break Down Furniture
Taking the time to break down your furniture has many advantages. For the time you spend dismantling furniture, you can almost rest assured that your items will arrive safe and sound. Smaller pieces of your furniture will also pack closely together, saving you space and keeping your boxes from shifting. Make sure to take a picture of your furniture before and after dismantling to make it easier to put it back together.
Wrap Furniture
One of the best ways to protect your furniture when moving is to wrap it up. Wrapping your furniture in stretch wrap can help keep it clean in the case of spills and prevent damage from boxes poking into it. However, make sure you wrap your furniture correctly. Some items like leather couches or appliances require a moving blanket to protect them.
Consider Using Moving Bands
Whether you use stretch wrap or moving blankets with your furniture and appliances, you want to ensure they stay in place. Tape can be annoying and difficult to remove. The solution for this is to use shrink wrap or moving bands, which are essentially giant rubber bands that fit around your furniture, keeping everything in place.
Turn Your Sofa on Its End
Sofas are often one of the biggest items you'll have to move, and they quickly take up space in your PODS moving container. To minimize the space your couch uses in your container, turn it on its end. This uses less horizontal space and prevents you from piling heavy boxes on top of it, which could damage it in the move.
Allow Enough Room for the Door Barrel Roll
A common issue people have with PODS moving containers is the door not working. To avoid this issue, you want to ensure you leave enough room to the ceiling from the door barrel roll. Users often pile boxes and furniture too high, and the door cannot easily open and shut, so always make sure the door can open and close as you pack.
Secure Items As You Load
No matter how tightly you pack your boxes, the vibration and movement of transporting your stuff will create gaps and holes, which can cause shifting. As you pack your container, take full use of the anchors inside the PODS moving container to secure the things you have packed. The best way to do this is to make a wall of boxes and make an 'X' of rope to hold everything in place.
Cover Your Items
The top of the PODS allows some sunlight into the container. If your container is sitting in your driveway or yard for some time, this could affect your furniture or other items. The best way to prevent any damage from the UV rays is to cover the boxes you have packed with a tarp or moving blanket.
Take Your Time
Being in a rush always leaves room for error. You want to give yourself enough time to make sure your load is packed as securely as possible. This is easy with PODS containers, as they will leave the container as long as needed. That way, you can pack in a weekend or over several weeks.
Keep Track of the Important Stuff
There's nothing worse than moving into your new home and not being able to find what you need right away. To avoid this, keep track of the most important things you'll need to use as soon as you unpack (think a change of clothes, essential dishes, tools, lock and keys, etc.). Set these things aside and pack them into your PODS container last; that way, you have quick access to them as soon as you arrive.
Always Lock Your PODS Moving Container
Perhaps the most important step in packing a PODS container is to make sure you always secure your stuff with a lock. Whether you opt for a padlock and key or a combination lock, you must always use a high quality lock made for self storage units to keep your container secure.