Moving can be tremendously exciting. Being able to live in a new location can lead to wonderful opportunities, and being able to live in the place you always dreamed of can lead to tremendous rewards. However, moving can also be stressful, and stolen items can lead to endless frustration and lost money. Here are a few steps for securing your possessions while you are moving.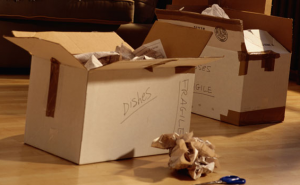 Use Home Security Systems
Thieves will often target homes that are on the market. Fortunately, according to Milwaukee home security, options are easy to find and installation is far simpler than it was in the past. In addition, there are a number of apps that can help you ensure that you never forget to lock up or enable your home security system. The software provided by Vivint.com, for example, gives you the peace of mind of knowing that your items are locked away and secure.
Use Storage Facilities
Storage facilities have extensive security systems, and thieves rarely target them. Because of this, they serve as valuable locations to store your items that are especially tempting to would-be thieves. In addition to providing valuable security, these facilities can also help make moving simpler. If your home is currently on the market, they can also be used to store extra items and help stage your home.
Enforce Security Habits
Moving can be an incredibly busy time, and people often forget to take basic security measures when they are moving to and from the home so often. With so many people going in and out, it can be difficult to remember to lock up when leaving. By having a discussion with those who have keys and encouraging them to follow basic security measures, you can reduce the likelihood of an opportunistic thief taking advantage of a momentary lapse of judgment.
Secure All Vehicles
Another mistake many people make is to forget to lock up vehicles that contain items. It takes a thief only seconds to remove valuable items from a car, and cars filled with boxes are tempting targets. In addition, moving vehicles are also tempting, and vehicles left unlocked overnight are risky. Make sure everyone involved with the move knows that vehicles need to be locked if they will be unattended for any period of time.
Fortunately, securing your items has never been easier and more affordable. However, it takes only a momentary bit of forgetfulness to have your valuables stolen. By reinforcing the importance of security to everyone and using appropriate systems, you can reduce the likelihood of having your possession stolen significantly.