Archive for category Blog
It is important to keep the drain pipes well-maintained and functioning properly because, if they are damaged, you are facing a future filled with problems and repairs. No matter whether there are any signs of damage or not, it is smart to reline the pipes on time and prevent any leaks. However, this is by no means an easy job and you shouldn't engage in it alone. Rely on professionals to help you treat the following issues with this simple and efficient relining method.
Protection
Giving your pipes a new coat is the best way to protect them from any damages. However, you should make sure that there aren't any leaks before applying the new coat. If there is something wrong with your pipes there will be wet areas on your lawn, or the water pressure in your house will be weak. So, before protecting your pipes, make sure there is something to protect. Otherwise, you will waste your money on relining broken pipes.
Unclog systems
Another potential problem can be the clogged system. So, before applying the new layers on your pipes, make sure to unclog them first. You must not skip this part, because this investment is serious and the easiest way to resolve this is by pouring a drain-cleaning liquid inside the system a few weeks before the planned works.
Underground obstructions
One of the greatest advantages of relining the pipes is that there is no need to replace the entire system. That means that there is no tiresome digging and ruining your landscape or your home. However, since this is complicated work you need to get the area checked first. This is important because of the obstacles that lie underground which can slow you down and cause unnecessary mess and waste of money. Also, you shouldn't do this on your own, since it is not a DIY project, but even with the professionals involved, this project is still budget-friendly and completely worth the time and money.
Trees with Deep Roots
Trees are a beautiful part of yard landscaping and play a significant role in our ecology, but they can cause a lot of problems to your pipes. Sometimes, the roots of the trees might go deep enough to break the pipe and really cause a disaster in the yard. That is why you should make sure to invest in trees that don't have such deep roots, or plant them somewhere else. Additionally, you should reinforce your pipes so that the roots do not pose a threat. Relining will make the pipe stronger, but you still shouldn't solely rely on that because the strength of the nature can be unpredictable.
Benefits
Basically, pipe relining is greatly beneficial for your drain pipes no matter if they are broken or not. This new coat will stop the leaks and it will keep the roots out of the sewer mains. Also, it increases the flow capacity since the inner lining prevents calcification deposits from forming, which also minimizes the chances of future blockages. Lastly, this method of protecting the pipes involves no mess, since the liners can be easily pulled into their position. It is a super-clean approach that doesn't ruin the lawns or disrupt the landscaping, provided that you find genuine professionals for the job, as these Sydney-based pipe relining experts.
Frequent and proper maintenance and protection of pipes will make them last longer. Pipe relining is one of the best, mud-free methods to upgrade your system that guarantees 'healthy' pipes with less risk of any damages. Consult with the professionals and let them take care of your drain pipes and you won't have to worry about anything in the future.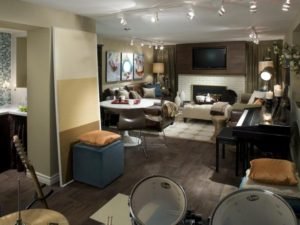 The 1990s have been gone for a long time, and inviting your friends over to your basement for some light beer and a few smokes while the folks are away just isn't cool anymore. Now that you are a consenting adult with a steady income and a few long-term goals in life, it's time to redesign your basement area to suit your favorite activities.
And what better, than turning it into a media room? Not a whole lot, to be honest. Media rooms are perfect for both your alone time, as well as movie nights with friends and family. So, let's get started and show you how you can make an awesome media room on your own!
Awesome Sound System
There is nothing quite like the feeling of goosebumps you get from a complete 3D surround sound system. The part when Leonidas kicks the guy into the pit – you simply need a good sound system for that.
In order to have an amazing sound system and still have enough space to maneuver around the room, you need to plan carefully. Consider putting the speakers into the walls and ceiling, and hide any wires that might ruin the ambiance.
If you don't have walls that can support that kind of construction, don't worry. You can buy speakers that have decorative stalls, and they will seem like a natural part of the room's ambiance. This authentic style is even preferred by many.
Storage is Always Important
As with everything in life, you need to feel free and have a sense of personal space. And how are you supposed to enjoy your personal bubble if you're constantly bumping the poor pinky into things, pulling out wires while the dog is chewing on the bass gauge? You simply can't.
That's why you need to create ample storage for all of your media accessories. It would be easiest to design a simple closet to store all of your media components, and let the TV screen take the central stage of a clean, de-clogged room. If a storage closet won't work in your space for any reason, simply build shelves and built-ins around the screen! These shelves can hold all of your media components and gadgets.
The Seating Has to Be Right
One of the most important parts of designing your dream media room is the seating plan. When you sit in a chair or a couch in your media room, you should go "Aaah, that's the stuff" rather than "Damn". The key is in making sure that the screen is visible, and at the right distance, from every piece of seating furniture and also the bar if you plan to install one. And you should. You can create a perfect seating plan by using sectionals that you can move around or comfy armchairs, whatever you prefer.
One Remote to Rule Them All
If you want a real media room experience with the benefit of not having to get up every second to find a different remote control, hook every piece of equipment to a single universal remote control. You will be able to switch from your TV to the console, dim the lights and control the volume with only one finger and a push of a button.
From now on, when you sit down to watch a movie with popcorn in one hand and a remote in the other, the only thing that might make you get up will be your dog wanting to go outside just so it could come back in again. Not a bad solution at all.
Mount Anything You Can
Shelves are not the only storage solutions that can be mounted on the walls. You should be mounting everything and anything you can in order to free up space and give the room a comfy feeling. Don't be afraid to put in a lot of shelves for everything from books to media accessories, or speakers.
The same should go for the star of your media room, the TV. Why should your TV have to rest on a piece of furniture when it can elegantly be mounted on the wall? Since there are more than plenty of options to choose from, consulting a genuine experts, as the guys behind Universal Home Theatre, might help you come up with an exact plan for your media room, mounting all the equipment and fully understand how your personalized system works.
Hopefully, you have found some of these ideas interesting, and some of them might've even inspired you to start planning your own media room. Make sure to create everything the way you want, and enjoy the wonders of a perfectly designed media setting.
Since most of us struggle with storage space, both inside and outside our houses, no matter how big our outdoor setting might be, it may be worth considering several convenient options to add extra storage. Such space might be used not only for the things you necessarily associate with outdoor use, but also for some that are usually kept indoors, such as tools and toys.
The secret to creating a good, ample backyard storage facility is to make it multifunctional if possible, so that you don't feel that it is simply one huge outdoor warehouse, but a well-designed and cosy nook, which also hides a secret or two.
Table and bench
Everybody needs a table in their garden and its size varies depending on your needs. Such a table can hold much more than just plates and glasses during your BBQ parties. If you make shelves and drawers, you'll be able to keep so much more there.
If you can't use your regular table for this purpose because of its design, think about what you might add to your potting bench. Also, having a bench with a lift-up lid that serves as a storage facility is both aesthetically pleasing and functional at the same time.
If you have an old table or bench that can be transformed into a multifunctional item, you'll also have an opportunity to express yourself artistically and build an original, custom-made piece of furniture for your garden.
Dig a cellar
This is definitely easier said than done, but you shouldn't reject the idea of having your own cellar dug below the patio or at some other convenient location in your garden. It is up to you whether you'll keep your garden tools, pots or wine bottles there, but you need to consult an expert who'll be able to tell you exactly what you need to do and how much it would cost.
If you can afford it, in terms of space and money, you'll be rewarded with a huge storage space that will conceal so many things you don't need on a daily basis, without anyone suspecting that such items are under their feet.
Pipes and buckets
Another interesting idea that might help you keep your garden tools well organised is to submerge metal pipes in the upright position into concrete, which you decorate later with pebbles or similar material. This will prevent the chaos of organising a tool shed so that each tool is easily accessible and you'll have your spade, shovel and broom at hand at all times.
On the other hand, you could also use clearly labelled buckets to hold your children's toys that they use while playing outside. This fun way of storing their precious belonging should also make it much more fun for them to keep their toys in order. If you are afraid that such buckets might be left outside in the rain, simply drill a few holes at the bottom to make draining simple.
Garden shed
Everyone's favourite feature, since it is can hold so many items, should be organised in a way that makes it easy for you to access each tool, without knocking over several other items. In order to use as much space as possible, consider installing more shelves and mounting stuff on walls and doors.
To make your shed really safe and secure, hire a seasoned emergency locksmith to install a lock and keep their number in case you are having trouble opening your shed for whatever reason.
Expansions
Extending one part of your existing house might not seem as the cheapest way of getting more storage space, but in this way you'll get much more than simply a place for your tools and equipment. This multipurpose space can also be used as, say, a guest room or play space for your youngsters. As this usually isn't a DIY job, finding experienced, professional extension builders will ensure that this project runs smoothly from beginning to end. 
Wall additions
You should also think about having a storage unit built into your garden wall, where you might keep firewood on open shelves or garden and barbecue tools if you create closed cupboards. If done properly, such feature might really boost the overall design of your garden, providing an interesting contrast to the otherwise unappealing wall.
Rubbish bins
The best way to prevent rubbish bins from being noticed is to conceal them. Whether you decide to install some wood-clad storage unit in the corner of your garden, or you opt for some other option, you need to do everything you can to provide enough storage for rubbish without affecting the curb appeal of your home.
By: Maurine Anderson
It's nice to feel settled and comfortable in one place; but sometimes when you stay in one place for too long, you run the risk of missing out on important opportunities in life. Is your comfort zone keeping you from branching out, or is your current home truly where you're meant to be? Answering this question becomes even harder if a family is involved. In case you're having trouble deciding whether or not to move in the near future, here is a look at several good reasons that it might be time for you to move.
Friends and family members are moving away.
Take a look around you, particularly at your social circles where you live. Do you enjoy a strongly rooted social circle where you live, or is it in more of a flux, with many of your friends and family members moving away from your area? Sometimes we stick around somewhere because we have many friends or family members there; but once these friends and family members move away, it can take a while to notice that we don't really have much reason to stay where we are. This isn't to say that you should move just for the sake of moving if your friends are doing it. But it does mean that you should stop and ask yourself why you live where you do if many of your loved ones are moving away from you.
The area where you live is changing.
Think about what the area where you live was like when you first moved there and then ask yourself, "How have things in this area changed since I first got here?" This article, for example, lists five states that are seeing the highest migration rates in the country. Maybe the region where you live was once quiet and peaceful, and now it's starting to see more and more traffic on freeways due to high migration rates. Take a look at how the environment around you is changing and ask yourself if it's somewhere you'll still want to be a few years down the road.
Better opportunities await elsewhere.
Of course, one of the biggest reasons that people choose to relocate is a new life opportunity. A new job or a great grad school program can be a great reason to pick up and move to a new city. If you feel that you're maxing out on the opportunities that are available to you where you currently live, consider casting a wider net. Maybe your dream job is just a state over, or maybe you have a really good chance of getting into your dream grad program at a school in another state.
You're surrounded by unhappy memories.
If you've recently battled through something difficult where you live, such as a death in the family or divorce, sometimes a change in scenery can't come soon enough. If you've recently endured a major life struggle, ask yourself, "Do I need to start fresh somewhere new?"
Your home renovation list just keeps growing.
Is your home one that you truly love, or are you constantly adding to the list of things to do to make it your dream home? Home remodels can be a major ordeal as this article points out, and therefore they aren't always worth the trouble that they entail. If the list of projects you want your home to undergo keeps growing and growing, then maybe it's time to consider instead selling your home and moving into a new home that you already love.
You want to shake off old habits.
There's something about moving to a new place that allows you to shake off old habits and form new ones. You can create a new routine entirely from scratch, and in the process become even closer to your ideal self. This becomes especially important when you are working to overcome some form of addiction, as this article about addiction recovery points out.
You need a change of scenery.
Sometimes we simply need a change of scenery in order to remain excited about life. Moving to a new place can be invigorating and introduce us to a variety of opportunities we couldn't have dreamed of otherwise.
If you're looking to add a little frustration to your life, all you need to do is move. It doesn't matter if you're heading across the country or the across the street, picking up and settling down in a new spot is more infuriating than just about any other voluntary activity. It takes coordination, cooperation, and patience.
Transitioning your entire life from one residence to the next is not as simple as hiring a moving company. Your belongings must be organized and prioritized to even begin such an operation. And, in order to make the shift as easy as possible, it is best to map out an arrangement strategy when arriving at your new dwelling. If it makes you feel any better though, you're not in this alone.
Moving on Up
Nearly 12 percent of the population will move this year. That means that one out of every nine people you know will pick up and pack their belongings over the next 12 months. That's a lot of chaos.
The good news is that there are tactics to ease the process. The best approaches are well-documented thanks to so many families transitioning every year. It's no longer uncommon to switch residences multiple times over the course of an adult life. And, with all the experience, a couple handy tips have turned into popular procedures.
Lift With Your Legs
If you'd like to make the simplest move possible – and who wouldn't – you're going to need some help. Not just from your friends and family, but from those who have been there before. The more tricks you can utilize, the better off you'll be when you're unpacking – which is the truly hard part of the process. Just follow these few simple guidelines to make the most of your experience.
Move Less Stuff
Start by junking what you don't need. If it's not necessary, and it can't be donated, junk it. There will be plenty of new things to clutter up your new space. You don't need to bring along the old garbage.
Moving is a hassle, don't make it more complicated. If you have stuff you need to get rid of, just donate it. There are more than enough services that are willing to take items you no longer use and repurpose them for families in need.
Whether it's a couch, a closet full of clothes, or something even bigger, there is a charitable way to keep it out of your hair during moving time. So load up that boat and ship it off for a better cause.
If you'd rather keep that junk, start piling it somewhere where it won't get in the way. Rent a storage unit and relegate your unimportant items to a locker close by. They'll be available when you need them, and out of the way when you don't need them.
Plan Your Move
Start by planning a move to the ground floor. Fitting a couch through the door is hard. Fitting a couch through the door and up the stars is even harder. Make life easy on yourself by moving into a ground unit if possible. It's cheaper and more convenient. That gorgeous penthouse view is really only a view of the brick building across the street anyways.
Next, decide to move during a convenient time of year. It doesn't always work out this way, but moving in nice weather or using a weekend to enlist the maximum amount of help is recommended.
If you didn't know this already, take our advice: parading a caravan of personal vehicles between your residences is a bad idea. You're likely to damage a car by shoving too much in it and safety is a concern when heaping boxes block out mirrors and windows. Bite the bullet for a moving truck. You'll be glad you did.
Now, while it's a bad idea to exclusively use personal vehicles to move, it's also a bad idea to not use personal vehicles at all. Pile up clothes, soft goods, and your most delicate possessions into the minivan. It's a good way to keep valuables safe and optimize space in the moving truck.
Utilize Strict Organization
It turns out that labeling boxes and moving rooms in unison really does help. Unpacking is the hard part, so make it as easy as possible by grouping like items together.
Fragile items go first. You get tired and sloppy towards the end of your move, and, naturally, your ability to break things is higher.
Save necessities for an easy-to-reach place. Most times moves take more than one day. So, keep your toothbrush handy and your wallet near by.
As a new or future resident of Florida, you should know that it can get really hot here, and stay hot for most of the year. As you might imagine, this will have a significant impact on your electric bill. However, there are ways to keep those costs down that we long-time residents can impart.
Know the AC You're Buying (or Renting)
You don't need to do this for every home or apartment you look at — chances are good that if you can tell anything about the HVAC system at a glance, that's a place that's already disqualified itself anyway. But if you've settled on a place you think you'll be living in for several years, you will want to have the AC system inspected. It's an added expense, to be sure, but doing this helps you understand what to expect in terms of power bills and repairs. Your power company might be able to send you a detailed report about your power consumption, or a third party site might be able to give you some information. You may not learn anything substantive, but it could unearth information that will either save you money or a few uncomfortably hot days if an old AC unit should happen to break down in the peak of summer.
Two Words: Preventive Maintenance
Make sure you are taking care of your unit as well, maintenance is a key factor on you're A/C's performance and efficiency. Fortunately, the bulk of your job is pretty simple: check your unit's filters, and clean or replace them regularly. Bad, clogged or dirty filters disrupt air-flow where it should be cleaning it. This not only significantly reduces the efficiency of your AC, it will cause components to wear and fail prematurely. Filters are cheap, weakened and broken air conditioners are costly.
Thermostats and Setpoints
The AC and insulation of your home are two of three major factors in your cooling costs. The last one is your the setpoint on the thermostat. Energy.gov suggests that 78 degrees is optimal for summer temperatures, and 68 degrees is optimal for winter temperatures. The effect of each degree plus or minus could be as much as 7% on your energy bill, and I haven't seen a Florida summer prove any exceptions. If you want to keep a Florida home at 60 degrees in the summer, you had better be ready to shell out an absurd amount of money for that comfort.
Setting your thermostat back by 7-10 degrees while you're not home can also save you up to 10%. The trick is that you'll ideally want to dial it back slowly when you got home rather than expect the system to instantly drop the temperature by ten degrees. A healthy, efficient system might be able to fill that order, but you're putting a lot of strain on the system when you do that. That said, working this into your routine is an easy way to save some money, and with the programmable thermostats that are on the market today, you can fully automate these changes throughout the days and throughout both of Florida's many seasons.
A Few Words on Exteriors
The outside of your home is just as important in cooling your home as the inside, especially in Florida. First, you'll want to do some yardwork. Believe it or not, plants and trees actually do help cool your home, by blocking the sun. This might seem to be minor until you remember where all that heat it coming from. This might seem like a lot of work as well, but consider this whenever you are planning on doing any major landscaping projects, and you might be able to achieve two things at once.
For your East- and West-facing windows, consider solar screens or window films. Both are great for diverting up 70% of the sunlight that enters your home. Plus, with the former, you can filter out the sun even with your window open, and it's great for keeping pests out of your home. It's an easy and a worthwhile investment. It's also important to check all seals and weather stripping — the most efficient AC system in the world will still rack up quite a bill if it's being forced to cool the outside as well as the inside. Visually inspect all doors and windows to see if you're losing insulation, or if you suspect your home has a deeper issue with thermal insulation, you can have your home thermal-imaged by a technician.
As technology has advanced, so have inventory systems used for stocking, processing, and other functions. In this article, we will discuss some major advances in inventory systems and the industries that serve as the driving force for this progress.
Advances in Data Systems
Advances in computer systems have allowed us to use perpetual inventory systems, with changes to inventory and cost-of-sale (COS) calculations. Even stocking is being handled in real-time by computers.
Perpetual inventory systems are far superior to periodic inventory systems, which rely upon an occasional, physical account of inventory. Perpetual inventory systems continually update the ledger or inventory journal as transactions occur, keeping up with the sales in real-time. Because there are thousands of transactions, perpetual inventory systems are all done using advanced computer technology, and it is easier to conduct transaction investigations because the data is so thorough.
Perpetual inventory systems change the way in which we make inventory and cost-of-sale (COS) calculations. There are continual updates to the amount of goods sold when a perpetual inventory system is used, and cycle counting, an auditing procedure in which a small subset of inventory is counted at a specific time, is made possible through the use of this system. Inventory purchases are recorded, depending on the type of good, in the raw materials inventory count or in the merchandise count, and there is also a unit-count entry that used for each inventory item, allowing for a full accounting of all materials that move in and out of inventory.
Advances in Robotics
With the advanced speed we use now to track and record our sales and inventory, there needs to be a counterpart to that and, through advances in robotics, that counterpart has been created. Robots have given us the degree of physical automation we need in order to move at the same speed as our sale-tracking moves. Using advances in robotics, warehousing has been modernized. Major retailers such as Target, Coca-Cola, and Walmart are using autonomous robots to warehouse their products. The robots move through the warehouse, coordinating with other robots that are performing similar tasks. This is an upgrade from prior robots that worked in warehouses under a less autonomous route. Other warehouse automation systems fix down their robots and have them move on track; with this upgrade, autonomous robots are showing a more sophisticated, streamlined side to warehouse robotics.
Fulfillment Models: Just-In-Time
Just-in-time inventory (JIT) is a strategy used to prevent waste and increase efficiency. This inventory system receives goods only when they are needed during the production process (AKA arriving "Just in Time" to be used), and no sooner. This way, there are no extra piles of unused materials that become waste. Manufacturers and companies who use JIT keep low inventory levels with a lightning-speed supply chain that provides the materials needed when the demand calls for them. This inventory control comes with an advance in technology, as systems become more intuitive and able to calculate the inventory needed to fulfill the orders. JIT is a fulfillment model that manages inventory in relation to demand, but does so in such a precise way as to reduce waste and increase efficiency.
Storage Models and Carousels
Storage models are becoming more computer-controlled and, in the case of larger companies, more robot-controlled. Automated storage and retrieval systems (ASRS) automatically place and retrieve items from a warehouse. ASRS systems benefit warehouses where there is a high quantity of inventory, as well as a high density warehouse. ASRS is computer-controlled, and in the case of companies such as Amazon, uses robots to retrieve the inventory necessary, minimizing damage to the product by removing "human error" from the equation.
Advancements in computers and robotics have greatly impacted the way warehouses are constructed, as well as the way inventory is calculated. As robotics and computer science continues to make great leaps, as will storage and warehousing.
By: Darci Maxwell
Fall is right around the corner and I couldn't be more excited! There are so many wonderful
things about autumn that make it many people's favorite time of the year. So along with thinking
about what your storage needs are and getting cleaned up for fall here are 15 things that I love
that I hope will help you too get excited for the changing seasons.
Pumpkin Everything
I am a personal fan of the pumpkin everything mindset. I admit that I sometimes make pumpkin
bread in March, so I'm glad it's finally becoming normal again. This year I'm going to make any
excuse to bake pumpkin bread, pumpkin chocolate chip cookies, roasted pumpkin seeds, and
more!
The Weather Cools Down
It seems like this summer has been the hottest one in years. There were heat waves across the
country, causing youtubers to see if they could bake cookies on the dashboard of their car. It will
be wonderful to have liveable temperatures again.
Fall Fashion
I don't know about you, but I'm excited to wear sweaters and boots once again. I love wrapping
up in a warm sweater on cool fall nights and looking quite fashionable accessorising with a cute
scarf.
Bugs Disappear
Another great thing about fall is that the bugs disappear for the rest of the year. As much as I
love summer, I do not love the spiders, mosquitoes, flies, etc. I can't wait for them to go away.
School Starts Once Again
While I don't have kids of my own, I sympathize with parents who can finally send their kids
back to school. By the end of the summer, they're bored, antsy, and driving their parents insane.
While school brings its own challenges, the change is very nice. If you'd like some tips to help
your family get ready for the school year, check out this blog.
Changing Colors
Towards the end of the summer, the world starts to look a little brown and dead. Autumn
combats the dreariness by releasing the most beautiful colors: vibrant yellows, rustic reds, and
deep oranges. It's almost as if the world decided to throw one epic going away party for
summer.
You Can Taste Autumn
This sounds a little strange but think about it. The air no longer feels muggy and heavy, and you
can almost taste it. It's cool, crisp, and refreshing.
Crunchy Leaves
I am the type of person who will go out of my way just to step on a crunchy leaf. I love the way
they sound, feel, and even smell. (While I love the crunch, nothing is more disappointing than
walking to a leaf, stepping on it and hearing silence. I always feel betrayed.)
Stay In Movies
Ok, so this one isn't specific to fall, but the cool weather suddenly makes it socially acceptable
to stay in, snuggle, and watch Netflix. It's the perfect time to grab your significant other and
binge watch your favorite shows.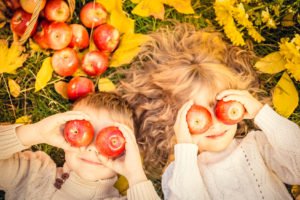 Harvest Season
It's very easy to eat healthy during the fall as the price of vegetables and fruits drop due to the
harvest. So go to the store and stock up on your favorite produce. If you're still harvesting a
garden of your own, check out this blog for tips and tricks to help you transition your garden
from summer to fall.
Halloween
Halloween is my favorite holiday. It's the one time of the year that you get to literally wear
whatever you want, and it's totally fine. You can be a princess, a superhero, an ear of corn,
whatever! The parties are also a ton of fun.
Thanksgiving
I also love Thanksgiving. If I could, I would have a Thanksgiving feast every day of the year
(unfortunately, my figure would not thank me). It's also great to get together with friends and
family and celebrate everything that you have to be thankful for.
Football Season
Football season is finally here! It's always fun to scream your heart out at a game watching your
favorite annihilate their opponents.
Drinking Hot Chocolate
I am a personal fan of hot chocolate, ciders, teas and other tasty drinks. Unfortunately, they're
too hot to drink during most of the year, but during the fall, they're a perfect way to relax after a
long day at work.
So now you've purchased, or are considering purchasing a fire pit, but want to know how you can take maintain it. Naturally, an outdoor fire pit can be a costly investment, especially if you've had a gas line fixed  so you'll want to make it last for as long as possible while getting the most use out of it.
Finding the right pit and place for it.
If you haven't found or purchased a pit yet, then finding the right one can make maintaining it a lot easier. Some fire pits can be weatherproof, or weather proofed, allowing some breathing room in regards to maintenance. You'll want to search for reviews to help you pick the right one, but be careful when reading them. Sometimes a person will put that a pit did poorly when it can be easily assessed that they simply weren't doing enough to take care of it. Regardless of weatherproofing or quality, you will need to put in certain amount of effort to maintain your pit.
Finding the right place for your fire pit can be just as important as caring for it. You'll want to find a place that has low wind coverage. If the wind blows hard, it can spread ashes and embers creating both a cleaning chore and a safety hazard. You'll want at least 5 feet of pavement around the pit. Although that is primarily for safety, it can help with cleaning as well since a flat surface can be easier to clean and flora might stand out more. If there are any trees or flora nearby, clearing them or trimming them back enough will help keep leaves and other flammables out of the pit.
Cracking
Cracking is a major problem in cold regions. Using a fire in low temperatures can cause cracking or warping, regardless of stone or metal. The same goes for using water to extinguish your fire. That's why reinforcing your pits can prove a worthwhile investment. If a crack does appear, be sure to check that it is only minor. If several cracks appear, or a significant crack emerges, repairing the damage is recommended before starting your next fire. Even in warm temperatures, splashing water onto a fire can cause a temperature shift which can cause cracking or other damage. It's best to let the fire extinguish itself and only use water for emergencies.
What you burn is important. You can't burn any type of wood, since a lot woods, especially those not cut for burning, can release toxins and fumes when burned which can be harmful to you and the pit. Using leaves or more flammable woods as accelerants are also healthier than using chemical accelerants.
Cleaning
After the fire, you don't want to leave any ash or burning embers. Ash can be acidic and can damage the material of the pit. Furthermore, embers burn for longer than the fire itself  which makes cleaning up after your fire all the more essential. You'll want to wait a day after the fire for everything to safely cool down. Then you'll want to gently douse the pit with water to try to snuff out any remaining embers. Once that's done you can start cleaning by removing any logs or other large remnants from the pit. Removing any major clutter makes removing the smaller pieces much easier. After that is done, you can take a broom, and sweep the ash out of the pit, into a metal container. Being thorough is key, so scrubbing the catch or pit with soap and water should get rid of anything you might miss with the brush or broom. Make sure you dry it properly as well, so as to prevent rust. You'll want to keep the ash you collect in a safe place until it is properly disposed of.
And there you have it! Your fire pit is ready for another lovely night of outdoor cooking!
By: Darci Maxwell
A common problem people face is not having enough space in their house for all of the things they own.  This can make a home look cluttered and unkept.  If you too face this problem, whether you don't have room in your closet for all of your clothes or your spare bedroom has become a room of no return, here are 5 tips and tricks to help you find the storage space you need.
Downsize
The first thing that you should do is downsize your possessions.  Do you really need 64 drinking glasses, 97 pairs of shoes, 1,498 DVD's, and 843 shelf decorations?  (In case you're not sure, the answer is no.)  Start by sorting through your things and putting them into three categories: Need, Want, and Get Rid Of.  Immediately take your Get Rid Of items to a local charity or sell them online.  Then take a look of your Wants, and try to get rid of as many items as you can.  Once you are in dejunking mood, it will be easier to continue to get rid of things.  
Don't Allow For Justification
There are many ways that we justify holding onto things that we no longer need.  Don't fall into the following justification traps:
I'll use it someday
As a general rule, if you haven't used an item in the past year, you won't use it in the next one.
It was a gift
We often hold onto things because we're afraid our great aunt or friend will come to visit and find it missing.  However, most people won't even remember the gifts you gave them after a few months or so.  And even if they do, they will understand.  Feel free to get rid of it.  
It might be valuable someday
Unless your item is in impeccable shape, it probably won't gain value over time.  If you have an antique or keepsake, stop waiting for it to become valuable, and find out if it is.  Take it to an appraiser or do a quick search online to see what similar items are selling for.  
I don't know where to start
Trying to declutter your life is a daunting task, and many people never begin because they don't know where to start.  The trick to getting organized, though, is to just start.  Pick a room in your house and start going through your things.  Make a goal to get rid of five things each day, and then do it.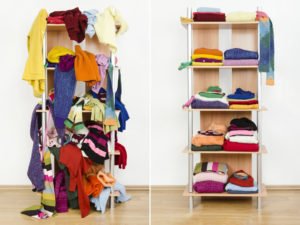 Organize
An unorganized mess will take up more space than an organized area.  After you dejunk your life, you need to organize it or your life will quickly get cluttered again. The universal rule of organization is that everything has a place and that everything belongs in its place.  You first need to create a place for your things, and if necessary, install shelving, build an additional closet, purchase bookcases and storage totes, etc.   Utilize the space under your bed, in your closets, along the walls, etc.  After things are organized, you need to force yourself to put things away when you use them.   
Rent a Storage Unit
If you cannot find space in your home, it may be necessary to rent a storage unit in order to hold your things. It is best to store things that you don't use very often so that you can minimize your trips, such as seasonal clothes and decorations, or sports equipment.  You can also rent space for cars, RV's, boats etc. at many storage facilities, and you can also rent private property to store your cars and boats.  Garage Pointer is one app that you can use to rent storage space for your vehicles.  Check out this blog to learn more.
Move Into A Bigger House
There may come a point where you just need an upgrade.  Just like you would get a new phone if yours doesn't hold all of your photos, you may need to get a new home.  Start shopping around to see if there is something in your price range and desired location that offers a bit more space for you and your family.  You may need to move a little further away from the city and increase your commute time, but if you have things that you just can't get rid of, this may be your only option.